2023 Colors of the Year
Each fall, paint companies, and interior design experts predict the colors that will shape our homes in the coming year. While the hues of 2022 centered around back-to-nature shades of green, the 2023 colors of the year are all about self-expression.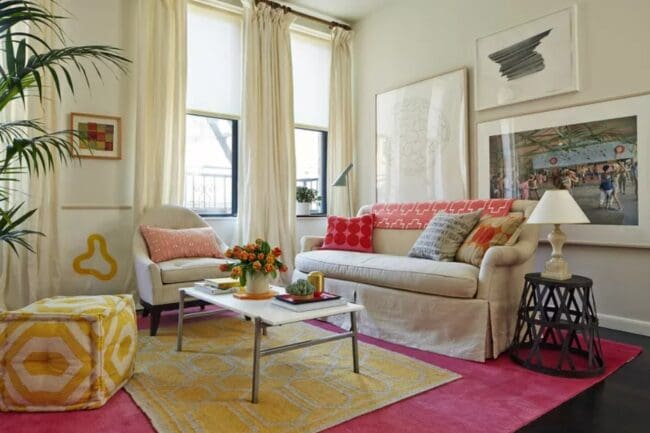 [Photo:  Jim Franco]
See which paint colors the pros have forecasted thus far, then check back to find out all the predictions for the 2023 colors of the year as they're announced.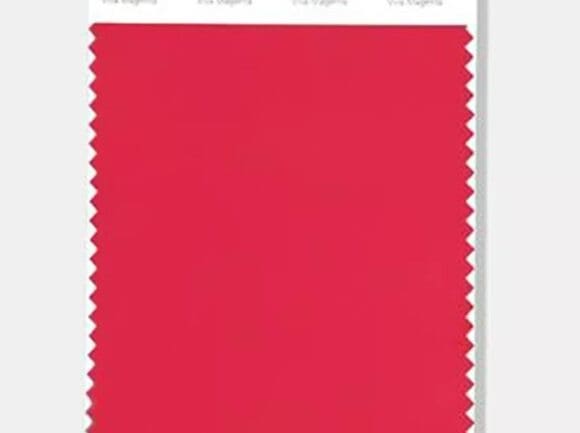 [Photo: Courtesy of Pantone]
Viva Magenta by Pantone
Rounding out a year of blush-tone selections, Pantone selected Viva Magenta 18-1750, a bold pinkish red, as its 2023 color of the year, calling it "an unconventional shade for an unconventional time." But this isn't your Barbie pink.
Viva Magenta is a saturated shade that's not for the color-shy. The confident color is "inspired by the red of cochineal, one of the most precious dyes belonging to the natural dye family as well as one of the strongest and brightest the world has known," said Leatrice Eiseman, executive director of the Pantone Color Institute.
To decorate your home with Viva Magenta, utilize the red-meets-pink on furnishings and keep the rest of the room neutral. Soft blues, greens, and beiges cozy up with Viva Magenta while keeping the spotlight on the saturated shade.
RELATED:  Pantone's Color of the Year 2023 Is an Electric Shade of Magenta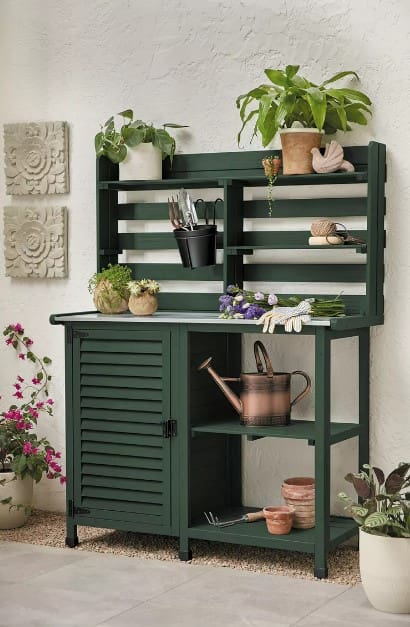 [Photo: Krylon]
Spanish Moss by Krylon
Green is quickly becoming the new neutral as homeowners opt for comforting colors in lieu of the crisp, bright whites of decades past. For its 2023 color of the year, Krylon selected Spanish Moss, a deep forest green that nods to nature. The spray paint shade easily upgrades furniture and decor, plus plays well with practically everything.
"This midnight green has a strong connection with the richness of nature, dense forests, and mossy terrains. Rooted in the renewing power of green, it can balance with both warm and cool accents," said Ashley Banbury, senior color designer for Krylon, in a press release.
Banbury suggests pairing the rich, grounding green with complementary colors like gold, sandstone, and copper that relate to nature.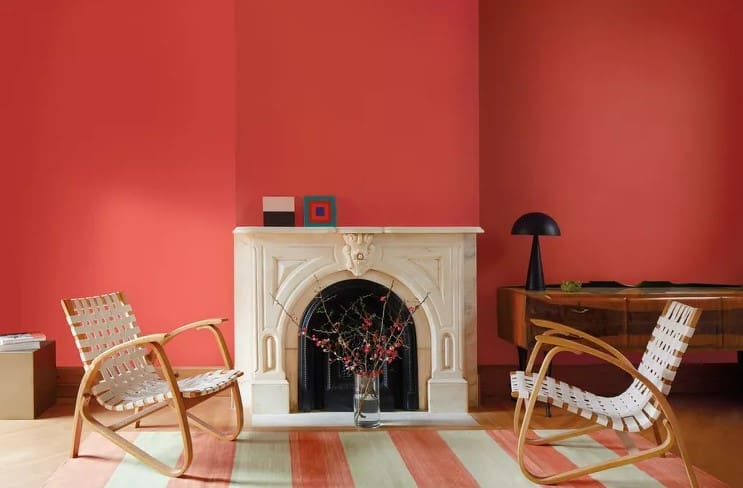 [Photo: Benjamin Moore]
Raspberry Blush by Benjamin Moore
Bright and cheery, Benjamin Moore's pick for 2023 color of the year is a vibrant red-orange called Raspberry Blush. The saturated shade energizes a room for a lively look that's anything but timid.
"People are ready to bring color back into the home, taking a step outside their color comfort zones," said Andrea Magno, color marketing and development director at Benjamin Moore, in a press release. "Raspberry Blush 2008-30 and the Color Trends 2023 palette empower the use of statement colors that deliver delight and personality while transforming rooms for incredible results."
For a maximalist approach, splash Raspberry Blush on walls, trim, and the ceiling to wrap a room in warmth. Or go for a smaller statement on a kitchen island. Soft shades of white and beige balance the bright, rosy hue.
RELATED:  Benjamin Moore's Color of the Year 2023 Packs a Dramatic, Saturated Punch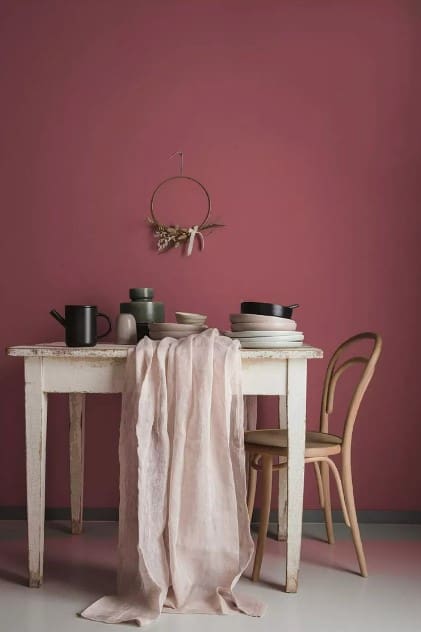 [Photo: Dunn-Edwards]
Terra Rosa by Dunn-Edwards
With the latest 2023 color of the year announcement, soft, earthy shades of pink and clay take the lead as the most popular paint colors. Terra Rosa by Dunn-Edwards blends brown and burgundy for a rosy pink that works as both a grounding neutral and a delicate accent.
"We're putting health and wellbeing first, making time for escapism and embracing nostalgia … This translates to design through lush, sophisticated touches with equal parts prettiness and drama," said Sara McLean, color expert and stylist for Dunn-Edwards.
Sweet and cozy without being saccharine, the warm hue adds comfort to a bedroom or living space. Or splash Terra Rose on your home's exterior for standout style.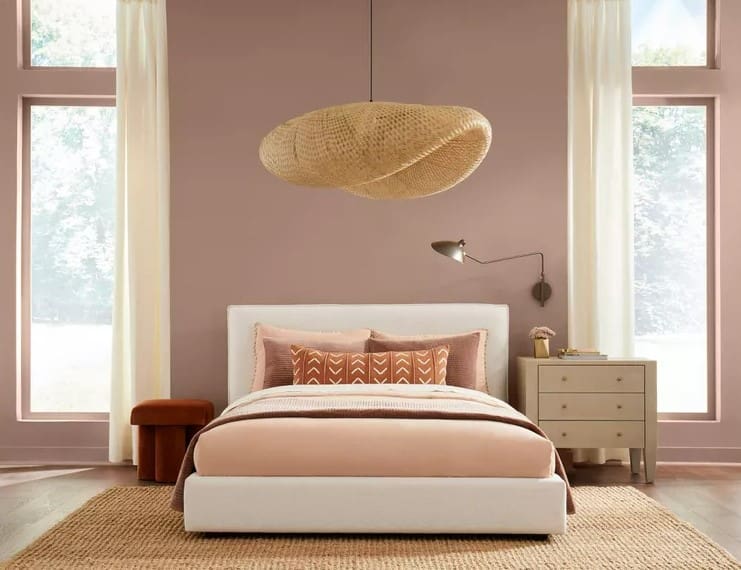 [Photo: Sherwin-Williams]
Redend Point by Sherwin-Williams
A blend of blush and beige, Redend Point by Sherwin-Williams features subtle pink undertones to warm up walls. The grounding shade feels especially on trend as homeowners turn toward earth tones to bring comfort and joy to their interior spaces.
"People have been drawn to nature-inspired and earthy tones the past couple years, and this is something that will continue into 2023 and beyond," says Sue Wadden, director of color marketing at Sherwin-Williams. "Greens, blues, and browns can make any space feel safe, calming, and grounded yet still energized."
Showcase Redend Point in an entryway that greets guests with an inviting welcome, or on furniture, such as a bathroom vanity, to create an eye-catching focal point.
RELATED:  The Sherwin-Williams Color of the Year 2023 Has Us Blushing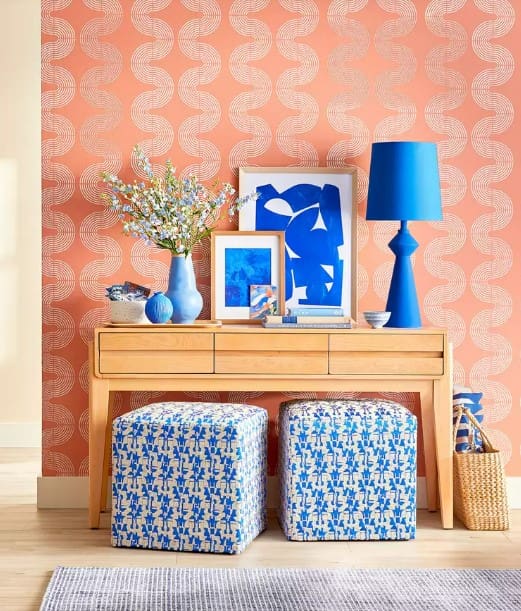 [Photo: Carson Downing]
Canyon Ridge by Better Homes & Gardens at Walmart
Reminiscent of Southwestern landscapes, Canyon Ridge is an orange-meets-pink paint color that acts as a near-neutral when applied to walls. The trendy spin on terra-cotta couples well with bright blue, its opposite on the color wheel. "Cobalt has vibrancy that makes this classic pairing feel modern," says BHG style director Jessica Thomas. "Rustic rooms may call for darker denim blue accents. For traditional decor, make it navy." Not ready for an entire room revamp? Try Canyon Ridge on DIY artwork, built-ins, or even your ceiling for a subtle splash of cozy, desert-inspired color.
RELATED:  The Better Homes & Gardens 2023 Color of the Year Is Here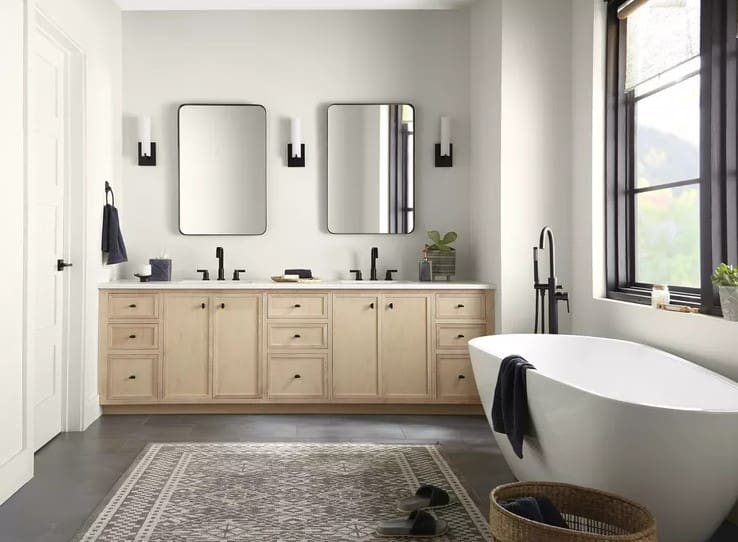 [Photo: Behr]
Blank Canvas by Behr
Not every 2023 color of the year aims to make a statement. Blank Canvas, Behr's pick, is a creamy shade of white that goes with practically everything. The warm neutral stands out from the icy modern hues popular in the past.
"Blank Canvas effortlessly offers a clean and inviting blank slate that allows individuality and creativity to flow freely. This white easily harmonizes with a wide range of hues, including neutrals, earth tones, and pastels for a charming and cozy appeal," said Erika Woelfel, vice president of color and creative services at Behr, in a press release.
Use Blank Canvas on bedroom walls to promote relaxation, or finish office built-ins and trim with the warm shade of white for a classic look that encourages creativity and concentration.
RELATED:  Behr's Color of the Year 2023 Is All About Versatility and Tranquility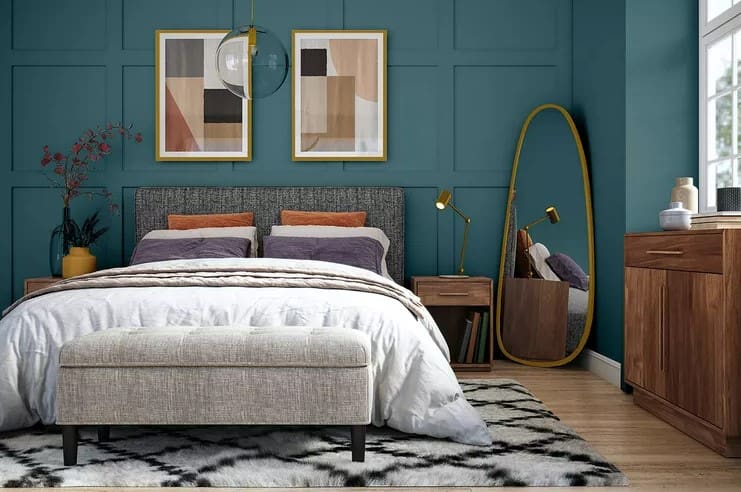 [Photo: PPG]
Vining Ivy by Glidden
Nods to nature continue to be popular, and Vining Ivy blends blue and green for a tranquil backdrop. The color of the year 2023 from Glidden Paint by PPG works well with both contemporary and classic styles. "[Vining Ivy] is energizing yet grounding, and it works in literally any space," said Ashley McCollum, Glidden color expert, in a press release. "Its versatility takes the guesswork out of design, leaving consumers with more time to indulge in the things that matter most to them."
Pair the blue-green jewel tone with wood finishes, stone accents, and rich textures for a room that borrows from the outdoors. Or opt for smaller doses of Vining Ivy on trim, furniture, or cabinetry for a subtle dose of the soothing paint color.
RELATED:  Glidden's Color of the Year 2023 Is a Moody Blend of 2 Favorite Colors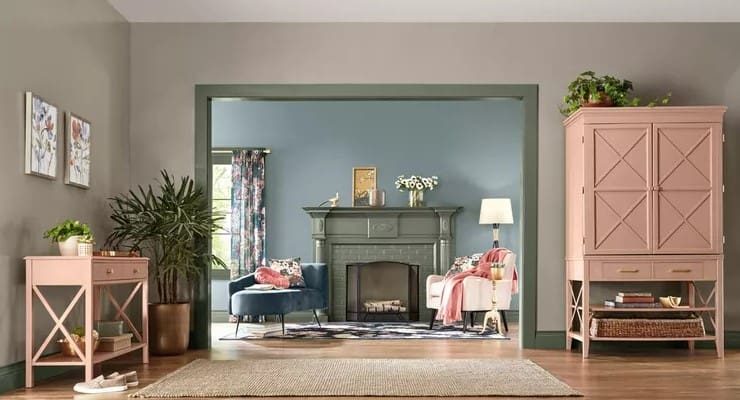 [Photo: Dutch Boy]
Rustic Greige by Dutch Boy
For a cozy, goes-with-everything color, turn to Rustic Greige from Dutch Boy. The 2023 color of the year is a blend of gray and beige with subtle red undertones that pair well with today's trending earth-tone paint colors. Rustic Greige wraps a room in warmth, making it perfect for kitchens, bedrooms, and family spaces alike.
"The importance of overall well-being remains a primary focus in everyday lives," said Ashley Banbury, Dutch Boy senior color designer, in a press release. "That's why more DIYers are dedicating time and energy to designing personal spaces that make them feel cozy, protected, and calm." The color grounds three color custom palettes⁠—Plush, Wistful, and Botanic⁠—which showcase the neutral's versatility.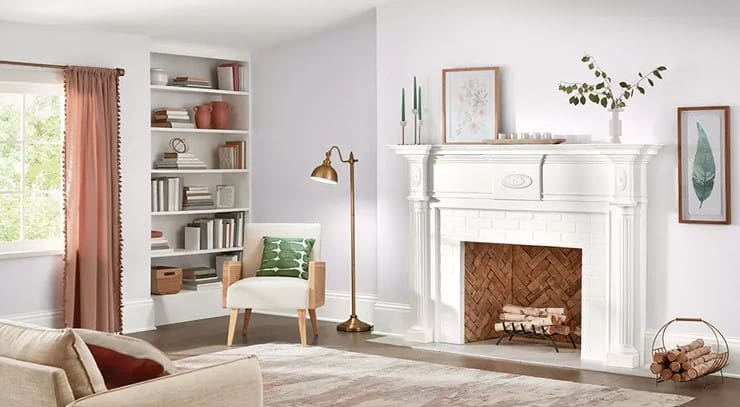 [Photo: Valspar]
2023 Colors of the Year by Valspar
Valspar selected 12 livable paint colors, including soft neutrals, sweet pastels, and soothing shades of blue and green. "[They] are usable shades that encourage self-expression and anyone can envision in their space," said Sue Kim, Valspar color marketing manager, in a press release. Soft shades of pink and purple, including Gentle Violet (pictured above) and Southern Road, add sophisticated yet subtle color to walls, while rich, restorative blues and greens, including Flora and Everglade Deck, pair well with wood tones and brass accents.
The collection launched alongside Valspar's "Color-Verse," a virtual home that allows consumers to try out the 2023 colors of the year.
We are sharing this blog from Better Homes and Garden and was written by Caitlin Sole, Senior Home Editor, BHG
Caitlin is the senior digital home editor at Better Homes & Gardens, where she covers all things home, including decorating and interior design, cleaning and organization, paint and color, home improvement, and more.
Premier Home Remodeling in the Greater Phoenix Area
For high-end home design, build, and remodeling in the greater Phoenix area that reflects your vision, Homework Remodels will help you love your home again. Start your project by calling us at (480) 895-3442 or emailing [email protected] to discuss your remodeling project.  We offer no-obligation in-home consultation. Our NARI-certified award-winning designers and craftsman are eager to work with you to make your vision for your home a reality!  See our portfolio here.
Find more informative blogs and articles on HOUZZ and on our website www.trilitebuilders.com