There are a lot of details, both big and small, to think about when designing or remodeling a bathroom. And I believe that to create a space that truly works for you, investing extra time and money on custom storage in the planning stages will be worth it in the long run. Here are 12 custom storage solutions to consider with your design and remodeling team early on for a clutter-free bathroom.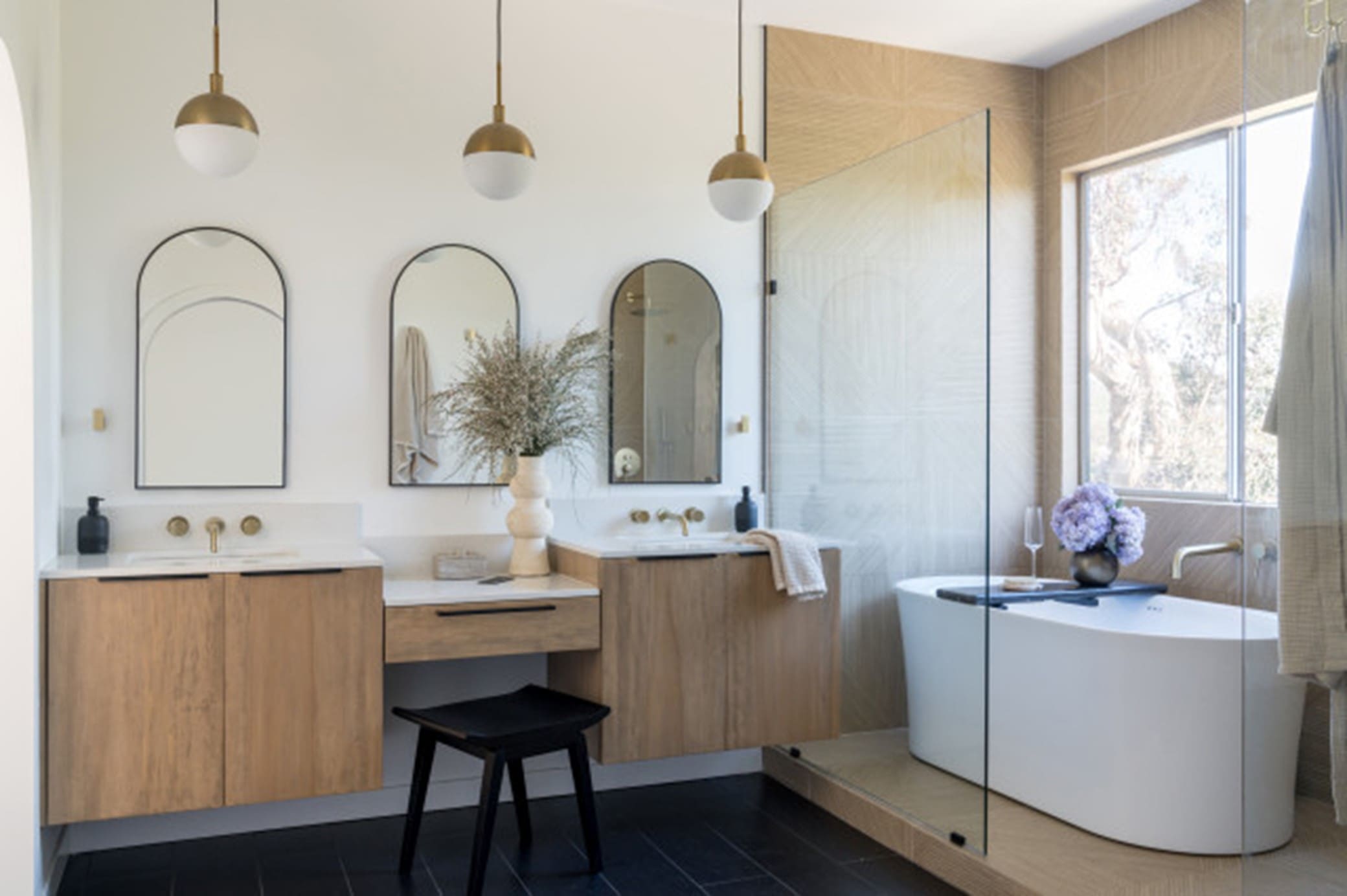 Materials + Methods Design
Custom Storage Solutions
The first step in planning a functional bathroom is understanding what your needs are and the general quantity of what you plan to keep in your bathroom. I suggest writing a list of your top priorities and wish list items, such as towel storage, easy access to hairstyling, or an organized skincare setup.
Your bathroom might not fit everything you would like. Pare down your belongings and try to decide where each category of items will reside. Eliminating what you don't love or need, and deciding on a home for each category, before you finalize your plans might help narrow down your storage solutions. You might realize that some less frequently used items are better stored elsewhere in the house.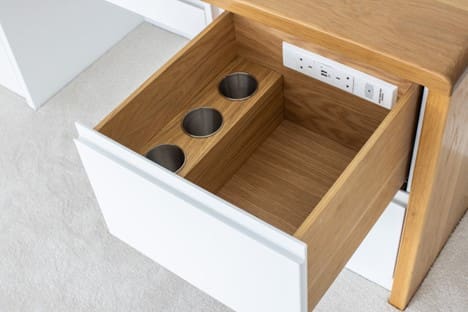 Docking Drawer
1. Hairstyling Drawer
Many people use hairstyling tools and products daily, yet these items are often tucked away under the sink or somewhere else that's not very accessible. If this sounds like you, and you want your tools and products to be easily reachable, consider devoting a drawer to hair care.
An outlet in the drawer can help keep cords neat and off the counters. And consider storage that will allow you to put hot tools away right after using them, while they're still cooling, as with the metal-lined holders seen in this photo from Docking Drawer.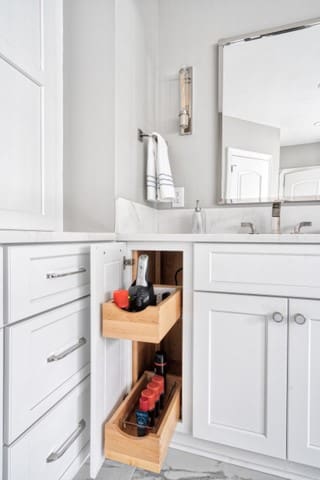 KraftMaster Renovations
2. Rolling Drawers
Items stored in the back of deep cabinets are difficult, and sometimes awkward, to retrieve and put away. It's also very easy to forget about things when they get shoved to the back, which can lead to clutter and unused items. Rolling drawers with full-extension slides will allow you to see all the contents and keep them organized.
How to Choose a Bathroom Vanity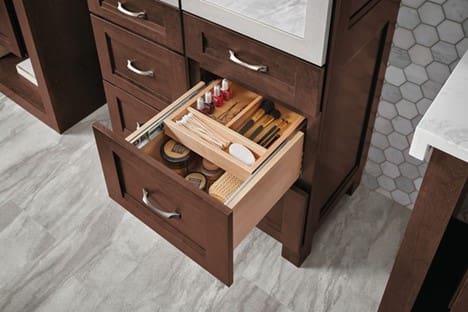 KraftMaid
3. Tiered Drawers
If your drawers are very deep, you might consider adding tiers; splitting your original drawer into two might prevent it from becoming a cavernous catchall. There are many tiered drawer configurations to suit a range of organizing needs. If you need part of your drawer to remain deep, for instance, a cabinetmaker might be able to install a partially tiered drawer.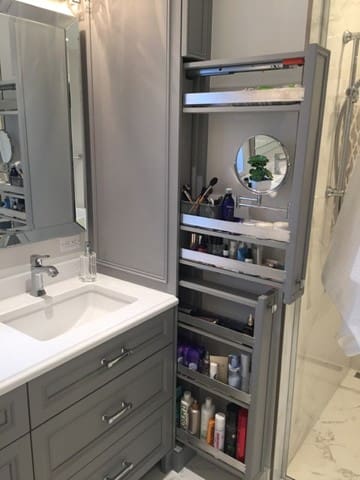 Wow Great Place
4. Pullout Towers
Cabinets that extend to the ceiling add storage, which is especially handy in a bathroom with a small footprint. Wow Great Place created the three stacked pullout towers seen here, in a narrow space between a sink and a wall. They increase the storage considerably, all the items are accessible, and the pullouts are fairly inconspicuous when closed.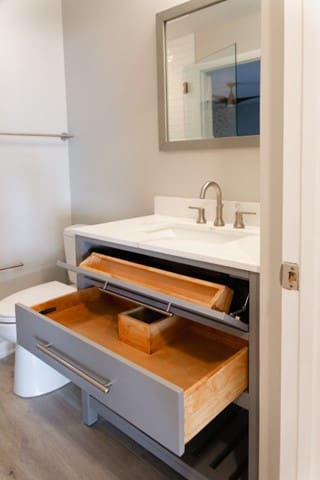 Delicious Kitchens & Interiors, LLC
5. Tip-Out Tray and Notched Drawers
I've seen many bathrooms in which the panel in front of the sink is a false drawer front, and I always find it disappointing to pull on the handle and have it be immobile. To squeeze in every ounce of storage possible, depending on your sink and counter configurations, consider adding a tip-out tray and notched drawers, as Delicious Kitchens & Interiors did here.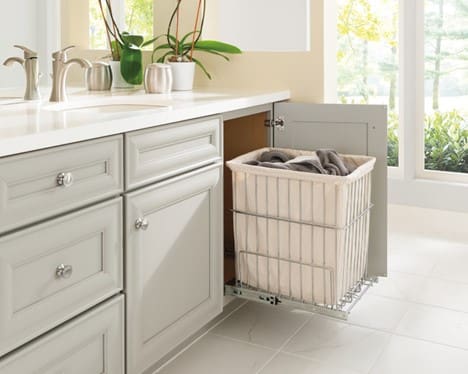 MasterBrand Cabinets
6. Hidden Hamper
Many of my clients don't like having their laundry hampers visible and taking up floor space; they prefer to have them hidden. Hidden hampers require a lot of space though, so you'll want to weigh the pros and cons of giving up cabinet space (either in your bathroom or your closet) to house one.
Since a hamper is a frequently used item, the solution should be both convenient and aesthetically pleasing. If you decide to allocate cabinet space for your hamper, I recommend installing one on slides so you can pull it out push it in easily.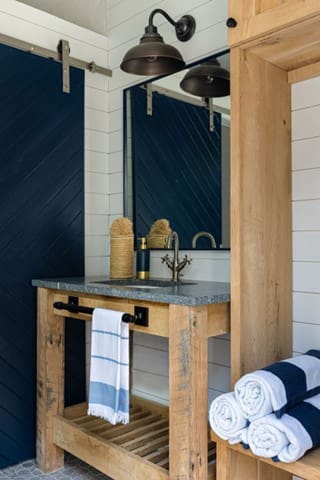 Whit Willow, Llc.
7. Vanity Towel Bar and Hooks
If you don't have much wall space for hanging towels, consider installing towel bars and hooks in front of or on the side of your vanity.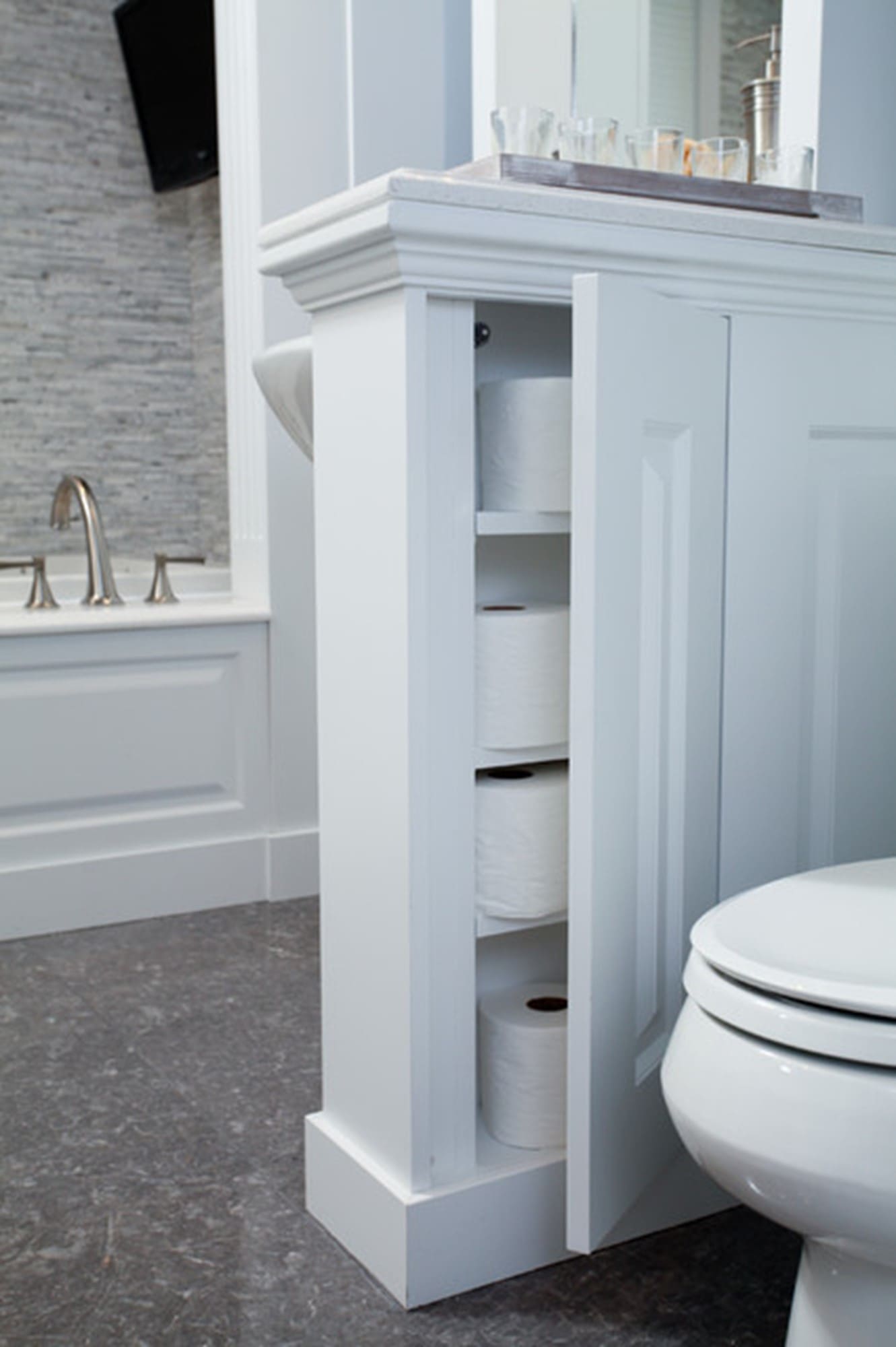 Mulberry's Design House
8. Wall Storage
As long as a wall isn't load-bearing and doesn't have pipes or electrical wires running through it, you might be able to hollow out the wall to create more storage. A half wall that separates the toilet from the shower or vanity area can be an ideal place for storing extra bath tissue, as in this space by Mulberry's Design House. I recommend proceeding with this solution only with the approval of an architect or a contractor.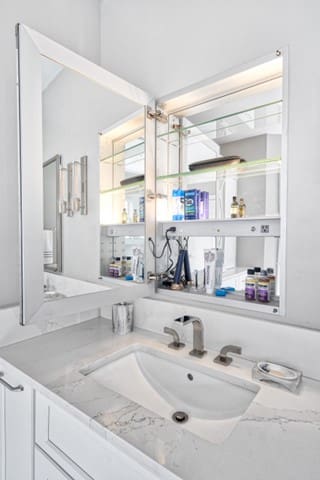 KraftMaster Renovations
9. Medicine Cabinet Features
In the past, a medicine cabinet was simply a shallow cabinet with a mirror. Nowadays there are many features you can select to make your medicine cabinet serve you well.
Useful features can include a Bluetooth speaker for your music and refrigerated sections for special skincare products and medicines. You also can add night lights, defoggers, and charging ports for electric toothbrushes, razors, and beauty devices. Some of these features might be considered luxury items, but they might truly enhance your life and make your routines more efficient.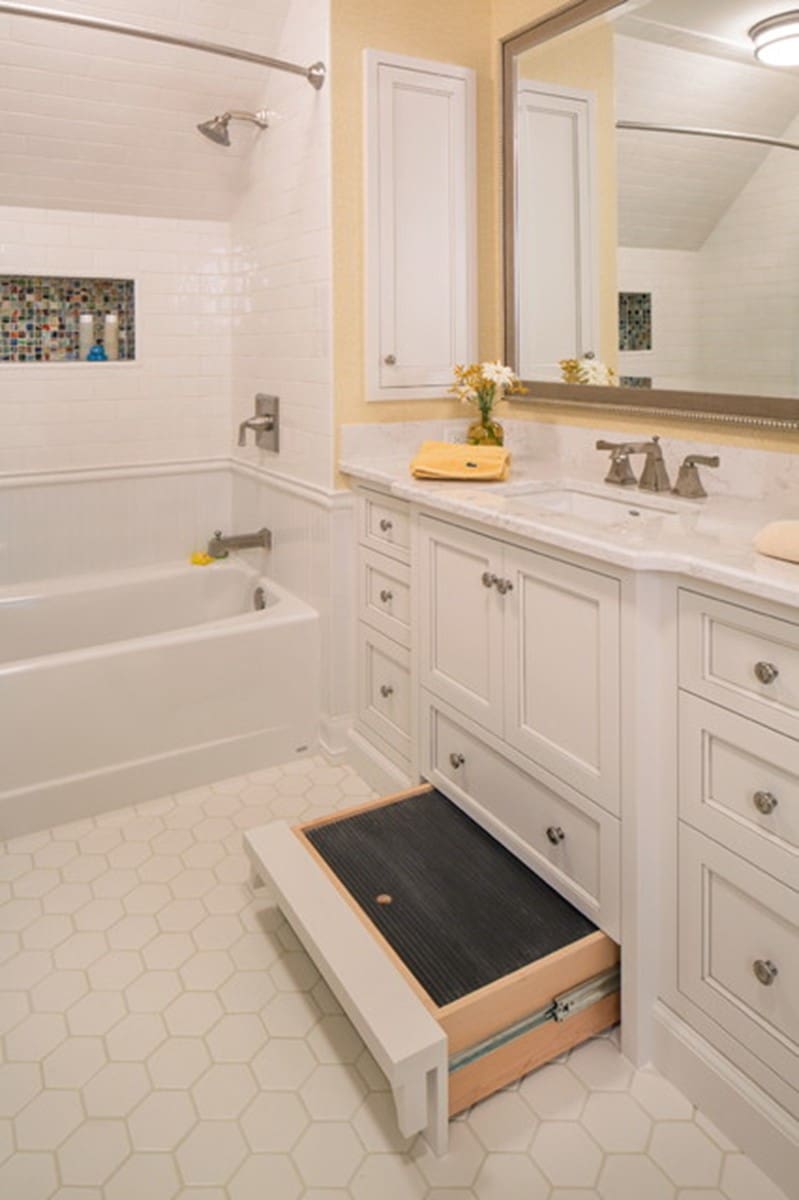 Wood Specialties, Inc.
10. Toe Kick Storage
A toe kick is a recessed area at the bottom of a base cabinet that allows someone to stand closer to the counter comfortably. Depending on the construction of your cabinets, you might be able to convert the base to a toe-kick drawer for even more storage. If you have young children, a cover for the toe kick drawer can double as a step as well. Consult with your architect and contractor to see if incorporating a toe kick drawer would be a feasible option for you.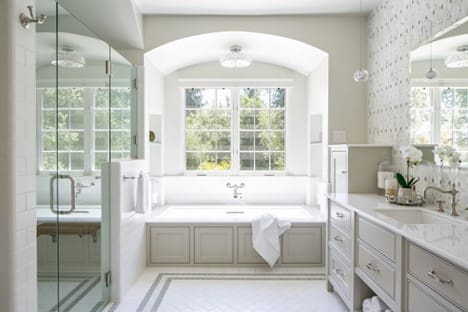 Hartman Baldwin Design/Build
11. Bathtub Storage
Carve out extra spaces in the framing of your bathtub or create a shallow cabinet or shelving unit in front of your bathtub.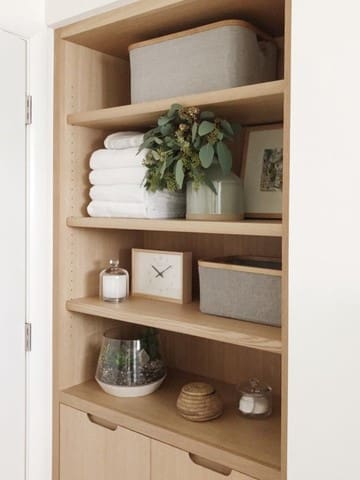 Casework
12. Decor Display
While planning your functional bathroom, be sure to also include spaces where you can add decor and personality. Evaluate if recessed shelving created from otherwise unused zones might be a good investment for you. Open shelves can display small plants, candles, and framed photos, as well as serve as additional storage.
Houzz Contributor. Patricia Lee is a professional home organizer in the San Francisco Bay Area. She is the co-owner of Tailorly with her business partner Jeanne Taylor. Together they create beautiful homes through decluttering, organizing, and styling. For more information visit www.tailorly.net.
Premier Home Remodeling in the Greater Phoenix Area
For high-end home design, build, and remodeling in the greater Phoenix area that reflects your vision, Tri-Lite Builders will help you love your home again. Start your project by calling us at (480) 895-3442 or emailing [email protected] to discuss your remodeling project. We offer no-obligation in-home consultation. Our NARI-certified award-winning designers and craftsmen are eager to work with you to make your vision for your home a reality!  See our portfolio here.