A backsplash can be defined as a panel behind a sink or stove that protects the wall from splashes. Although simply defined, here at Tri-Lite Builders, backsplashes are far from plain and simple. A creatively designed backsplash can transform your kitchen – leaving all of your dinner guests in amazement. Take a look at some of our all-time favorites!
WARM AND BOLD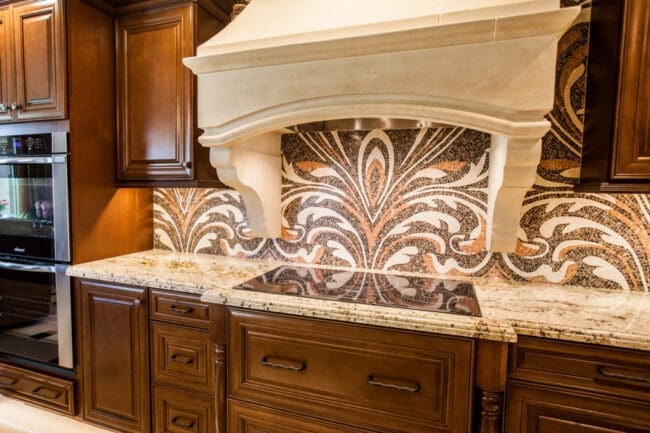 Handmade Mosaic of Emperador Dark, Crema Marfil, and Rojo Alicante Marble come together to create this marvelous view. The warm colors of the backsplash, granite countertops, and Cherry Chocolate cabinets make a bold statement sure to leave guests in awe.
A POP OF COLOR TRANSITIONAL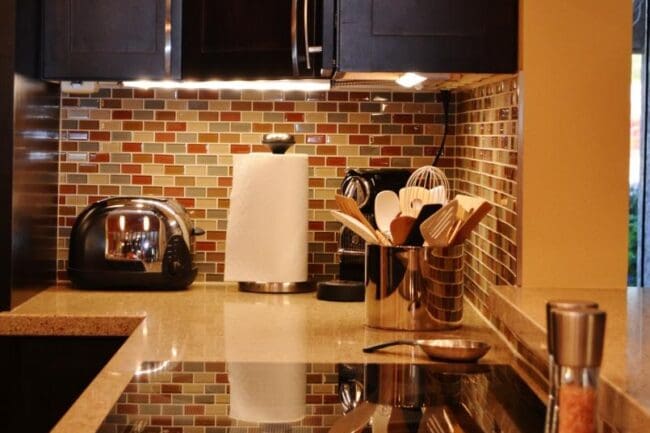 This Multi-color glass mosaic backsplash made of 1×2 subway tile complements the deep espresso color of the cabinets and the orange highlights of the Quartz counters.
MID-CENTURY MODERN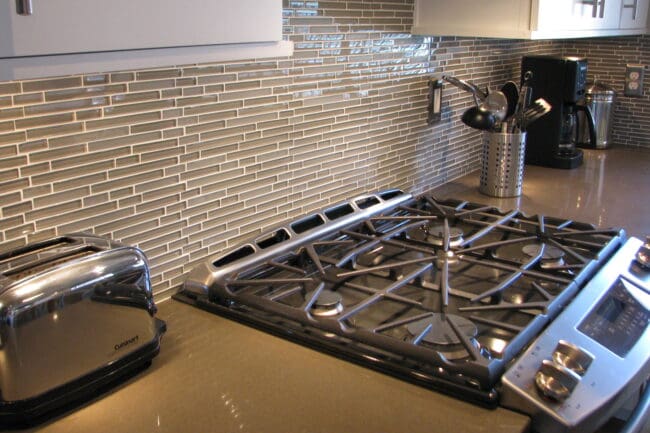 Pure Wool Mix Glass Mosaic accents the look of this Mid-Century Modern Kitchen. The linear shape and long lines give this kitchen a bright, clean look.
A TOUCH OF SPARKLE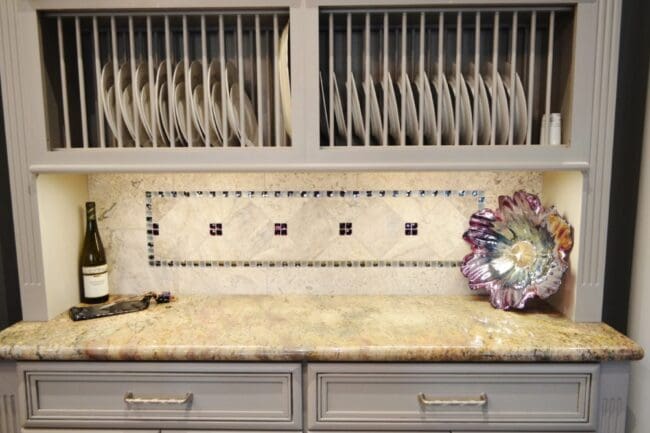 Silver Travertine with Amethyst and Silver glass jewels add just the right amount of sparkle to this Elegant Gray Transitional Kitchen.
WOW WORTHY QUARTZITE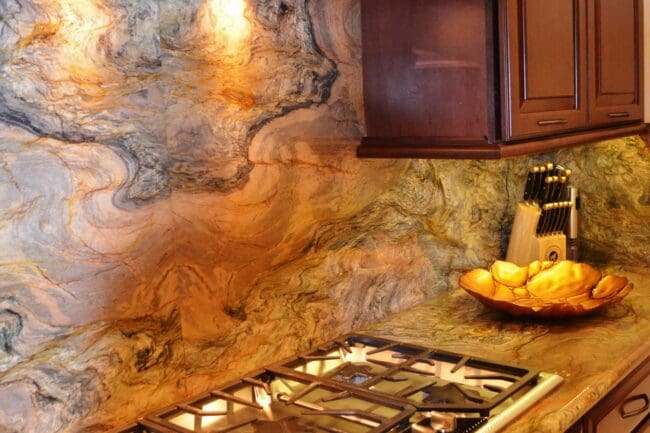 The vein in this quartz was our inspiration. Two book-matched slabs of Mardi Gras Quartzite create this breathtaking backsplash. We could stare at it for days!
WARM GREY NEVER LOOKED SO COOL!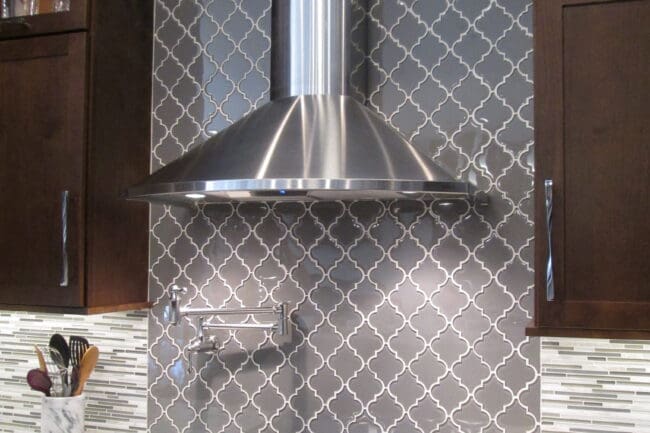 The Fleur-Gray Arabesque glass tile immediately draws attention to the stovetop, inviting you to appreciate all the details. Mixed-Stone and Glass Linear Mosaic backsplash along with a Quartz countertop made to resemble marble add brightness against the Cherry Bordeaux cabinets.
MULTI-COLORED MARBLE BACKSPLASH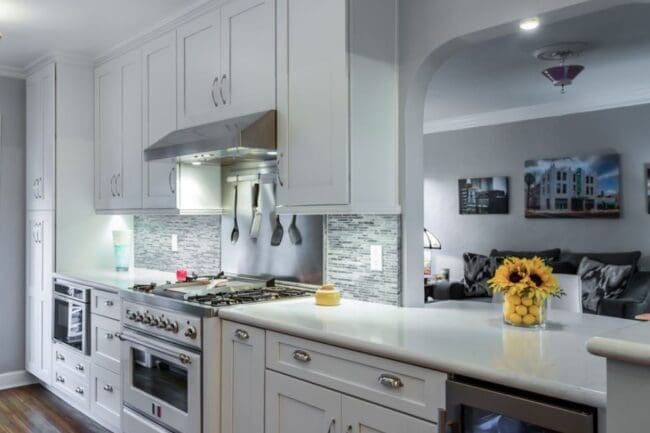 This multi-colored marble backsplash ties the kitchen together and the new pass-thru into the living area.  It contains both the white from the taller cabinets and white quartz countertops and a pale grey, resembling the stainless steel appliances.
INSPIRED ASIAN BEAUTY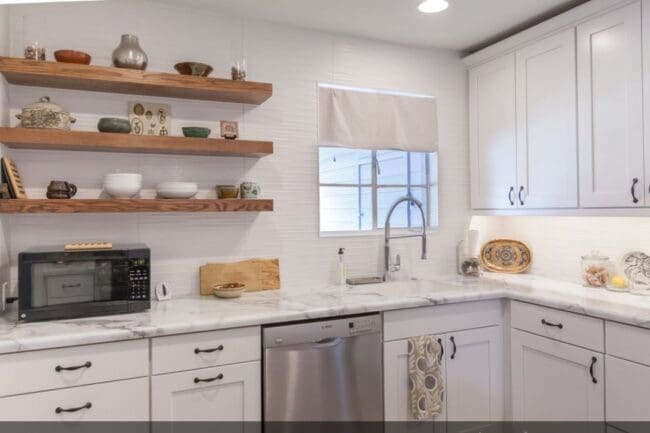 This kitchen was reinvented with all-white cabinets and integrated texture and color with a counter to ceiling backsplash in a matte white large-scale textural tile, and floating oak shelves. It is complemented with a high-end laminate that gave the counter a marble look.
Greater Phoenix Area Award-Winning Remodeler
A backsplash adds color and personality to your kitchen.  You can choose to use anything from traditional tile to rustic wood – the options are endless!  Do not let your remodeling ideas be limited by tradition; think bold and unique. Contact us at (480) 895-3442 if you are interested in remodeling your home and adding to the unique appeal you enjoy from your living spaces.
Peruse our portfolio for more ideas for creating spaces that will make you enjoy your home again!