A pergola is remarkably versatile
The material a pergola is made of and where you place it in your garden or deck can turn it from a functional but basic structure into a one-of-a-kind statement piece. Extras can range from lights, ceiling fans, and adjustable overhead slats to entertainment systems, fire features, and outdoor kitchens giving you a pergola that is remarkably versatile.
A pergola covered with plants, both on the exterior and hanging inside, is the very definition of a garden room. For avid gardeners, this makes a pergola the perfect spot to show off spectacular climbing or vining plants — anything from ivy and wisteria to roses and clematis. You could even add some edibles, such as tomatoes or grapes.
Here's what to know about adding a pergola to your yard — including ideas for the design and location, the pros and cons of different materials, and where professional contractors are helpful.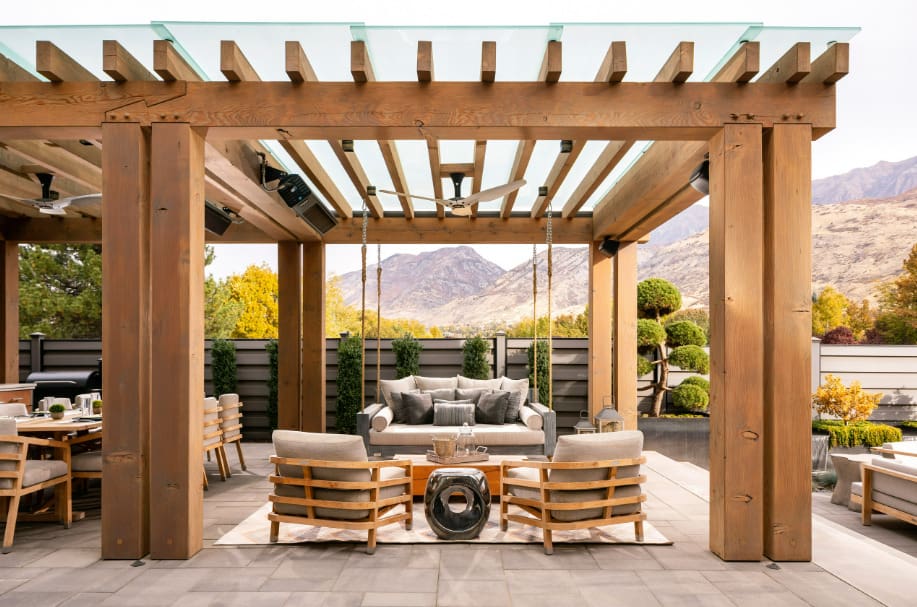 [Magleby Construction]
What is a Pergola?
A classic pergola's design is deceptively simple. It consists of four posts, which in turn support four crossbeams or a mix of beams and rafters around the top perimeter of the structure. A slatted or lattice roof provides filtered shade.
A pergola has the look of an arbor and, like an arbor, is traditionally covered with climbing or vining plants. The primary difference between the two structures is size. Pergolas are designed as places for lingering rather than passing through, so they are usually much larger, with dimensions similar to those of a gazebo or pavilion. Think of it as a hybrid of garden structures. You'll find a pergola is remarkably versatile!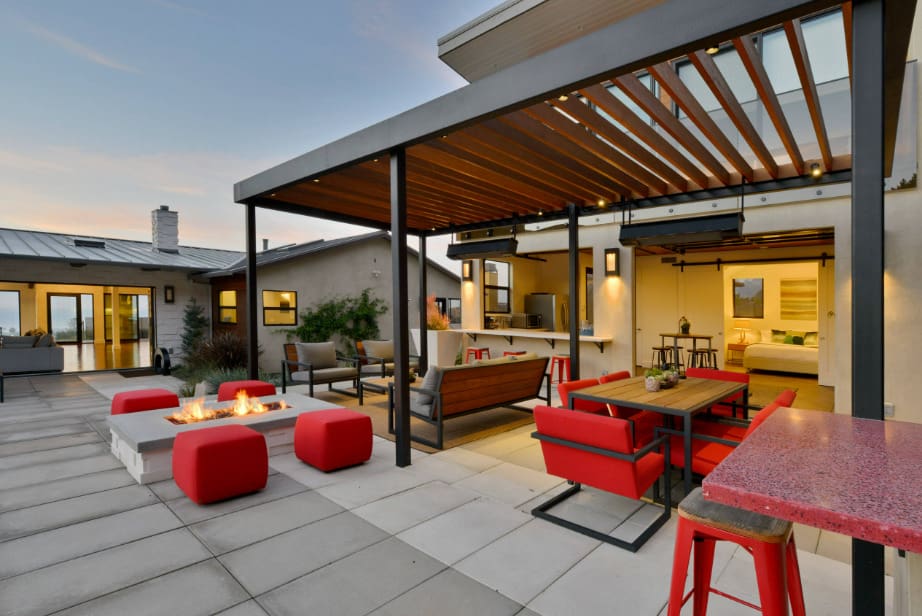 [Hauck Architecture]
Expert do-it-yourselfers can order pergola plans or a kit with pre-cut pieces. If you do choose a kit, be sure the materials will stand up to your climate and site conditions. Before you consider this route, take stock of your tools and your expertise level. In addition to building, you'll also need to take on the legwork of getting permits, preparing the site, and checking for gas and plumbing lines. Remember that much of your work will be done on the top of the pergola, and staying safe while working on overhead elements is essential.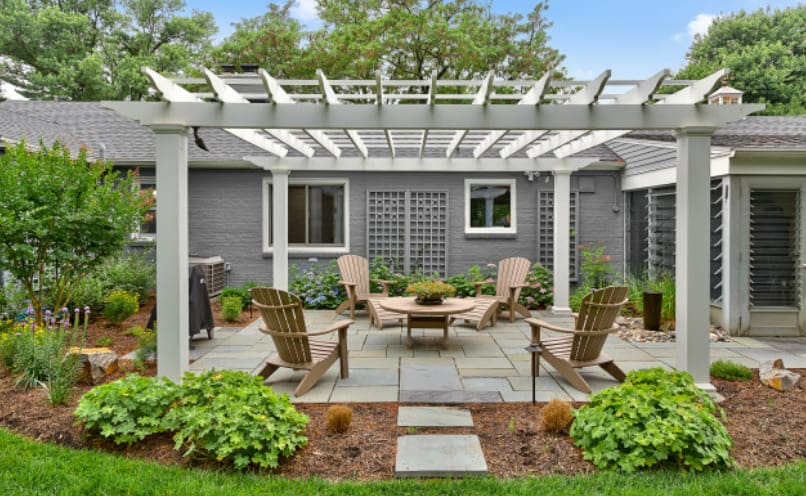 [DiSabatino Landscaping and Tree Care]
Design Considerations for a Pergola
Pergolas can be incorporated into almost any area of the landscape and can serve a variety of purposes. You can also adapt them to fit your personal style and preferred materials. Here are some things to consider when adding a pergola to your yard.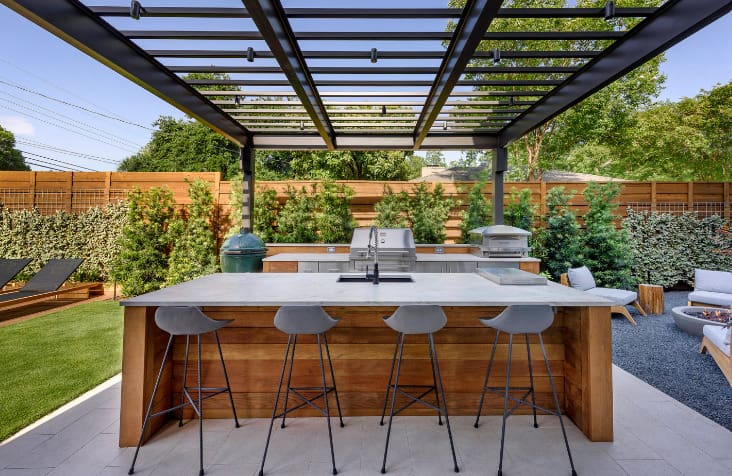 [Southwest Fence & Deck]
Where it will go. Consider placing a pergola where it can best suit your needs — creating a getaway spot or secondary dining or seating area, overlooking a stellar view, capturing summer breezes, or providing a bit of shade in an otherwise too-hot section of your yard.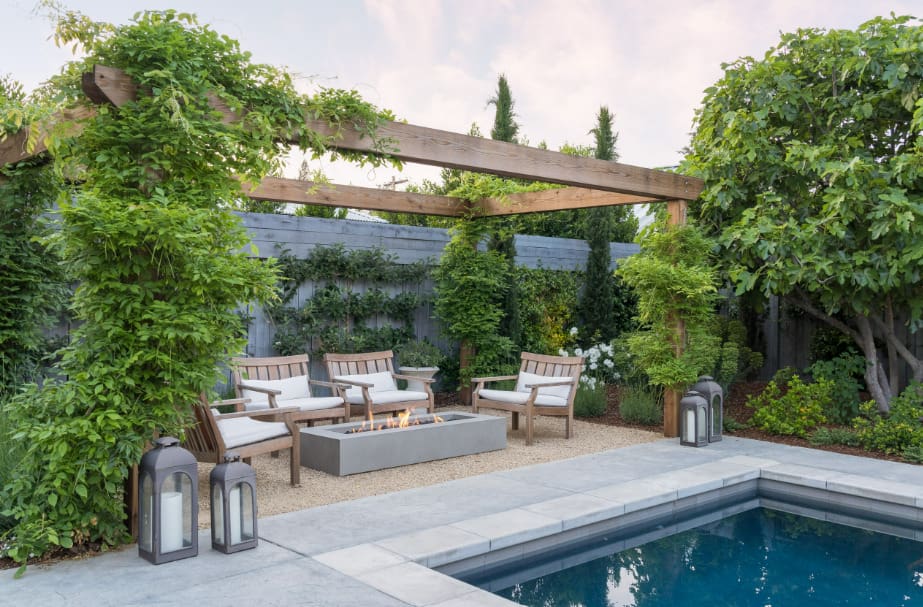 [Christian Douglas Design, Inc.]
Pergolas can also add a sense of enclosure for a hot tub or spa, while still keeping the space open to the landscape. Situating a pergola at the end or side of a pool creates a convenient spot for lounging away from the direct sun.
You can also add a pergola as part of a larger deck or patio project, as a freestanding structure, or attached to one side of your home or another structure. Use a pergola within a larger deck or patio to define the dining area or outdoor kitchen, create a conversation area, or add some afternoon shade.
Size. Once you've decided how you want to use your pergola, you'll need to determine how large you want to make it. If you're planning to use the space for lounging or dining, be sure to allow enough space to make it comfortable for you and your guests.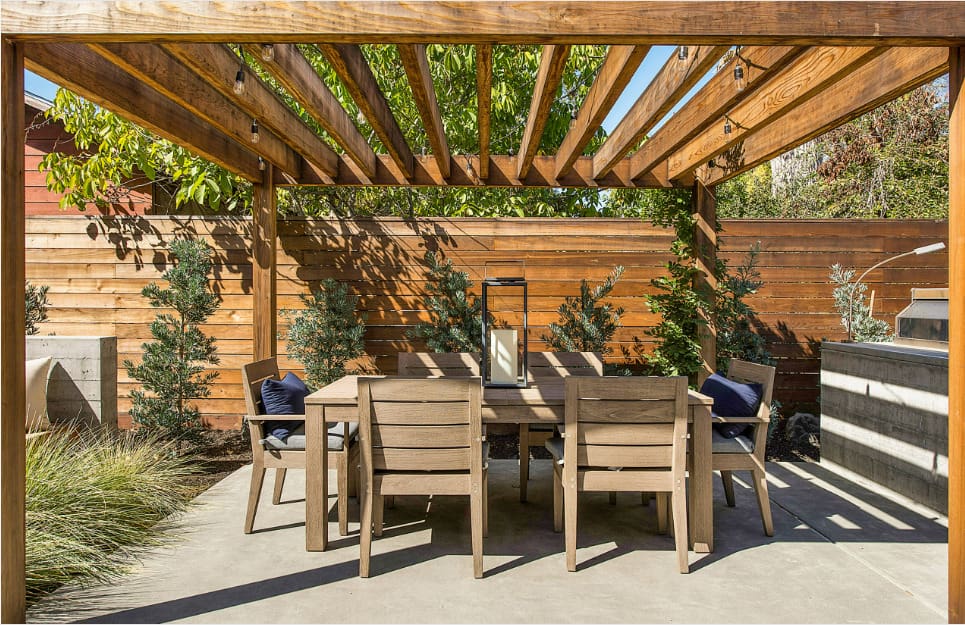 [Elevation Architects]
Style. The look you want is also a key factor in choosing a pergola design. Match your pergola style to both your home and your landscape to make it feel like a cohesive part of the entire concept. You might opt for wood in a naturalistic garden and with a traditional home, or a sleek metal design for a contemporary home. If you really want your pergola to stand out, consider a design that will add some unexpected contrast.
The size of the support posts and overhead pieces will affect the look of your pergola. Slender posts and beams, whether made of metal or wood, lend themselves to a more refined and less intrusive look. More robust posts will add more weight and presence, along with the rustic appeal.
Roof structure. Consider if you'd like your pergola to protect the space beneath it from sun and rain or to simply provide structure for climbing plants or overhead string lights.
The spacing of overhead slats and how they are set, whether horizontally, vertically, or at an angle, will determine the amount of sunlight that reaches the interior of a pergola throughout the day. Movable overhead slats or louvers can be adjusted to adapt to the available sunshine or even shut completely in case of wet weather.
Shade cloths and retractable canopies can provide additional overhead protection. For a more open, less confining feel, think about designing a gabled or arched roof, or even eliminating any sort of roof altogether.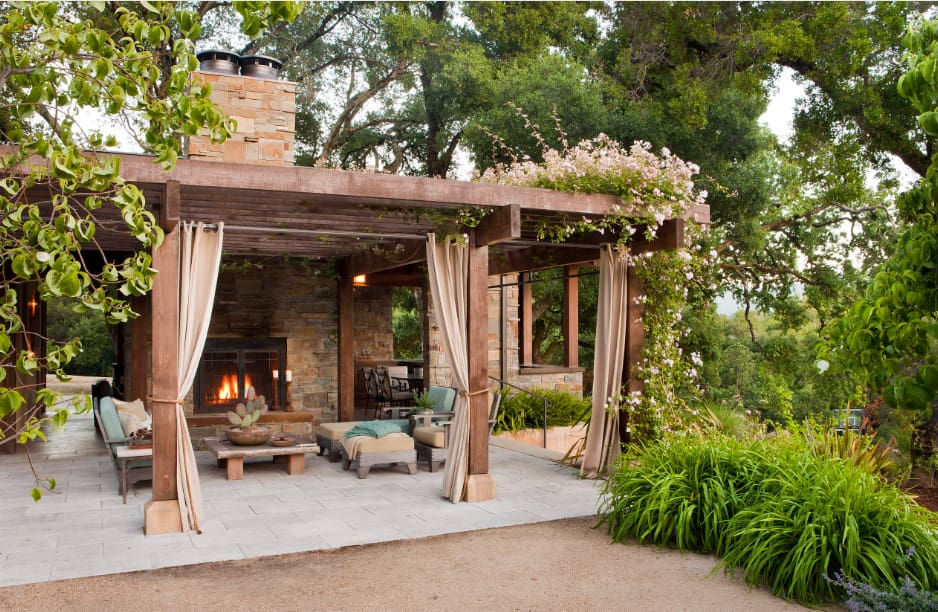 [Dotter & Solfjeld Architecture + Design]
Side walls or screens. While the sides of a pergola are traditionally left open, adding lattice screens, partial walls or even a full wall on one side of a pergola can provide privacy if needed. Less permanent privacy options include installing curtains or shades that can be pulled shut when needed or lining the sides with tall plants.
Bonus features. Depending on your needs and where you live, you may consider adding amenities such as lights, fans, and mounted heaters. Other options include permanent seating — perhaps even a swing — and gas and electrical lines for features like a fire pit or spa. Keep in mind that these features can increase the project's overall cost and installation time.
Material Options for a Pergola
Many people think of wood when it comes to pergolas, but your material options are surprisingly wide. Vinyl and fiberglass pergolas are lightweight and long-lasting options, as are aluminum pergolas. Steel pergolas are heavier but also a good choice to consider.
Wood. Wood remains a favorite choice for outdoor structures, especially pergolas, thanks to its natural good looks, adaptability, and durability — it's able to handle most weather conditions. Wood pergolas can be either freestanding or attached. Their cost is typically in the midrange for material options.
Naturally rot- and pest-resistant woods, such as California redwood and western red cedar, are good choices for a pergola, but these materials can be regional and difficult to find, depending on where you live. If it's difficult to find them, you can check with local building suppliers for good substitutes for your location. Tropical hardwood options include ipe, teak and mahogany; they're pest- and rot-resistant, and good for coastal locations. Before you buy, check that the wood is certified as sustainable by the Forest Stewardship Council (FSC). These woods are also more expensive and can be harder to work with than some other types.
A final option is a pressure-treated wood. These are usually competitively priced and easy to work with, but folks might have concerns about using materials that have been treated with chemicals to make them more long-lasting.
While outdoor-grade wood is a good choice for landscape projects, it may not last as long as high-quality vinyl, fiberglass, or metal. Any type of wood requires sealing and usually staining or painting when you first install it. Sealing will keep cedar, redwood, and mahogany from fading to gray. While hardwoods can be painted, many people prefer to simply seal them to showcase their natural beauty. Redwood and pressure-treated lumber can also be stained or painted.
You'll also need to maintain that finish, resealing and staining every year or two and repainting every few years. Even with regular maintenance, you may need to make more extensive repairs after 10 years or so.
If you're growing plants on your pergola, the moisture from the plants themselves, combined with their weight, can damage wood posts and overheads. Trim back the plants and check for signs of damage yearly.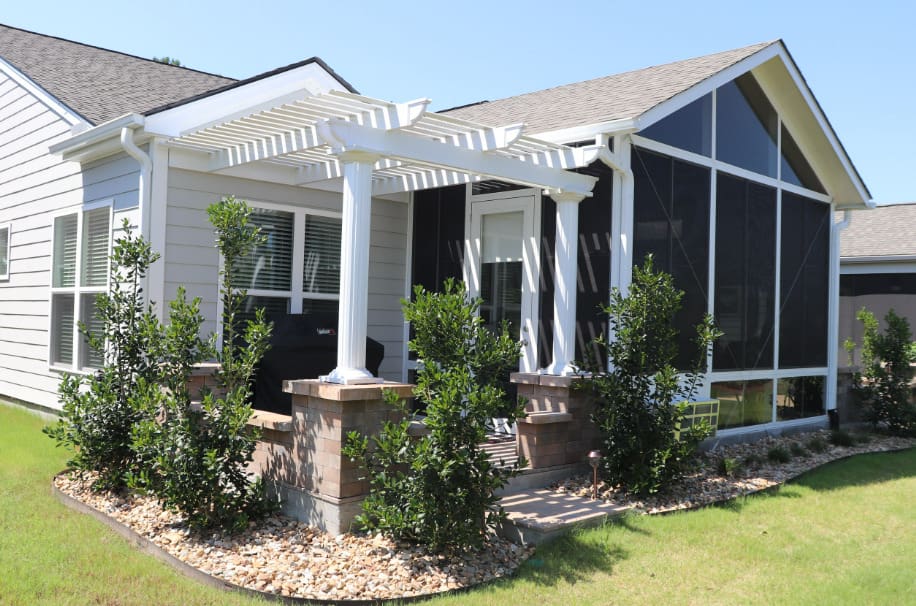 [Porchoutfitters]
Vinyl and fiberglass. High-quality custom-made vinyl pergolas and vinyl pergola kits are readily available and a great choice for a traditional look at a reasonable price. Vinyl pergolas are very long-lasting and relatively maintenance-free, requiring only cleaning every year or so to keep them looking good.
Vinyl pergolas come in limited colors — primarily shades of white — and can't be painted. Their lightweight limits their overall span, and they can sag under a snow load. They are usually freestanding, but some companies do offer the option to attach them to a home.
Fiberglass pergolas, whether you choose a kit or have one custom-made, are less common than their vinyl cousins but share their care requirements. They are also one of the higher-priced choices, but they make up for the initial cost with their long-term low maintenance costs. They can be freestanding or attached, and your choice of styles and colors is far greater than with vinyl options — they can also be painted. Though still lightweight, they are much sturdier than vinyl, especially for snow loads.
Metal. For a clean, contemporary look that will last for years, consider a pergola made of aluminum or steel that has a finish to prevent rust. Your options include both custom designs and pergola kits. If you choose the latter, make sure it is high quality to get the long lifespan these materials are known for. Pergolas of either material can be freestanding or attached to the home.
Aluminum is a good choice for coastal locations, thanks to its resistance to rust. Its cost is higher than vinyl's but usually lower than or equal to that of wood. One thing to know about an aluminum pergola is that its light weight means it has to be well-anchored in areas with heavy wind.
Steel is heavier, making it stronger and more impervious to weather. It also can span longer distances without needing support, which is a bonus for larger installations. It falls on the high end of costs for materials.
Both materials are strong and extremely low-maintenance and are good choices for a range of climates. Wipe down finished steel or aluminum with a noncorrosive cleaner every year or so. That's also a good time to check the connections on the pergola to be sure they haven't loosened.
Other Considerations for Adding a Pergola
Permitting and codes. Before starting any pergola project, check with your local building department about the necessary permits and code requirements. While smaller structures, usually under 100 square feet, may not need permits, there still may be regulations that will affect the overall height and where you can build. You'll also need to check on the location of any gas, water, or power lines before you level the ground or dig for footings.
If you belong to a homeowners association, check for any guidelines or restrictions regarding location, size, materials, or finishes.
Anchoring your pergola. Whatever your pergola's material or style, you'll need to be sure its posts are securely anchored to the ground. Pergolas over decks and concrete slabs can be anchored with fasteners that are specifically designed for that purpose. For other surfaces, including pavers, the posts will need to be set into the ground. This involves pouring concrete footers or installing anchors on a footing that can literally screw into the ground. If you live in an area that experiences freeze-thaw cycles, the posts will need to be set below the frost line. An experienced landscape contractor will be able to handle any of these installations.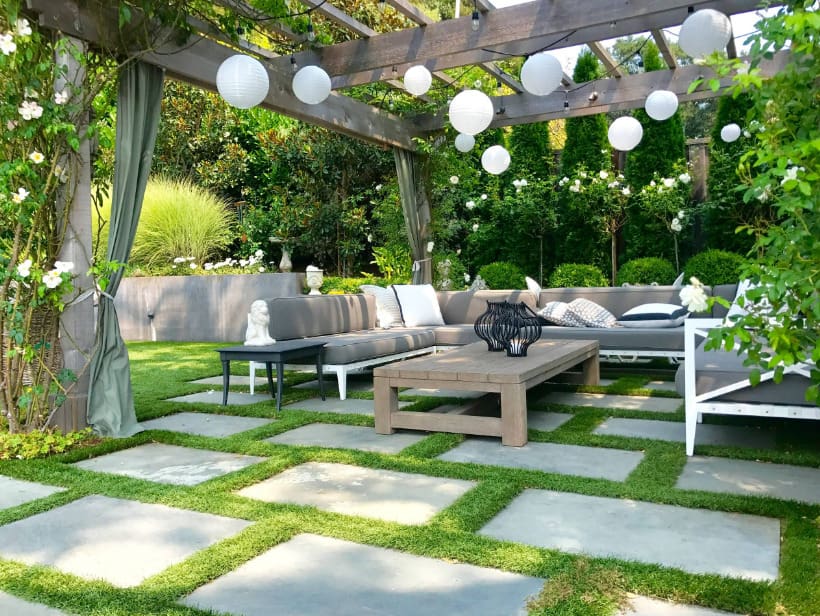 [Imprints Landscape Architecture]
Whom to Hire
For most homeowners, hiring a contractor is necessary for adding a custom pergola. Even with pergola kits, hiring a contractor is a good choice. While the cost is higher, a professional can help you finalize your plans, including what will work best to provide the right blend of sun and shade.  A professional contractor will also get permits and hire subcontractors for electrical, gas, and plumbing for your project.
This article was written by Marianne Lipanovich, Houzz Contributor.  We've included excerpts.  You can read the entire blog on Houzz.   About Lipanovich:  I'm a California-based writer and editor. While most of my projects are garden-based, you might also find me writing about home projects and classical music. Away from the computer, I'm found in the garden (naturally), on my bike, or ice-skating outdoors (yes, that is possible in California). I'm also willing to taste-test anything that's chocolate.
Premier Home Remodeling in the Greater Phoenix Area
For high-end home design, build, and remodeling in the greater Phoenix area that reflects your vision, Tri-Lite Builders will help you love your home again. Start your project by calling us at (480) 895-3442 or emailing [email protected] to discuss your remodeling project. We offer no-obligation in-home consultation. Our NARI-certified award-winning designers and craftsmen are eager to work with you to make your vision for your home a reality!  See our portfolio here.