Kitchens and bathrooms get a lot of remodeling attention. But there's been a surge of interest in living room updates in recent years. Many updates to living rooms are typically less expensive than the major changes often involved in kitchen and bathroom renovations. And the pandemic has changed the way many people want to live in their homes. That often starts with updating the living room.
With that in mind, we reached out to more than 50 home design and remodeling professionals and asked them which living room features they always recommend to homeowners. Here are the must-have living room features that came up again and again.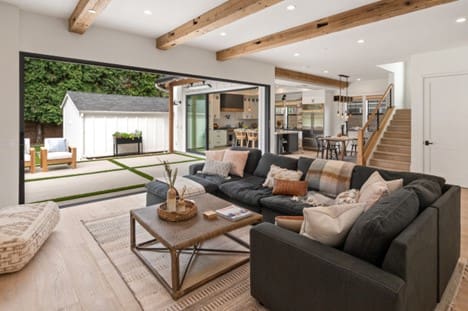 National Association of the Remodeling Industry
LIVING ROOM FEATURES THE PROS RECOMMEND
Connection to the Outdoors
By far, the living room feature pros most often recommend is a connection to outdoor spaces. This helps virtually and physically expand the living space and maximizes natural light and views. "Of all the spaces in a home, the living room is the one for which we strive the hardest to create continuity between the interior and exterior," says Coby Linton of Linton Architects.
This approach can take on many forms. At the top of the list would be sliding doors that completely open the indoors to the outdoors, as shown in this San Diego living room by Jackson Design & Remodeling.
But large windows that offer a view to an outdoor space also get the job done. "Large fixed windows are inexpensive and can really open up your home to views and light," says designer Justin Cipriani of Cipriani Studios.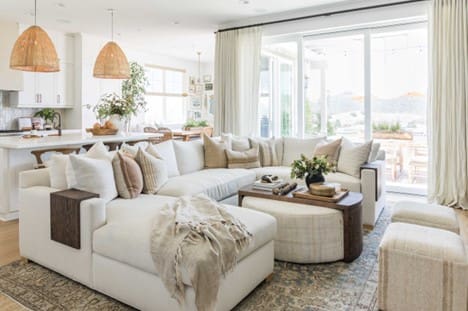 Performance Fabric
The next-most-recommended feature is performance fabric. This durable upholstery is stain-resistant and easy to clean, which also allows homeowners to feel a little more confident in choosing white and creamy colors for things like sofas and sectionals. "In living rooms, especially for clients with families or pets, I always recommend performance fabrics where possible," says designer Natalie Meyer of CNC Home & Design. "Whether on sofas, chairs, or upholstered ottomans, a performance fabric will stand up to your family's lifestyle and help protect against stains or spills so you can actually enjoy and live in your space."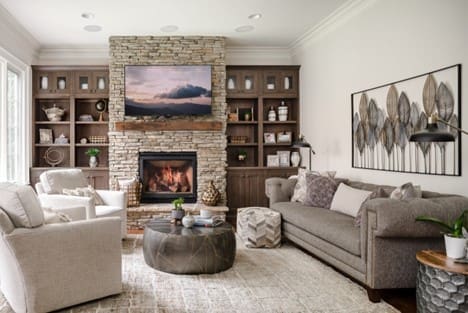 Comfortable Furniture
This is an obvious one but it's worth emphasizing: Comfortable furniture is a must-have in a living room. That means using more soft fabrics, deep cushions, and rounded edges rather than solid, hard-backed pieces and sharp corners. "I always tell my clients that the most important living room feature is comfort," says designer Lindsey Machado of Designed With Grace & Joy. "We will always make any space look beautiful, so it's more important to me that they're also happy with the way it feels. That not only includes actual materials — think plush rugs, soft pillows and throw blankets, a nice-feeling sofa — but also ambiance."
Designer Krista McGrath of McGrath Interiors tells homeowners to get the best-quality seating they can afford. "They will spend hours sitting on their furniture," McGrath says, "so it should be very comfortable and hold up well."
Designer ​Sabrina Lowe agrees. "The sofa is the one item in the living room that clients should put resources toward," she says. "Most people who invest in a good couch have it for decades."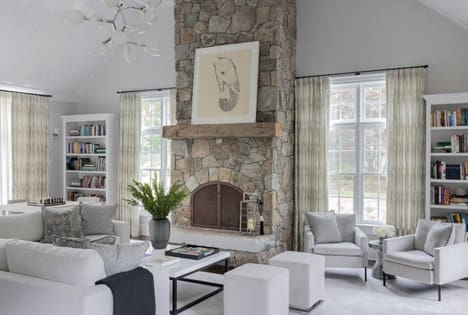 Multiple Seating Options
In addition to choosing comfortable furniture in durable fabrics, you should strive for plenty of seating options to accommodate family members and guests. Consider sofas, loveseats, ottomans, and armchairs.
Pros also recommend pieces that can be moved around, like accent chairs and footstools. Swivel chairs are another pro favorite. These allow the user to rotate to face a conversation area, a view, or a nearby room such as the kitchen.
And think about how window seats or a fireplace hearth might add to your seating arrangement.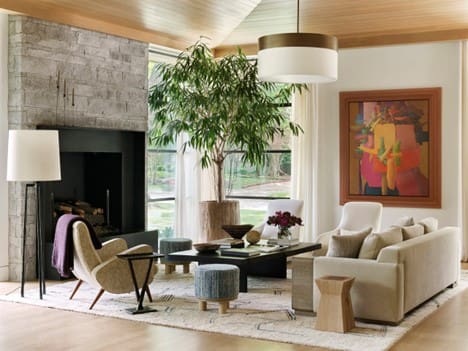 Large Area Rug
One element you're almost guaranteed to find in a professionally designed and decorated living room is an area rug. This helps anchor the room and provides a jumping-off point for building a cohesive color palette. "It adds warmth and coziness to a space and is a great way to tie furniture and decor together while also providing a way to add detail and texture to the space," designer Anna Butler says.
Designer Allison Crawford always recommends an oversize custom or vintage rug. "When all four feet of a living room's furniture can sit on the rug, the entire space is elevated," she says. "It creates a sense of elegance and really pulls the room together."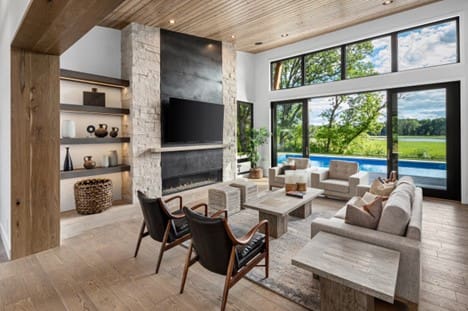 Fireplace
Many design and remodeling pros feel a fireplace should be a standard feature in a living room. It gives the space ambiance and provides a captivating focal point to arrange furniture around. "It allows for gathering and instinctually brings people together for conversation and creates memories," says John Annis of Galbraith Carnahan Architects.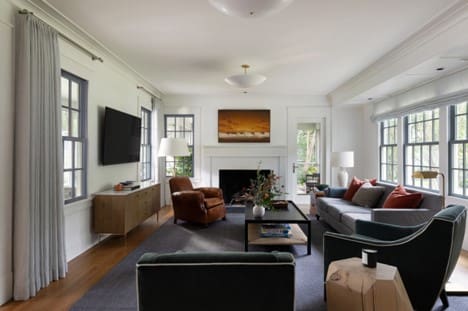 Layered Lighting
Pros can't say enough about the importance of a layered lighting scheme in a living room. "We always recommend layers of lighting, such as overhead lighting like a chandelier and then sconces," says Alexandra Ford of Cummings Architecture + Interiors. "Living rooms can be used for so many activities — socially for entertaining, reading, watching a movie — you want to be able to have a variation of the lighting based on the task."
Layered lighting is the go-to living room feature for designer Virginia Betty of Betty + Co Design and Consulting. "It's nice to have a combination of small can lights on dimmers, sconce lights on the wall, reading lamps, and art lighting," she says. "You can have it bright for cleaning time, task lighting for reading, and dim, cozy lighting for evening relaxing."
To create flexibility with lighting, designer Wendy Black Rodgers recommends that homeowners install floor outlets so lamps can be positioned next to seating pieces without worrying about tripping over cords.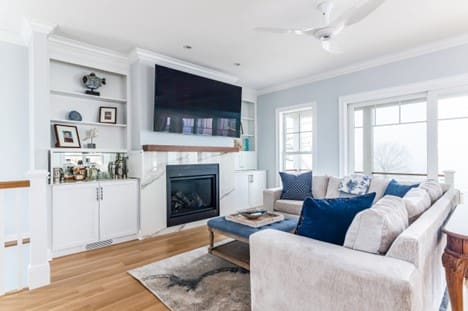 Built-Ins
Built-in cabinets give homeowners customized storage and display space while creating a finished look. "One of our top living room features that we recommend is built-in shelving or custom woodwork — cabinetry, built-ins, room dividers," says designer Ivana Stojanovska of Arete Renovators.
Designer Christie Sobran added these custom built-ins flanking a porcelain fireplace surround in a Bridgeport, Connecticut, living room. A bar sits to the left, with additional storage on the right.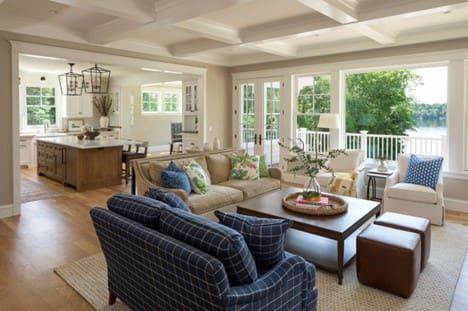 Open Floor Plan
Many family members and guests spend the bulk of their time at home in the kitchen or living room, so creating a connection between the two spaces makes sense. That's why many pros recommend an open floor plan when it comes to living spaces.
Keep in mind that you can still have some delineation of space within an open plan. Furniture arrangement, ceiling treatments, and partial walls can give the feeling of separation between spaces while maintaining openness.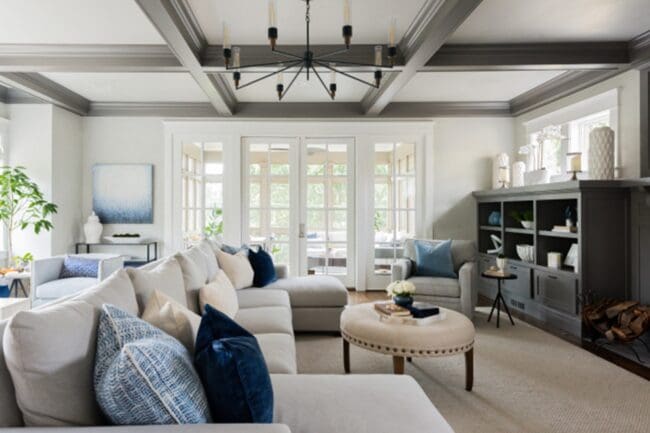 Ceiling Treatment
A lot of living room design centers around elements close to the ground. But pros urge homeowners to consider what's above too. Attractive ceiling features like coffered millwork, beams, or even statement light fixtures will make a room feel complete. "We always try to incorporate a generous ceiling height in a living space and include a special ceiling feature tailored to the homeowner's style and design aesthetic," says designer Jennifer Whisenant of Noble Johnson Architects. "This may include a wood ceiling, coffered beams, accent paint color, or heavy timber beams."
The article was written by Mitchell Parker, Houzz Editorial Staff.  Home design journalist writing about cool spaces, innovative trends, breaking news, industry analysis, and humor.
New to home remodeling? Learn the basics
Premier Home Remodeling in the Greater Phoenix Area
Premier Home Remodeling in the Greater Phoenix Area
For high-end home design, build, and remodeling in the greater Phoenix area that reflects your vision, Tri-Lite Builders will help you love your home again. Start your project by calling us at (480) 895-3442 or emailing [email protected] to discuss your remodeling project. We offer no-obligation in-home consultation. Our NARI-certified award-winning designers and craftsmen are eager to work with you to make your vision for your home a reality!  See our portfolio here.