See the flooring trends for 2022 in this Houzz article by Julie Sheer.  This article covers all the luxury vinyl, hardwood, faux wood, and stone flooring products debuting this year
Flooring Trends 2022
The new flooring on display at this month's The International Surface Event trade show reflected the continuing dominance of luxury vinyl, porcelain and laminate wood-look flooring, with stone imitations popping up all over. In general, flooring colors are warming up, with cool grays giving way to browner tones and more rustic finishes in both real and imitation wood and stone. The move to more waterproof products, bigger tiles, and wider and longer planks continues as well.
"Everything's going a little bit cleaner. There's a lot of Scandinavian influence, which is not new, but it's a mix with Japanese design and that clean-lined look," says Kathryn Gluibizzi, senior designer for Armstrong Flooring. "You can't forget that Nordic design has a lot of craftsmanship to it, and there's a lot of rustic in Nordic design." Along with freshened-up colors, there was more tile with a stronger rigid core and anti-slip surfaces. Here are some of the flooring highlights of the trade show for the tile, stone, and floor coverings industries, held Feb. 1-3 in Las Vegas. The new collections will be rolling out throughout 2022.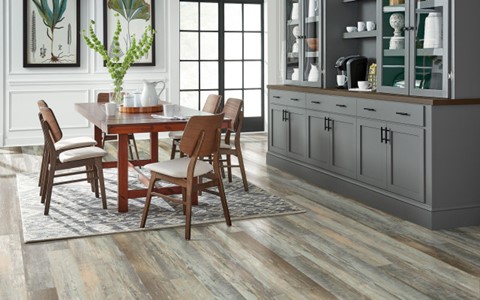 Gray Warms UpOne of the most noticeable trends at the Surfaces event was the lack of cool-toned driftwood gray in the flooring samples. There was plenty of gray, but it had warmer undertones. Some designers consider that part of the so-called Japandi design trend, which melds the Japanese interior style of warm tones and natural elements with a clean, minimalist Scandinavian influence."You'll see an element of nature in there, combined with a Scandinavian, more minimal look to achieve that Japandi look," Gluibizzi says. "From a color point of view, it's less about the cool grays and more about the warm grays." Shown here is Armstrong Flooring's Vantage Premier, a new collection of rigid-core luxury vinyl planks that includes the style pictured: Canyon Face Brushstroke in gray with brown undertones.
Shown here is Provenza Floors' Moda Living waterproof luxury vinyl planks in Starlit Sea, a warmer gray, with a 20-mil-thick wear layer on the surface and measuring 9.06 inches wide and 72 inches long. The thickness of a luxury tile's wear layer is measured in mils, with 1 mil equal to one-thousandth of an inch. (One millimeter equals about 40 mils.) The thicker the wear layer, the more durable and long-lasting the tile or plank. Most residential vinyl wear layers are from 8 to 12 mils thick. Experts recommend at least a 20-mil-thick wear layer for heavily used areas. Some of the tiles at the Surfaces event had beefy 30-mil wear layers.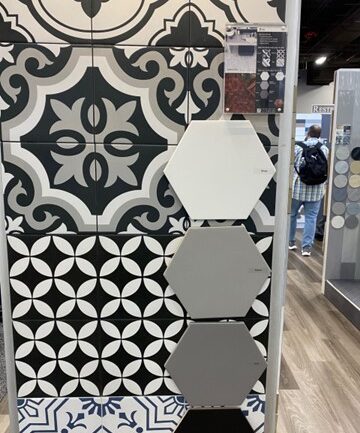 Surface Art's display reflected the warmer gray trend in both wall and floor tile. Here's Brio, glazed porcelain in 8½-by-10-inch solid hexagonal tiles, available in seven colors, along with four 8-by-8-inch patterned options, all suitable for flooring.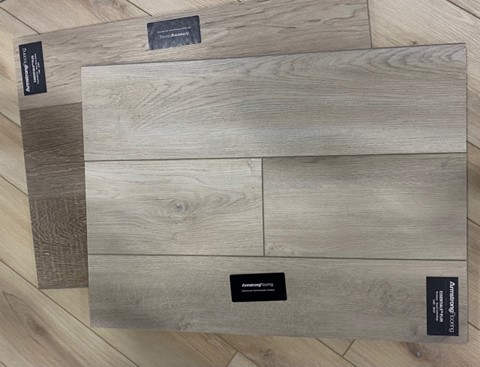 The warmer grays of Armstrong Flooring's Beach-Sand Beige color are seen here in its faux wood Hermosa Rigid Core planks, from the Essentials Plus collection of luxury vinyl planks. They have a 20-mil wear layer and measure 7 by 60 inches. The tile behind it is from the same collection, in Provincial Life-Rose-Thorn Umber.
Not sure where to start on your home project? Learn the basics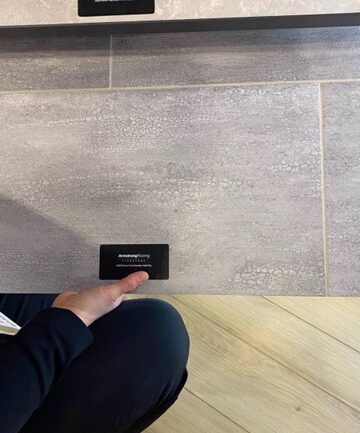 Armstrong's stone-look Alterna luxury vinyl tile, shown here in Grain Directions, achieves a new warmer gray using multiple tones. "These crackled washed concretes we're seeing everywhere," Gluibizzi says. "It has just a little bit more crackle detail that allows for it to be more multicolored. There's a lot of different tones of gray, which makes it interesting."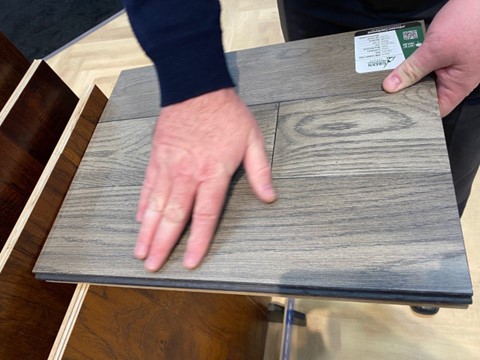 Johnson Hardwood's new Green Mountain series of solid hardwoods include this oak in a warm gray called Craftsbury. Planks are available in maple or oak.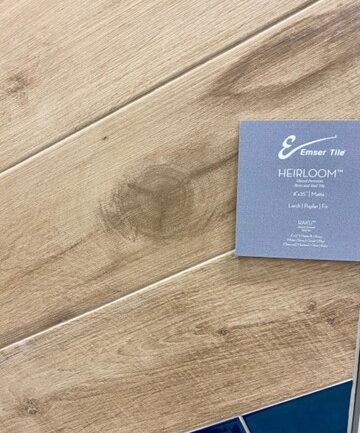 Airy coastal colors are trending right alongside grays, and porcelain tile is still a strong alternative to faux wood flooring. Emser Tile's new Heirloom collection is a handsome choice for floors and walls. Shown here in Larch, it's available in 8-by-35-inch tiles and in three colors.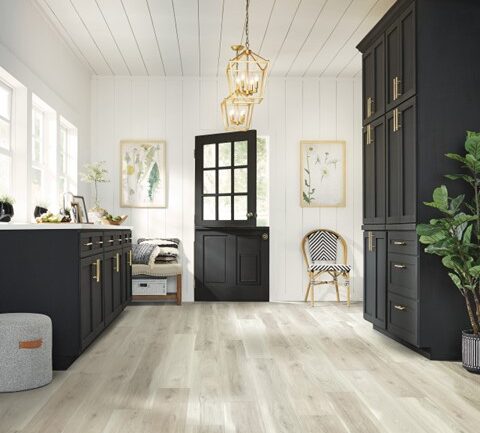 Luxury Vinyl DominatesLuxury planks and tiles. Vinyl planks and tiles were seen in abundance at the Surfaces event, nearly overshadowing other types of flooring on display. Improved digital technology has resulted in ever more realistic imitations of wood and stone. The trend toward rigid cores in tiles and planks, along with thicker wear layers on the surface, has made these products more durable."Rigid core" is the luxury vinyl tile (LVT) feature of the moment. Higher-quality luxury vinyl flooring constructed with this type of core offers more stability. Many products are now being constructed with a stone polymer composite (SBC) core rather than a wood polymer composite (WBC). Shown here is the new color Viking Hickory Pearl River from Armstrong's Empower collection, which features vinyl planks with a rigid stone core.What to Know About Luxury Vinyl Flooring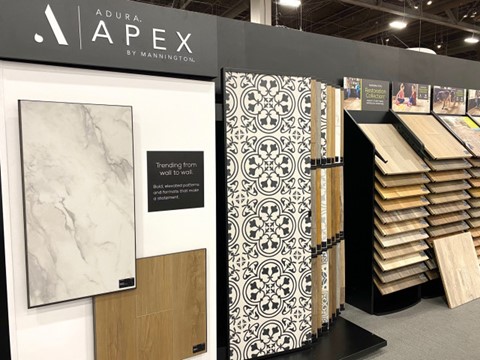 A variety of luxury vinyl planks from Mannington's Adura Apex collections were on display at the event.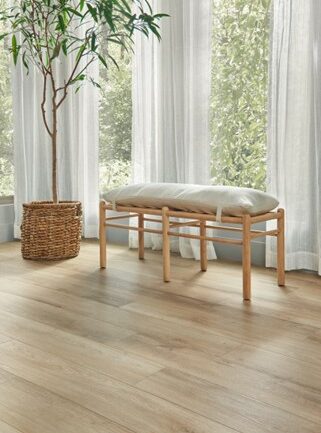 Here's Armstrong Flooring's Essentials Plus Hermosa Rigid Core in a new color called Golden Sunset. The wood-look planks have a rigid stone polymer composite core and 20-mil wear layer for increased durability and scratch and stain protection. The planks are 7 inches wide and 60 inches long.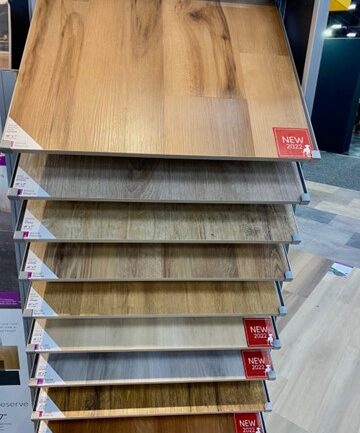 Karndean Designflooring had plenty of its luxury vinyl flooring on display, including some new colors in its Korlok Reserve collection. Luxury vinyl is increasingly popular for its ease of use and improved look, Karndean's Jennifer Uhlemann says. "I think it's simplicity. People are busy and want something they don't have to worry about," she says. "They don't want something too fussy. With LVT you can clean it easily. It simplifies your life."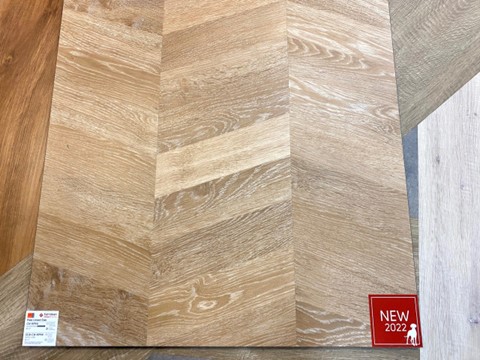 Here are Karndean's new chevron luxury vinyl planks in Pale Limed Oak. Having the chevrons already incorporated in a plank makes for easier installation, Uhlemann notes. All of Karndean's products are Floor Score-certified, meaning they've been third-party-tested to ensure that their elements, including adhesives and underlayment, meet indoor air quality standards.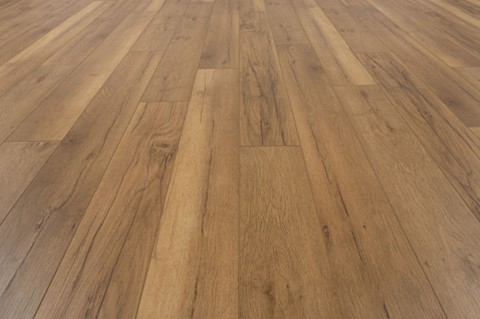 Provenza's Uptown Chic luxury vinyl plank, shown here in Brown Sugar, has a 20-mil wear layer and measures 7 by 60 inches. It's a good example of today's more popular warm colors, with a surface that benefits from improved digital technology that shows knots and grooves.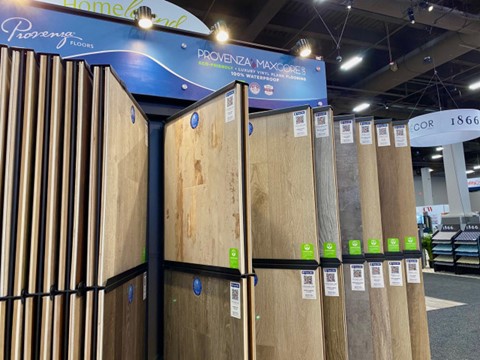 Provenza's MaxCore luxury vinyl flooring is 100% waterproof. The company's new MaxCore collections will include wider planks and longer lengths; the New Wave collection features wide, long planks and 12 pattern selections derived from the company's hardwood collections.
How to Pare Down and Pack Up Before Installing New Flooring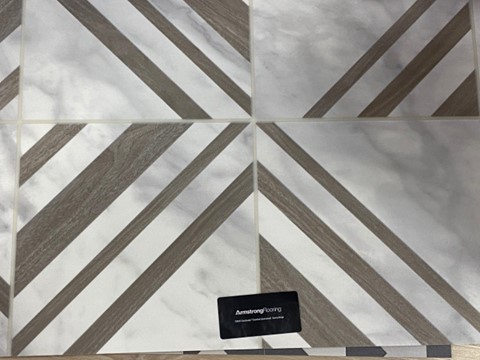 Sheet vinyl. Some of today's sheet vinyl flooring borrows looks from natural stone and wood, complete with faux grouting. Armstrong's Continuity Comfort, shown here in Unstrained Sunny Beige, is a vinyl sheet flooring with a wood-and-stone look. "We're playing around with different gradations of a color," Gluibizzi says. "This is a nice mixed-media idea where we have the Carrara and wood look mixed together."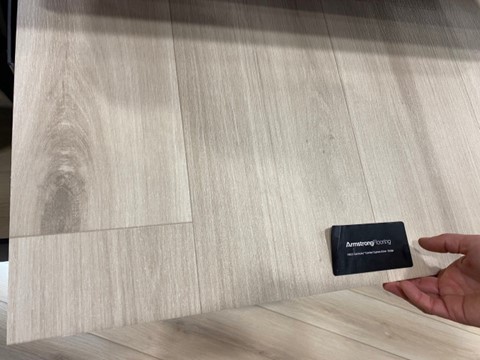 Here's a wood-look sheet vinyl from Armstrong's Continuity Comfort line called Cypress Grove Greige. The collection has designs that mimic wood, stone, and encaustic patterns, along with hexagons and other geometric designs.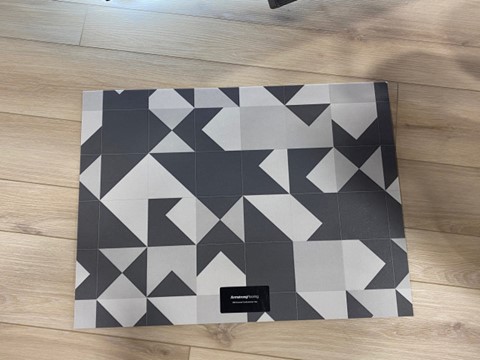 Armstrong's Continuity Comfort Unstrained vinyl sheet flooring in Geo Gem has strong patterning for a bold look. "I'd put it in a smaller room, but we love the geometry of this," Gluibizzi says. "It's a charcoal and not a true black, so that makes it softer and a little more livable."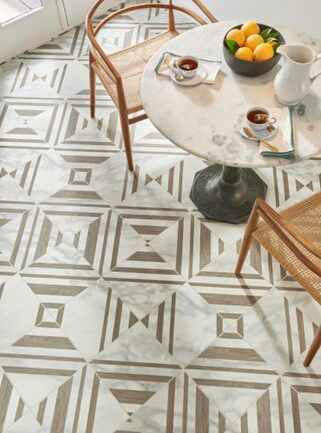 Armstrong's Continuity Comfort Unstrained Sunny Beige vinyl sheet flooring has an almost retro look. The vinyl features Armstrong's Diamond 10 Technology to make it scratch- and stain-resistant.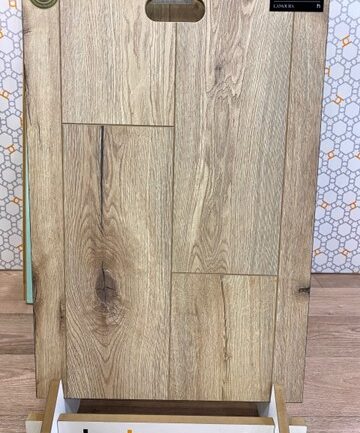 The Rise of LaminateIf you've experienced only cheap laminate with its shiny plastic look and feel, you're in for a surprise. Today's quality laminate flooring has come a long way. It's still constructed of a layered composite of compressed wood fiber atop a durable fiberwood base, but improved technology means the image layer looks far more realistic. Products with bevels and an embossed texture that mimics real wood can easily compete with the best luxury vinyl planks.Some companies keep the word "laminate" in small print, preferring terms like "high-performance flooring," a reference to the surface's sturdiness and ease of maintenance. The German company Inhaus calls its new-generation laminate Lamdura, of which there was plenty on display at Surfaces, including this sample called Buckthorn, from the company's Visions collection.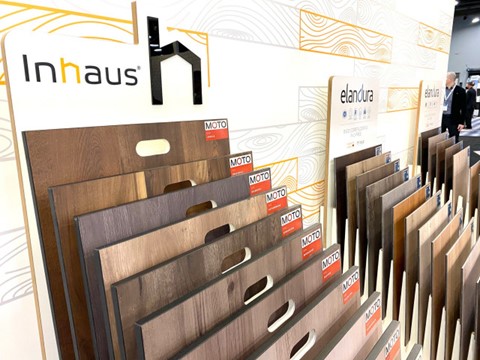 This Inhaus display of Lamdura flooring shows the variety of on-trend tones available in its laminate offerings. Lamdura includes three collections, with varying plank sizes and color variations. None of Inhaus' products have PVC and all of its wood comes from sustainably harvested forests in Germany.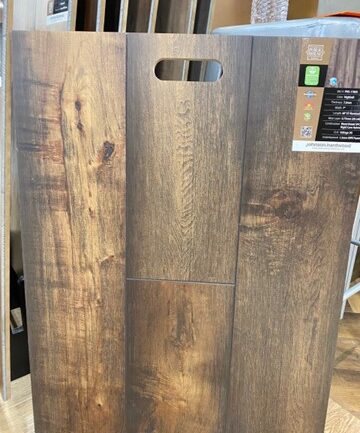 Johnson Hardwood's Public House collection is laminate flooring with a stone polymer composite rigid core, registered embossing and a 30-mil wear layer.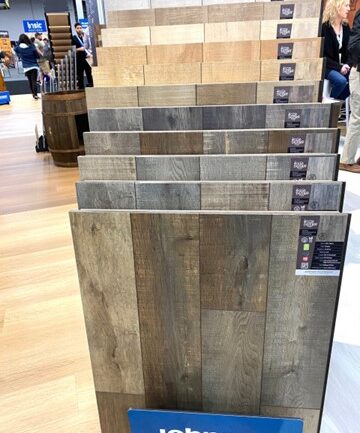 Johnson Hardwood also has a new collection of laminate planks called Olde Tavern. The series includes shades that mimic reclaimed hardwood, shown here in the trending warmer gray tones.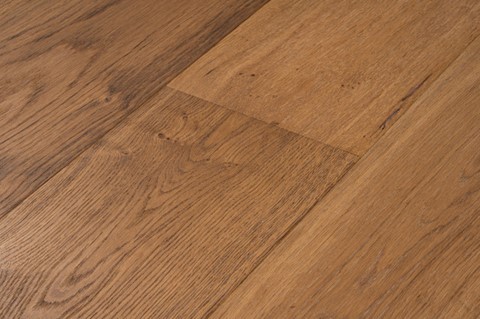 Wood Is Still GoodFor those who want the real thing, there were plenty of hardwood flooring samples on display at Surfaces. These also reflected the trends of moving away from cool grays and toward warmer tones, richer browns, and hand-scraped rustic surfaces. When lighter shades did turn up, they tended to be airy and coastal-feeling. Similar to luxury vinyl products, hardwood planks are trending wider and longer. Shown here is the Prato color from Provenza's new Volterra collection of European oak, ranging from light to rustic color variations, with hand scraping, knots, and cracks to evoke a timeworn feel.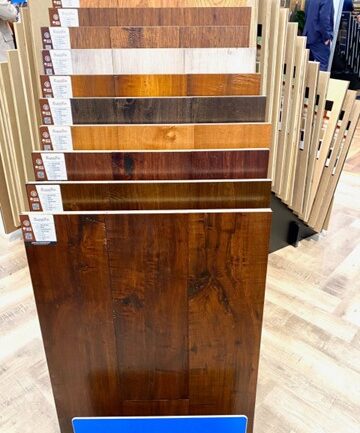 Engineered wood, an increasingly substantial segment of the hardwood market, was a popular offering at the show. Consisting of natural wood on the surface with a composite of wood fibers, particles, strands, and veneers forming the rest of the plank, engineered wood tends to be less expensive than hardwood. But unlike solid wood, it can be refinished only a certain number of times. This display from Johnson Hardwood showed its English Pub engineered hardwood, available in hickory or maple.
What to Know About Engineered Wood Floors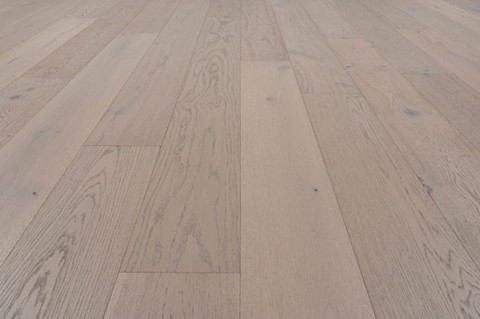 Provenza's new Volterra collection of engineered European oak is shown here in Lombardy.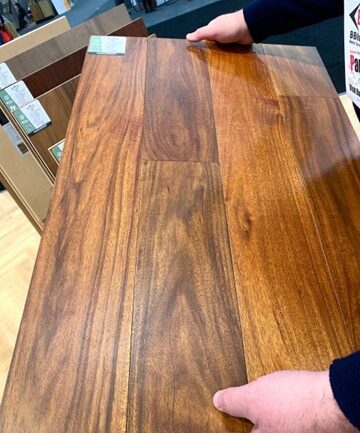 Johnson Hardwood's Victorian series of engineered hardwood is available in acacia or hickory.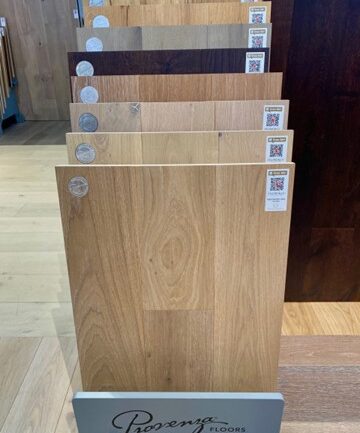 Provenza's display of its Old World collection of engineered hardwood featured wire-brushed, hand-distressed, and hand-scraped solid oak and ash. Planks are 7.44 inches wide and up to 6 feet long.
How to Care for Engineered Wood Flooring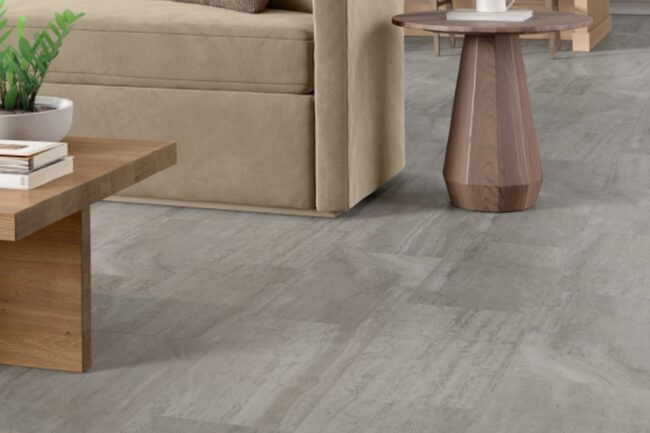 Stone Looks AboundStone looks were on display in abundance at the Surfaces event. Stone-like porcelain and luxury vinyl are showing up in a variety of room settings, from living rooms to laundry rooms, and natural stone also remains a durable and elegant choice. Here's Emser Tile's new travertine-like Livorno glazed porcelain tile in the Ulivo color.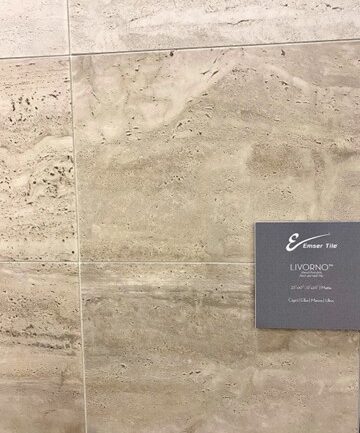 Here's a closer look at Emser's Livorno, travertine-look glazed porcelain available in four muted shades and two sizes.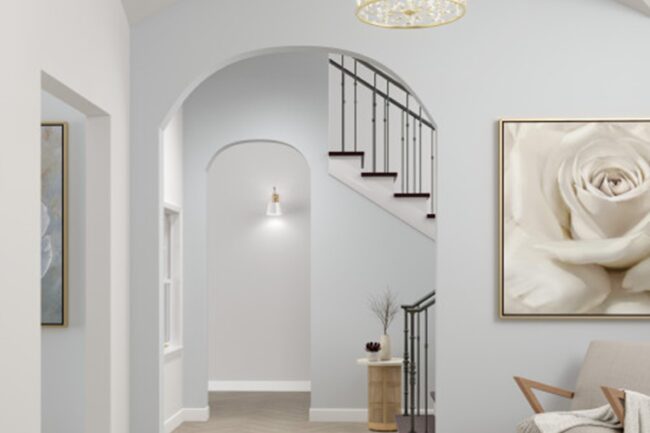 Daltile's Wanderwise is a new collection of glazed porcelain tile that mimics limestone in three neutral colors, including Drift, shown here in 6-by-24-inch matte-finish planks installed in a herringbone pattern.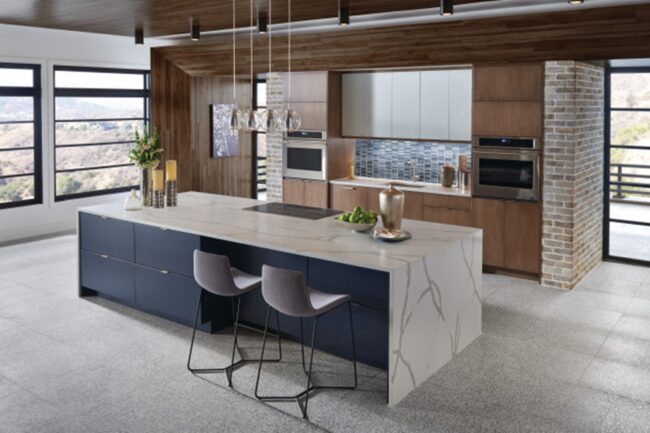 Terrazzo, a midcentury throwback, is having a moment again. The real thing is a composite of quartz, marble, metals or glass set in resin or cement, and today's porcelain imitations look pretty convincing. Daltile's Modernist collection in Pearsall is shown here in a 24-by-24-inch grid pattern.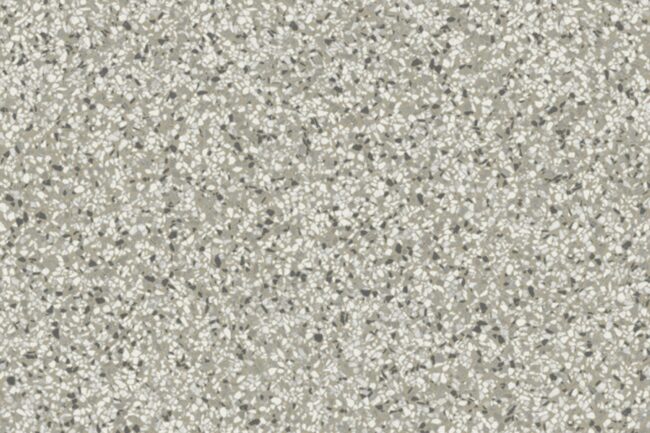 Here's a closer view of Daltile's Modernist terrazzo-look porcelain. The existing collection added a 36-by-36-inch tile this season.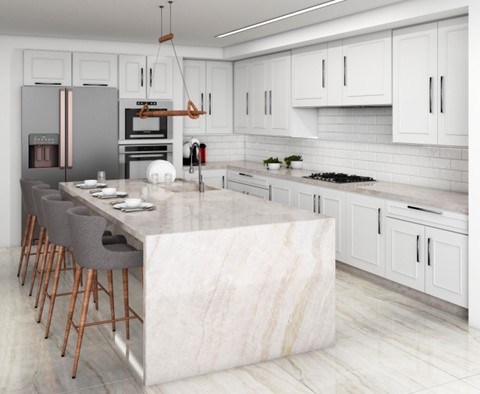 Photo from Quality Marble and Granite
For some, nothing can compete with real stone, such as the Perla Venata quartzite slabs shown here in trending neutral tones. At a Surfaces event session called Trending Natural Stones, moderated by Sarah Gregg of the Natural Stone Institute, the latest looks in stone included numerous beige tones, making a comeback after many years when just about everything was white and gray.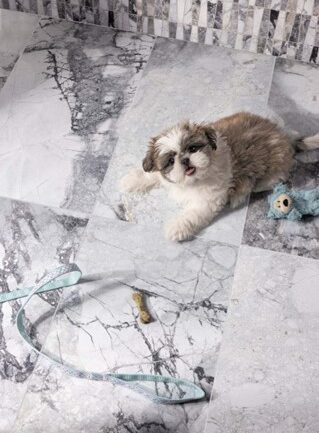 Photo from Artistic Tile
For those who crave the ultimate in luxury flooring, real marble is their No. 1 option. Shown here are squares of Invisible Blue marble, featuring a shimmery blue background with soft gray veins and taupe tones. Striking patterns in natural stone have been in demand, Gregg says, adding that the current preference is for soft and subdued veining and larger tile sizes.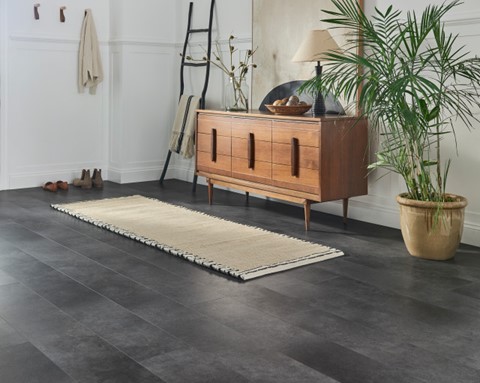 The concrete look is ever popular in flooring. Here it gets warmed up in a luxury vinyl tile from Armstrong Flooring's Essentials Plus collection, shown in Caledonia Celtic Fog. The rigid-core tiles measure 9 inches wide by 60 inches long.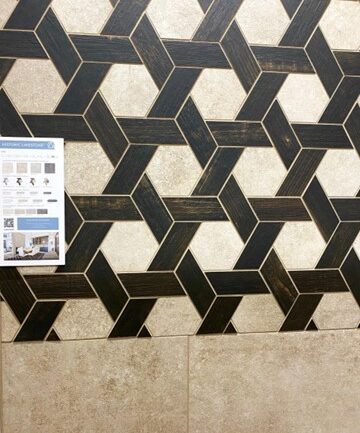 As part of its porcelain tile display, American Olean showed its limestone- and wood-mimicking Historic Limestone Landmark Hex 12-by-10-inch tile in Native Blend, along with Native color floor tile.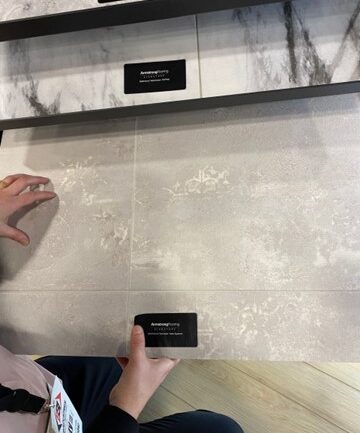 Armstrong Flooring's Lost Empire Amber Sagebrush, from its Alterna stone-look luxury vinyl tile collection, is a cooler gray with hints of a distressed-rug, faded encaustic pattern. "It's a new classic that can go with pretty much anything, for folks that really love the new graphic way things are going but can't quite make the commitment to go with black-and-white encaustic tiles. This is a way to do something softer," Gluibizzi says. The groutable engineered tiles come in a variety of styles, including imitation slate, travertine, concrete, and marble in three sizes.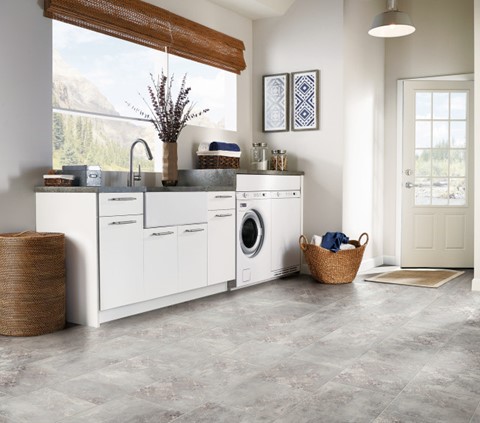 Here's a view of Armstrong's Alterna Lost Empire in Amber Sagebrush luxury vinyl tiles in the 16-by-16-inch size.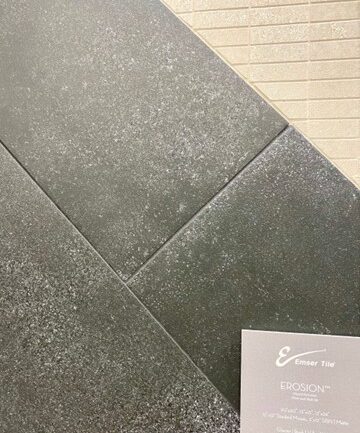 Emser's Erosion concrete-look porcelain tile is available in three sizes and four colors.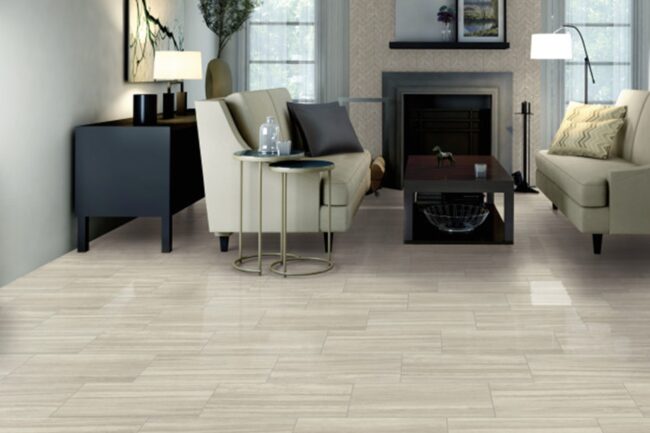 Daltile's Articulo line of imitation travertine porcelain tiles includes this polished 12-by-24-inch tile in Column Grey. The collection's chevron mosaic polished tiles are on the fireplace wall.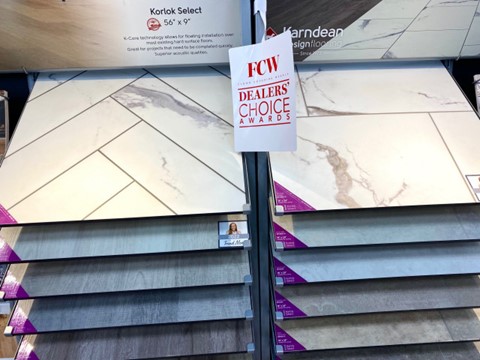 Marble looks in vinyl flooring are hitting critical mass — they were seen everywhere at the Surfaces show. Here's a selection of stone-look samples from Karndean's Korlok Select luxury vinyl tile with a rigid core.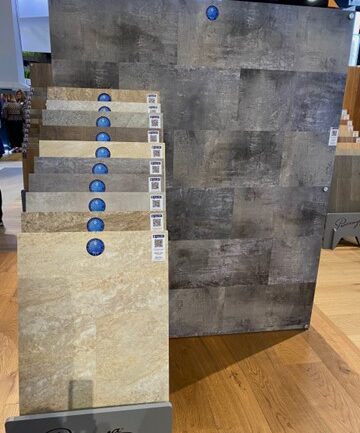 Provenza's Stonescape collection of stone-look luxury vinyl tiles with a waterproof rigid core features a variety of shades.
Article by Julie Sheer, Houzz Contributor February 25, 2022
The original can be found here.
Home Remodeling in the Greater Phoenix Area
For high-end home design, build, and remodeling in the greater Phoenix area that reflects your vision, Homework Remodels will help you love your home again. Start your project by calling us at (480) 895-3442 or email [email protected] to discuss your remodeling project.  We offer no-obligation in-home consultation. Our NARI-certified award-winning designers and craftsman are eager to work with you to make your vision for your home a reality!  See our portfolio here.