There are countless decisions to make when remodeling a bathroom. But knowing what other homeowners are doing in their bathroom renovations can be a good guide for how you might want to handle your own. For example, if your neighbors are prioritizing new finishes and adequate storage, and making design accommodations for aging family members, you might want to focus on those elements during conversations with your own design and remodeling professionals. To help get you started, consider these five big takeaways from the 2021 U.S. Houzz Bathroom Trends Study.
1. Common Pet Peeves
Many people embark on a bathroom renovation to address frustrations with the style and function of their existing space. In fact, a third of homeowners say the trigger for starting a remodel is that they "can no longer stand the old bathroom."
The main frustration is having an old and outdated space. More than two-thirds of homeowners say it's their top pet peeve, as this chart shows. One-third say insufficient storage is a major concern, and about the same share say a small shower is a factor.
Tri-Lite Builders can help you with your Bathroom Remodeling Project!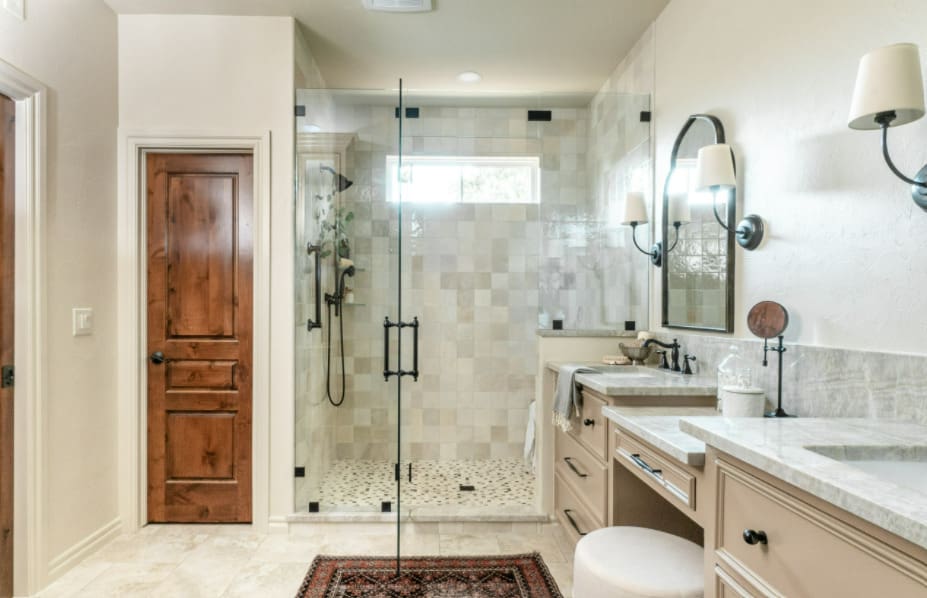 Designer Kirby Foster Hurd addressed many common pet peeves in this Oklahoma City bathroom. Zellige-style shower tile and other elegant finishes and accessories give the space a fresh, current look. A substantial vanity offers plenty of storage, and a spacious low-curb shower provides a roomy experience. Sconces, overhead lighting, and a window tackle a top concern among a quarter of homeowners: insufficient lighting.
2. Aging Family Members
A rising need among many homeowners is a bathroom that can accommodate aging family members, either now or in the future.
More than a quarter of homeowners say they currently need their bathroom to address an aging family member's needs. Nearly 2 in 5 say they'll need to accommodate an aging family member in the future.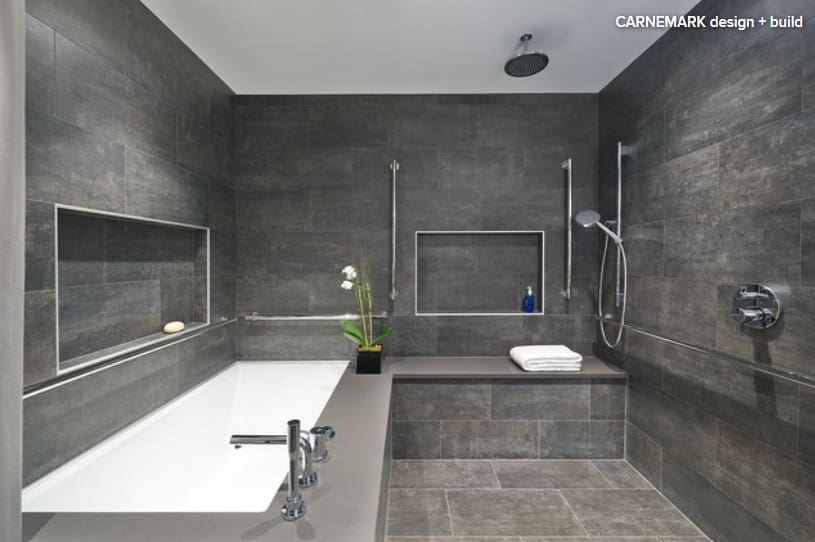 This Bethesda, Maryland, bathroom by design-build Pro Jonas Carnemark is a good example of a bathroom designed for someone with mobility issues. A wide, curbless threshold allows for a step-free entrance or a wheelchair, and multiple benches and grab bars offer support and stability.
3. White Leads All Finishes
When it comes to materials and finishes, white leads in all categories. It's the top color choice for vanities (32%), countertops (58%), shower walls (46%), and nonshower walls (34%).
An all-white scheme works well in a bathroom, where a sense of cleanliness is often desired. White also enhances light, giving a space an airy look, which is especially important in small spaces. Plus, a crisp palette helps create the soothing, spa-like feel that many homeowners desire.
Wood vanities (27%) and gray nonshower walls (27%) are popular elements for introducing another tone. And keep an eye on blue vanities, which are rising in popularity. The share of homeowners who included a blue vanity in their bathroom remodel rose 3 percentage points, from 5% in 2020 to 8% in 2021.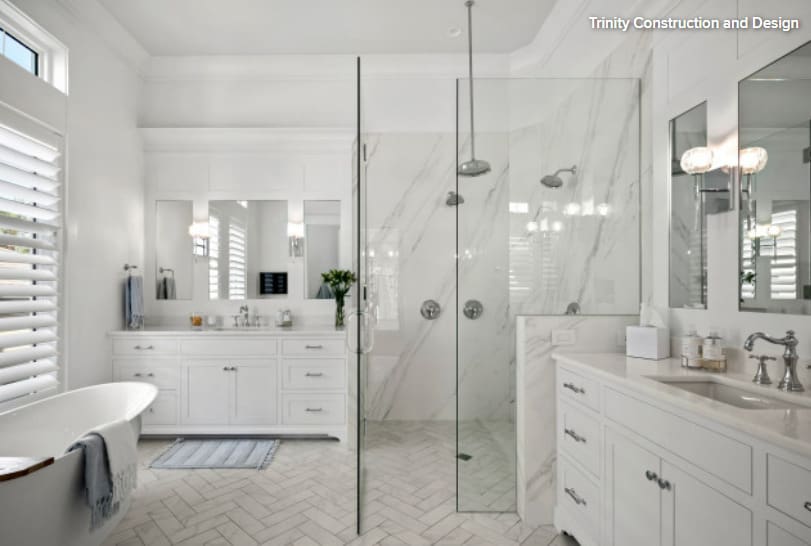 This Tampa, Florida, bathroom by Trinity Construction and Design shows a beautiful use of a mostly white palette. Gray veining in the materials used for the shower walls, countertops, and flooring, along with a herringbone pattern on the floor, offers subtle visual variation.
4. Making Changes Within the Same Footprint
A large majority of homeowners (77%) keep their bathrooms about the same during a renovation, which makes sense. Expanding a space into another area of the home might not be an option, and adding space can significantly increase the cost of a project. So homeowners generally work within the same footprint.
The most common bathroom size is less than 100 square feet (43%) followed by 100 to 199 square feet (36%). A decreasing but still significant share of homeowners are working with a bathroom that's 200 or more square feet (21%).
But major changes and upgrades still occur within those kept footprints. Half of the homeowners increase the size of their shower, though the share decreased 4 percentage points compared with 2020.
Many homeowners change the layout (42%), such as relocating the shower, and many modify existing walls (40%).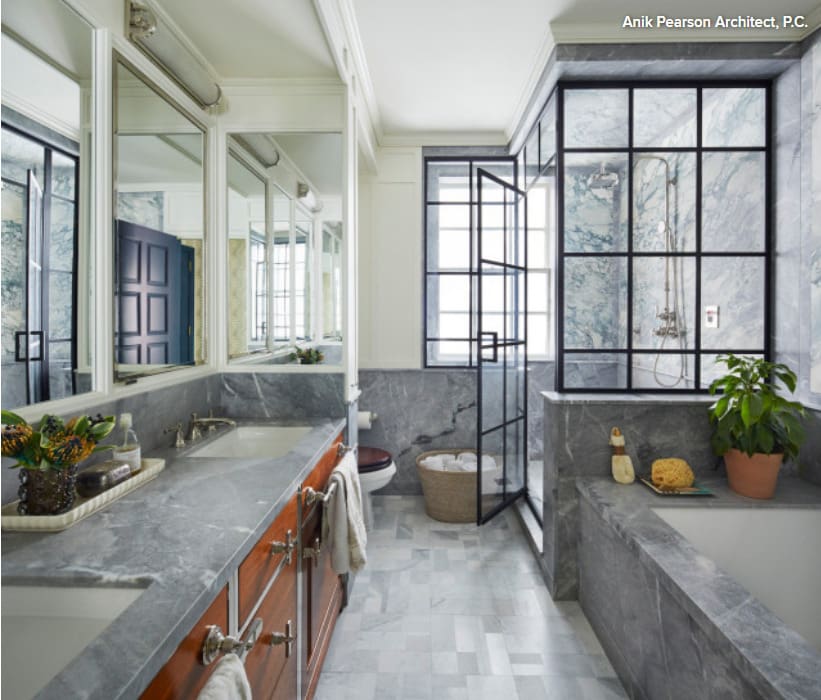 Architect Anik Pearson created a smart layout for this elegant apartment bathroom in the Tribeca neighborhood of Manhattan. She placed the tall shower element at the end of the narrow room, helping draw the eye into the space to settle on the beautiful black metal enclosure. And tucking the toilet behind a partition obscured the piece a bit to keep the focus on the luxurious tile and slab work.
5. Freestanding Soaking Tubs Stay on Top, but Alcove Tubs Are on the Rise
While 1 in 4 homeowners remove a bathtub during a renovation, the majority of homeowners are keen to keep and possibly upgrade their tub.
Freestanding acrylic soaking tubs are by far the most popular bathtub style, material, and type. But alcove tubs, such as those found in the common shower-tub combo, are rising in popularity. They're up 4 points, from 22% in 2020 to 26% in 2021.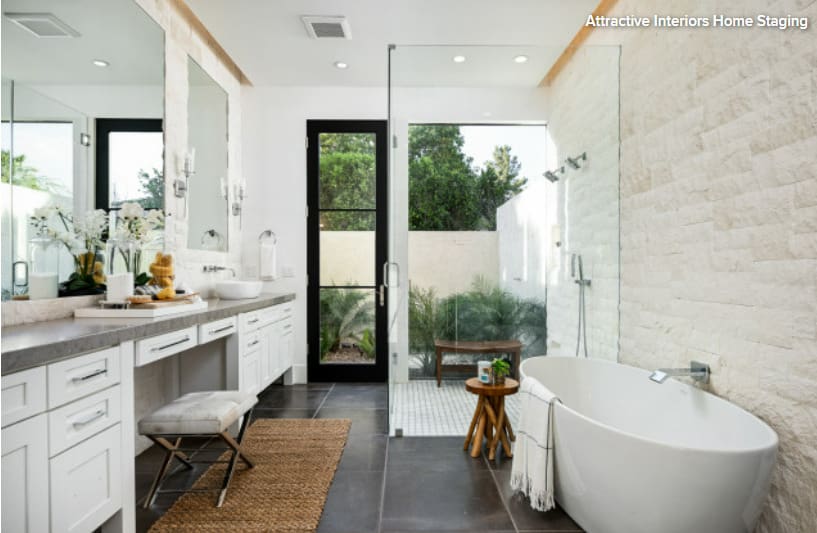 In this Phoenix bathroom, a deep soaking tub is tucked against a textured tile wall, on which is mounted a contemporary tub filler. An open shower stall with views of a private courtyard creates a breezy, spa-like feel.
To read the full article, see more photos and graphs on HOUZZ, click here.
The 2021 U.S. Houzz Bathroom Trends Study gathered information from 2,891 Houzz users who reported that they were homeowners age 18 or older who had completed a master bathroom remodel or addition in the past 12 months, were currently working on one or were planning to start one in the next three months. The survey was fielded between July 21 and July 27, 2021.
Home Remodeling in the Greater Phoenix Area
Remodeling your bathroom on your mind?  Homework Remodels is an award-winning remodeler with years of experience.  We focus primarily on amazing kitchens, luxurious bathrooms, and large whole-home remodeling projects that include outdoor living spaces.  Ready to start? Give us a call at (480) 895-3442 for a free consultation.  We look forward to making your dreams a reality!