.
Tri-Lite Design Build Process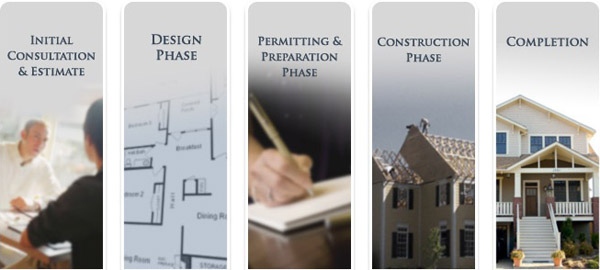 Step #1 – Initial Contact
Telephone interview to gather information and determine compatibility of Tri-Lite Design Build process with your project.
Consultation Meeting to discuss needs, desires, priorities and budget
Provide references and show examples of our work
Complete Conceptual Design Agreement with a fee of 3-5% of projected project cost.
Step #2 – Conceptual Design Agreement & Project
Develop Computer Generated 3-D renderings
Write specifications for planned project
Determine Preliminary Price Range
Forecast projection of time to complete design/build process
Develop Pre-Construction Agreement (Fee determined by project requirements)
Step #3 – Pre-Construction Agreement
Plan development and feedback
Determine Product Selections
Review project with trade contractors
Develop projected time-line for project
Submit plans to HOA if required
Develop Build Contract
Step #4- Build Contract
Conduct Client Satisfaction Design survey
Obtain building permit if required
Schedule Pre-Construction conference
Introduce construction team
Outline payment schedule
Present Construction time-line
Step #5 – Construction
Introduce the Production Team
Pre-Construction Conference
Scheduled payments through the construction process
Clear communication during construction with weekly meetings
Pre-completion & Final walk through
100% client satisfaction
Step #6 – Project Completion
2-year warranty on the work performed
Client Satisfaction Construction survey
30 day – 6 month – 11 month and 23 month quality assurance follow-up