Kitchen & Bath Design News
Master Design Award Winning Bathroom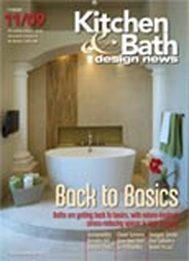 Creating a spa like bathroom takes more that putting together its various components, as illustrated within this Ahwatukee master bathroom, it takes a unifying vision of how to bring everything together in a balance of function, style and beauty.
Taking our inspiration from the existing archway over the original closet area, we incorporated graceful archways leading from the master bedroom to the master bath, and also from the adjoining office to the master bedroom. The existing arch now adorns the freestanding contemporary volcanic limestone tub which is great for soaking and relaxing as it retains the heat of the water.
We created the stunning waterfall effect using glass wall tile accents flowing down into the niche area as an eye catching accent, making the unique limestone tub our centerpiece.
The glaring lights around the vanity were replaced with tasteful sconce lights with framed mirrors to match the vanity cabinets.
The existing bulky soffits over the vanity and tub/shower area were removed to portray simplicity and elegance.
The entry from master bedroom to master bath was widened and a new arch was created from office into master bedroom.

The existing arch over the closet area was carried through the entire bedroom suite for beautiful symmetry and style!

Electrical outlets were installed inside cabinets for convenience and to create a clean wall appearance.
The offset location of the faucets added to function as well as style.
The small shower was given a complete upgrade as well. A new walk-in shower complete with glass accent tiles and rain-shower shower head replaced the outdated cultured marble shower with gold framed glass shower door.
Tri-Lite Builders serves happy homeowners in Phoenix Arizona and the surrounding communities of Scottsdale, Paradise Valley, Tempe, Chandler, Ahwatukee, Gilbert, and Mesa AZ with all aspects of home improvements kitchen and bathroom remodeling.
Call Steve at 480-895-3442 to find out how we can help you transform your home.