The kitchen is the heart of every home. This Scottsdale home just went from ordinary to extraordinary.
The home is in south Scottsdale near the Papago Buttes.
We did everything from raising the low ceiling to installing these beautiful new cabinets. The glass subway tile creates a subtle accent for the new stainless steel range hood as well as complementing the modern style glass cabinet doors.
The job of taking this Scottsdale home from the 70's spanish ranch style into it's new modern look was accomplished by removing the old arch and installing a beautiful new double glass door.
The new door updates the look as well as letting in light to create a great feel to the entry.
The bee hive fireplace was not going to work with the new modern style lifestyle of our homeowners.
By removing the lower hearth and creating this sleek corner area for the new electric fireplace, we were able to create a warm family room to complement the new modern style.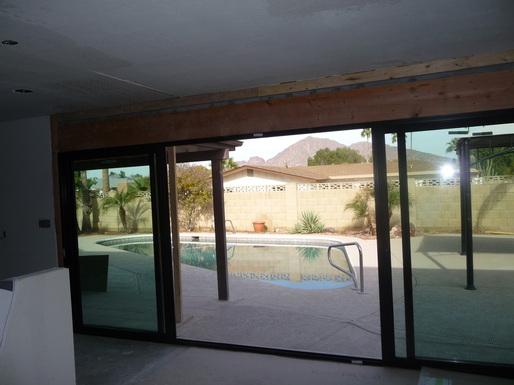 This photo illustrates the new glass wall that unites the indoor and outdoor entertaining areas. The wood beam above it was used to replace the load bearing wall and was later covered to blend with the interior and outdoor wall finishes.
Tri-Lite Builders serves happy homeowners in Phoenix and the surrounding communities of Scottsdale, Tempe, Chandler, Ahwatukee, Gilbert, and Mesa with all aspects of home improvements kitchen and bathroom remodeling.
Call Linda at 480-895-3442 to find out how we can help you transform your home.