Kitchen: Hacienda Style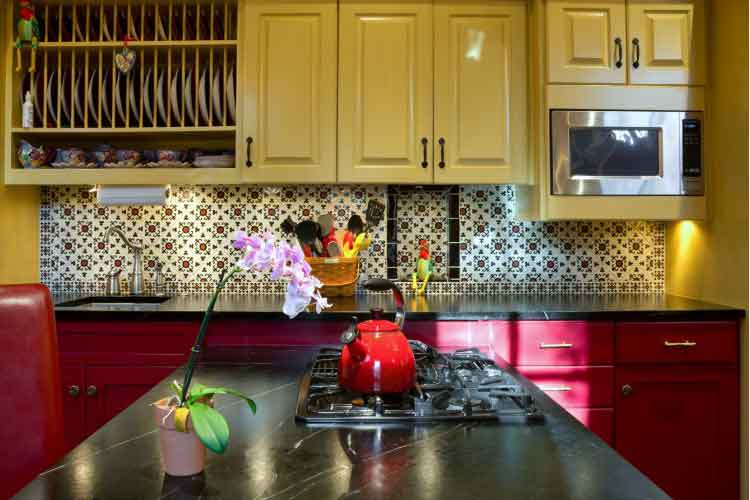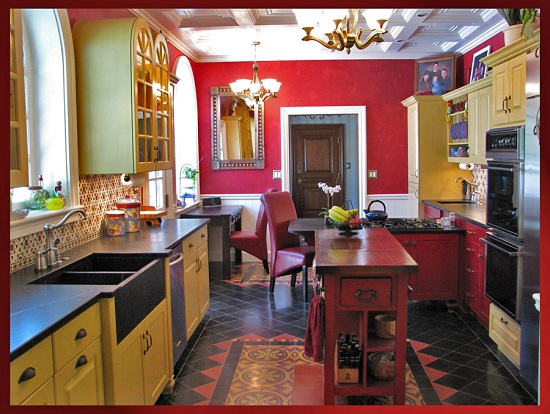 This is how we do Hacienda style. Our homeowners asked us to emphasize the historic charm of their Willo neighborhood home. The existing cabinets were structurally sound, but the lacquer paint had gone bad and the finish was covered with tiny hairline cracks. We were able to refinish the cabinets with period appropriate yellow and red paint tones. Next, new soapstone countertops were installed and festive Mexican tile was incorporated into a stunning backsplash. In addition, we added a furniture style cabinet for the cook-top that has extra seating for guests to sit comfortably. Finally, the gorgeous floor. We used a hand-made Mexican concrete floor tile and laid it in a rug pattern. As you can see, it ties all of colors and patterns together in this Kitchen: Hacienda Style.
Do you live in an Historic Home?
You, too, can have a kitchen full of charm and character. We can take your vision of a perfect space and bring it to fruition. Just give us a call to get your free in-home consultation scheduled.
You can reach Steve at 480-895-3442 or by email at Steve@TriLiteBuilders.com.