Custom Design & Construction of
Kitchens, Bathrooms, and Home Additions in Mesa, AZ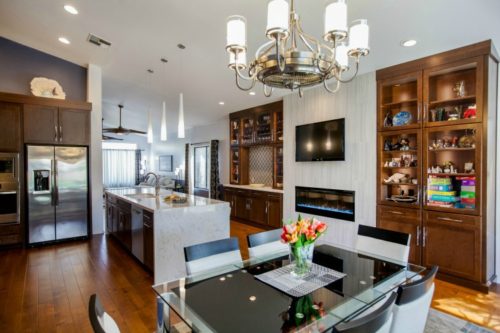 If your Mesa home is in need of kitchen or bathroom remodeling, or a home addition, call Tri-Lite Builders, an experienced Mesa, AZ Home Remodeling Contractor. Of course, we would love to serve you with the highest quality and value in home remodeling. We design and produce unique remodels in numerous styles. As a result, they are custom tailored to your taste and lifestyles. If you are looking for inspiration for your home, we have attached numerous photos below. In addition, they should get you started visualizing your new kitchen remodel, bathroom renovation or home addition.
Matchless quality construction of Kitchens, Bathrooms and Living Spaces
Our quality craftsmen remodel Kitchens, Bathrooms, and living spaces throughout the Valley of the Sun. Along with superior production personnel and an exceptional design team, we work to create unique remodels for your home. Most of all, our goal is to partner with you to create a space worthy of your investment. If you and your family are in need of a kitchen space plan that works for multiple cooks or additional square footage for your living space, allow us to show you how we can improve your space. Additionally, if you need a laundry space integrated into your Master Suite or a bathroom that meets the needs of the youngest to oldest family member, please contact us. Because your peace of mind is worth the investment in Tri-Lite Builders, your professional Mesa, AZ Home Remodeling Contractor.
Trust Our Expertise
First of all,Tri-Lite Builders is a trusted Mesa, AZ Home Remodeling Contractor. In addition, we have served the east valley for over 30 years. We are experienced in all areas of home remodeling, including the following:
Project design, including giving you 3-D renderings
Obtaining project approval from the proper town authorities
All kinds of upgrades, especially for kitchens and bathrooms
Home additions
With our years of experience, numerous awards, and prestigious certifications, you can always expect the best from us.
 Now, Let's Get Started on Your Remodel!
Pictures of projects we have completed here in Mesa are attached below.
Tri-Lite Builders works to abide by all local Mesa City Codes and ROC guidelines. As a result, we partner with inspectors to create the safest possible construction environment for your home. In addition, we evaluate older home and historic home issues with lead paint and asbestos. Therefore, we can best educate and inform our homeowners on the direction to proceed.
Call for a Free In-Home Consultation at 480-895-3442.
For a FREE In-Home Consultation Contact us at 480-895-3442  or by emailing [email protected].  At that time, we'll discuss your project and whether we are a good fit for your needs and budget. Most of all, we would love to be a part of your home remodeling project. We look forward to the opportunity of being your trusted Mesa, AZ Home Remodeling Contractor.
Mesa Kitchen Remodeling & Bathroom Remodel Ideas
Click on any of the following photos for more info and photos
Mesa AZ Home Addition Ideas
 Click on any of the following photos for more In-Law Addition photos and info.