Design Build Remodeling

What is Design Build Remodeling?

Over the years, Tri-Lite Builders has established systems and developed a process to make each client's remodeling experience enjoyable from start to finish.  During your project, you can expect creative thinking, detailed planning, and organized management from each member of the Tri-Lite Builders team.  Before construction begins, you will know what your project will look like, how much it will cost, and how long it will take to complete.  Our design build remodeling process eliminates surprises and guarantees your project's timely completion to your exact specifications. Here's how…


We set goals and strive to meet the expectations of each client through open dialog and detailed plans.  We are here to become your teammate and trusted advisor in the remodel process.
                                                     Tri-Lite Design Build Process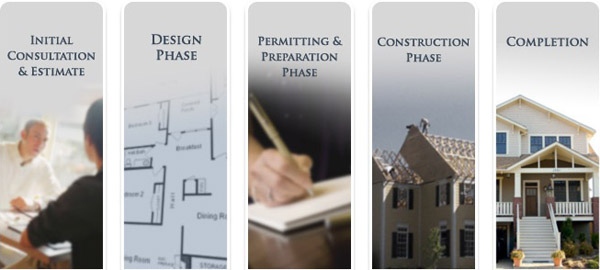 Step #1 – Initial Contact
Telephone interview to gather information and determine compatibility of Tri-Lite Design Build process with your project.
Consultation Meeting to discuss needs, desires, priorities and budget.
Complete Conceptual Design Agreement with a fee of 3-5% of projected project cost.
Step #2 – Conceptual Design Agreement & Project
Develop Computer Generated 3-D renderings
Write specifications for planned project
Determine Preliminary Price Range
Forecast projection of time to complete design/build process
Develop Pre-Construction Agreement (Fee determined by project requirements)
Step #3 – Pre-Construction Agreement
Plan development and feedback
Determine Product Selections
Review project with trade contractors
Develop projected time-line for project
Submit plans to HOA if required
Develop Build Contract
Step #4- Build Contract
Obtain building permit if required
Schedule Pre-Construction conference
Introduce construction team
Outline payment schedule
Present Construction time-line
Step #5 – Construction
Introduce the Production Team
Pre-Construction Conference
Clear communication during construction with weekly meetings
Pre-completion & Final walk through
100% client satisfaction
Step #6 – Project Completion
2-year warranty on the work performed
Client Satisfaction Construction survey
30 day – 6 month – 11 month and 23 month quality assurance follow-up