Community Involvement
Tri-Lite Builders takes pride in giving back to our community. Over the years, we have contributed our time, money, and construction expertise to several different organizations including the ones listed below: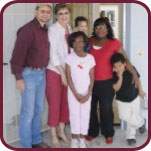 In celebration of 25 years of building dreams, Tri-Lite Builders teamed up with Habitat for Humanity Central Arizona to create a dream of a lifetime for one Arizona family. This project required raising $65,000 in donations, monetary or in-kind.
The team at Tri-Lite Builders also volunteered labor over the course of the project,
and gathered 25 volunteers for the 15 weeks required for the completion of the home.

Save the Family
450 W 4th Pl
Mesa, AZ  85201
(480) 898-0228
www.savethefamily.org
Nonprofit Save the Family  (STF) has been effectively serving homeless
families with children in the Phoenix Metropolitan area for the past 20 years.
Established as a nondenominational, 501(c)(3) nonprofit agency, Save the Family is a  recognized United Way Agency.
Its mission is to help children in homeless families by treating the whole family with  programs to break the negative cycles of poverty, abuse, and homelessness.  We  strengthen the Valley's communities by facilitating the transition of families from poverty to financial and emotional self-sufficiency.
Linda Minde serves on the Board of Directors as an advocate and brings in resources to improve the organization and maintain the mission and objectives of  STF.
ECUADOR
Tri-Lite Builders has sponsored and participated in the construction of a
school in Ecuador. For three years in a row, Tri-Lite Builders founders Wayne
and Linda Minde, along with many other volunteers, have visited Ecuador and
participated in the construction of the school. This project is part of an ongoing effort that includes cash donations by Tri-Lite Builders and other supporters.