Certified Kitchen & Bath Remodeler
The National Association of the Remodeling Industry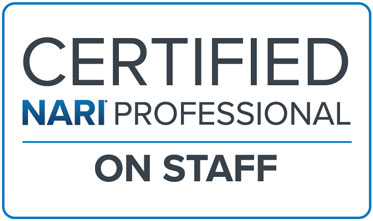 Certified Kitchen & Bath Remodeler
This page was written for homeowners interested in working with kitchen and bath professionals that have invested the time and education to set themselves apart from the average remodeler. A NARI Certified Kitchen & Bath Remodeler is pledged to observe high standards of honesty, integrity, and responsibility in the way they conduct of their business. In addition, they are trusted, experienced and ethical people who employ innovative ideas to create a unique space for you and your family.
As a nationally Certified Kitchen & Bath Remodeler, we've been trained in both design standards and the practical details that will make your upcoming remodel everything you envisioned it to be. These details will make the difference between an average and a fabulous kitchen and bathroom remodel. By choosing a NARI Certified Kitchen & Bath Remodeler, you gain an expert in their field, a true specialist in transforming your remodel into your dream home!
As a NARI Certified Kitchen & Bath Remodeler, we have dedicated ourselves to the continuing education that keeps us on top of the design elements that will ensure your successful remodel. Our focus is to work with you to develop the design of your upcoming kitchen or bath so that it will reflect your lifestyle and personality while including all of the necessary practical design details that will ensure your long-term enjoyment of your customized home.
If you would like to have nationally certified professionals work with you to remodel your home, contact us for an in-home project consultation and budget range estimation.
Call Steve at 480-895-3442 or email [email protected]