Where should you put the kitchen sink in your remodel?  Do you put it facing a window or your guests? In a corner or near the dishwasher? Here's how to find the best place for the kitchen sink.
To find your dream kitchen sink, you will likely spend a good amount of time browsing sink photos and kitchen sinks in the Houzz Shop. But don't forget to think about where your sink will be located in your kitchen. If you're remodeling an existing kitchen on a tight budget, you may need to leave it where it is. But if you can, consider where you'll want to be standing while working at your kitchen sink, as well as what other appliances or elements should be nearby.
Here are 10 considerations to help you figure out the best place for the kitchen sink.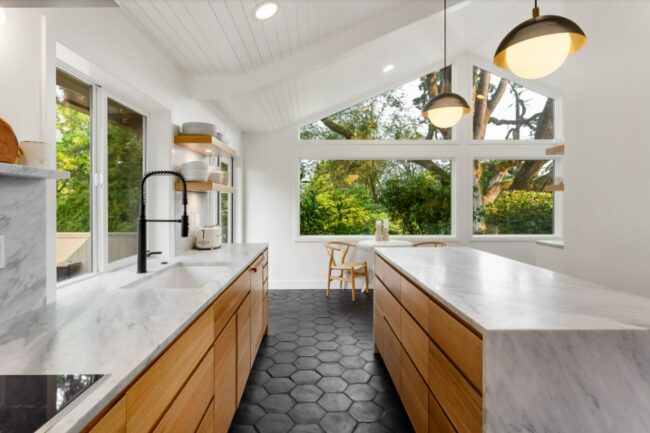 Northland Design and Build
Use Existing Plumbing
If you are undertaking a low-cost renovation or simply looking for areas where you can cut costs so you can splurge on your countertops or backsplash tile, consider reusing your existing plumbing as much as possible. If your kitchen layout is truly dysfunctional, this may not be an option. But I always consider leaving the plumbing alone to save money.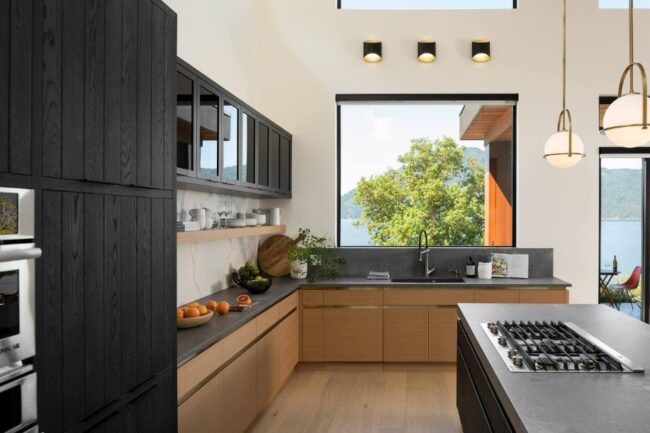 Jenny Martin Design
Give Yourself a View
If your kitchen is part of a new construction project, or you are either unable or disinclined to keep the sink where it is, then do yourself a favor and give yourself a nice view. I am not a fan of washing dishes by hand but would gladly take on the chore if I had this fabulous view to take in.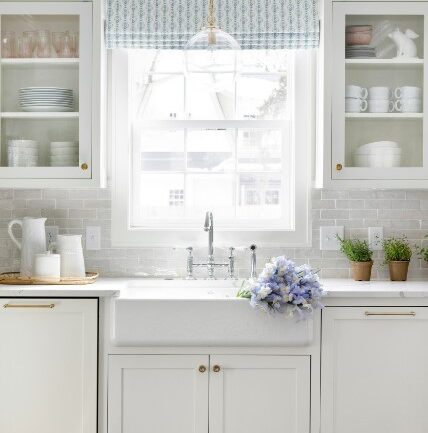 Bria Hammel Interiors
Think About Lighting
You need plenty of light when working in the kitchen, and that's especially true while at the sink. Natural light from a big window or skylight above the sink is fantastic during the day, but be sure you also have adequate task lighting above and around the sink at night to safely illuminate the work area.
How to Properly Light Your Kitchen Counters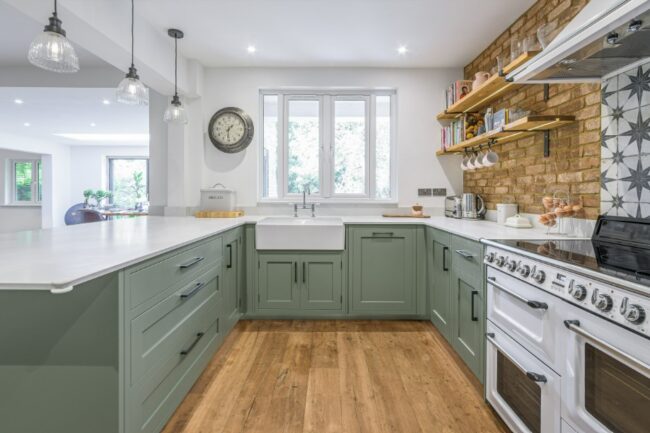 Design Interiors Ltd.
Center on the Window – or Not
Speaking of windows, if you can place your kitchen sink under a window, try to center the sink on the center line of the window. Sometimes, however, this is just not feasible. For example, in this kitchen there isn't enough room to center the sink under the window and also squeeze in the dishwasher. I find you can make it work if you center the sink or faucet with a component of the window. Here the sink is centered under one of the windowpanes, a good solution that brings a semblance of symmetry.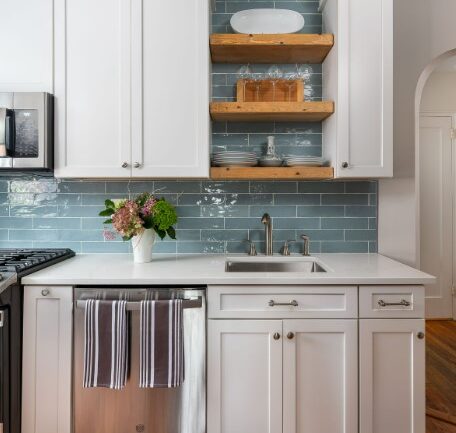 BR Nelson Designs LLC
Partner With the Dishwasher
This one is a no-brainer. You want your dishwasher and sink to be next to one another. This will make loading the dishwasher easier and more efficient; you can just scrape or rinse off your plates in the sink before setting them in the dishwasher. It's also useful when you are emptying the dishwasher and need to dump out any water that has pooled on your dishes.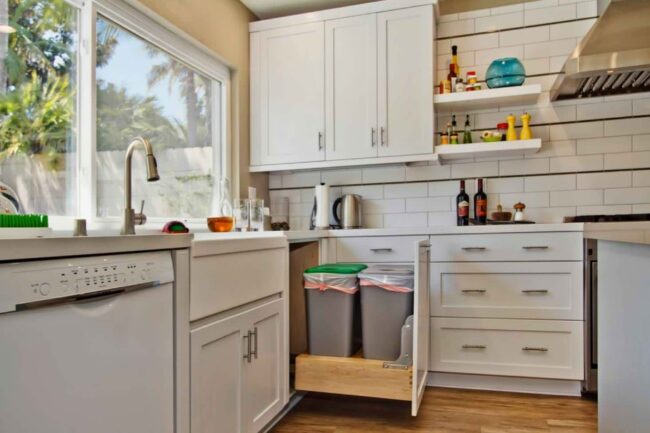 Jackson Design & Remodeling
This classic setup with the dishwasher on one side of the sink and a pullout cabinet for compost, trash and recycling on the other side makes kitchen cleanup easier. I highly recommend this layout if you can swing it. It does require a pretty long bank of cabinets to make it fit, because you need 24 inches for a standard-size dishwasher and at least 12 inches for the trash pullout. It's also nice to have a buffer cabinet on the outside edges of the dishwasher and trash cabinet so the doors can open without running into a perpendicular cabinet or wall.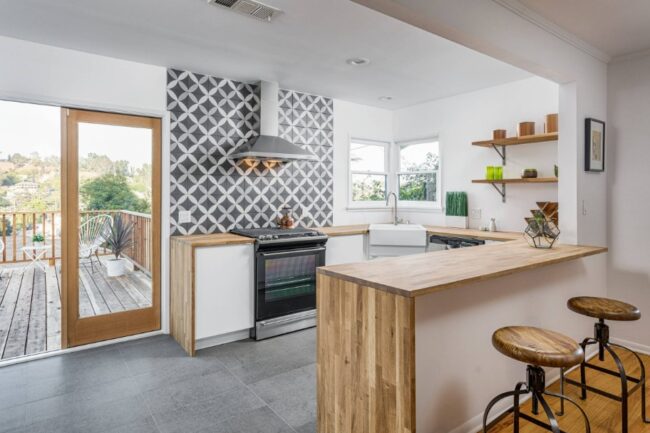 Sunstone Interiors
A Word About Corner Sinks
I generally don't recommend corner sinks in a kitchen. They can cause traffic jams and make it difficult to access a nearby dishwasher. But if you are forced to work with existing plumbing or the location of the only window in the kitchen, consult with a design professional who can help you figure out the correct size and placement of the sink, and the dishwasher if you install one, to ease the squeeze around the sink area as much as possible.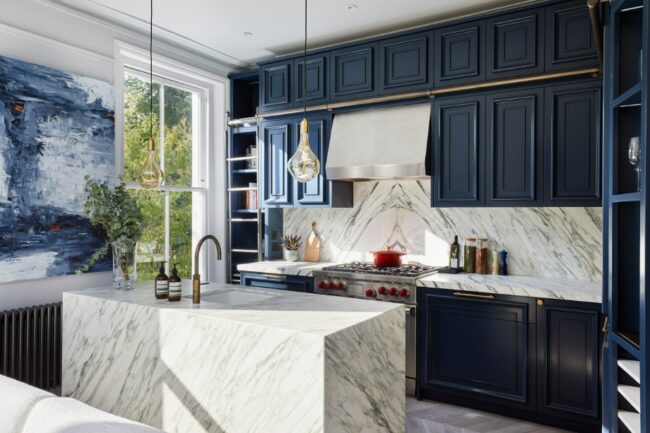 Huntsmore
Give Yourself Work Zones
If your kitchen layout includes an island, you might find it nice to put either the cooktop or sink in it to create an efficient workspace. I'm personally not a fan of having a hulking vent hood smack dab in the middle of the kitchen, so I prefer seeing the sink there instead.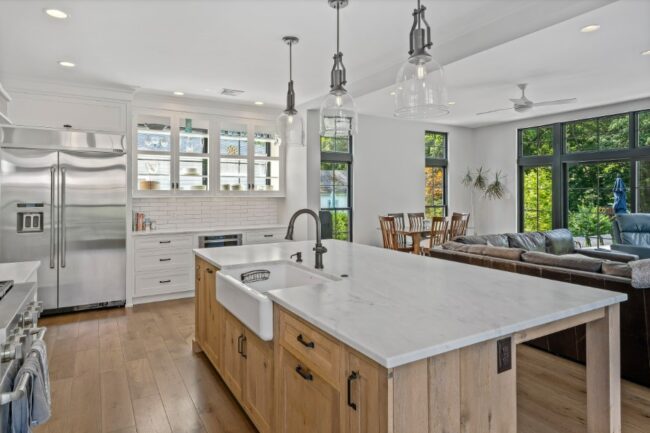 Jay Reinert Architect, LLC
Keep a Connection
Don't turn your back on your guests if you don't have to. If you plan to entertain often and have an open kitchen, this is an ideal layout. It allows the cook to prep in the kitchen while still conversing with guests or keeping an eye on kids.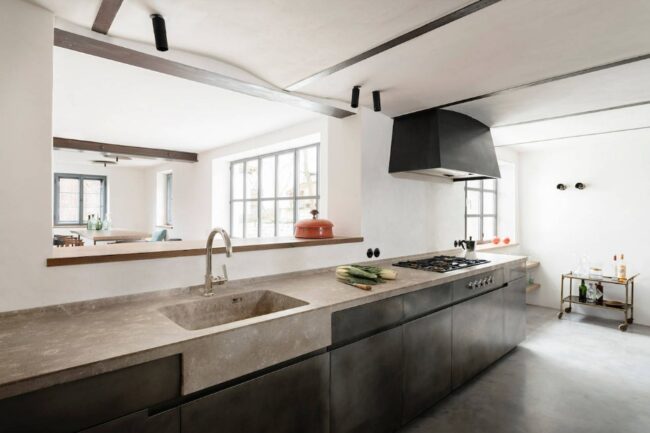 swa.studio//Sebastian Wiedemann Architektur
For those who want to see their family and friends while cooking and cleaning but don't necessarily want kitchen messes to be on full display, there are many ways to design the sink area to get the best of both worlds.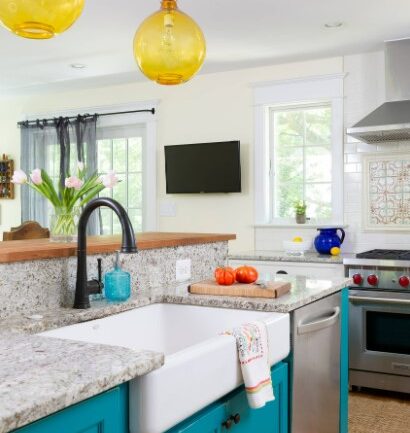 Case Design/Remodeling, Inc.
A cased opening or raised countertop above the sink can act as a visual barrier to disguise any messes in or around the sink. It provides a nice buffer to the area beyond where kids might be doing homework or guests will be hanging out having a drink and chatting with you while you finish dinner prep.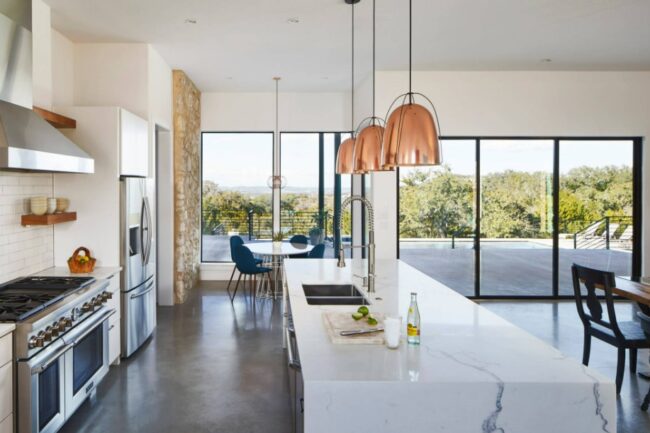 Studio Steinbomer
Be Social and Enjoy a View
If you are fortunate to have a large open kitchen that looks out onto a nice vista, think about orienting your sink toward the dining area and the pleasing view. Yes, everything is on full display, but this would be a fun kitchen to work in when you're able to entertain large crowds of friends and family.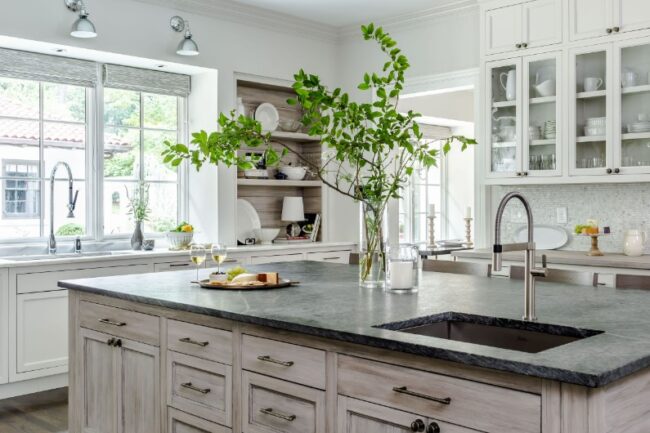 Soorikian Architecture
Work With Multiple Sinks
For those with large households or who entertain often, multiple sinks are definitely an ideal setup. Of course, you'll need the space and budget to accommodate such a design.
Typically, there is one larger main sink placed under a window or facing an adjacent dining room or great room, and the dishwasher is placed next to it for easy cleaning and loading. The second sink may be a smaller prep sink in the island or a peninsula, and it is used more for hand washing and food prep. This configuration allows several people to use the kitchen at once without getting in one another's way.
Jennifer Ott, Blog contributor for Houzz 
San Francisco-based architectural color specialist and design writer. Jennifer's work has been featured in many print and online publications. Her recently-published book, "1000 Ideas for Color Schemes," is a beautifully illustrated and easy-to-navigate guide that takes the guesswork out of selecting the perfect color palette for your home or special event. For more information on Jennifer Ott Design, visit http://jenottdesign.com/.
Home Remodeling in the Greater Phoenix Area
For high-end home design, build, and remodeling in the greater Phoenix area that reflects your vision, Homework Remodels will help you love your home again. Start your project by calling us at (480) 895-3442 or email [email protected] to discuss your remodeling project.  We offer no-obligation in-home consultation. Our NARI-certified award-winning designers and craftsman are eager to work with you to make your vision for your home a reality!  See our portfolio here.
Find more informative blogs and articles on HOUZZ and on our website www.trilitebuilders.com