If there's one room that has enjoyed a well-deserved glow-up in recent years, it's the laundry room. Once relegated to dark garages, unfinished basements and other dreary areas of a home, laundry rooms now command attention in premium spaces. Here, design and remodeling pros share the details and features they embraced to imbue these attention-grabbing laundry rooms with function and style.
Laundry Rooms You'll Love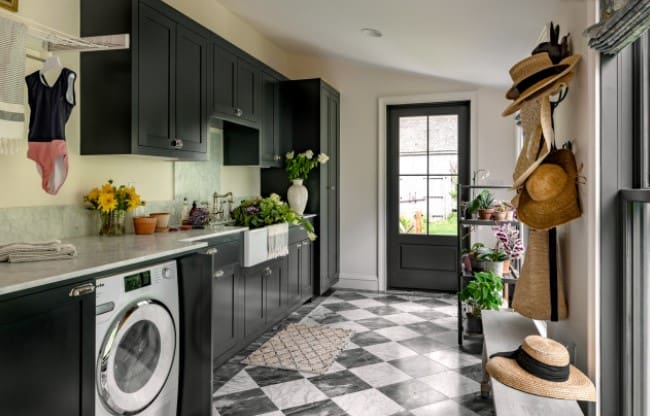 First ImpressionDesigner: Crisp Architects
Location: Litchfield County, Connecticut
Size: 250 square feet (23 square meters)
Homeowners' request. "Before the renovation, the house did not have a defined mudroom space when entering off of the garage," architect James Crisp says. "The owner requested a space that provided ample room to enter the house from the outdoors or from the garage, while also providing storage opportunities and large windows that look out onto the backyard gardens. The new space also provided an opportunity to move the laundry out of the basement and to a more central location that is both bright and airy."
Special features."A continuous honed Carrara marble countertop helps to visually draw attention away from the under-counter washer and dryer, while slide-away pocket doors completely hide the appliances when they are not in use," Crisp says. "The Waterworks fireclay farmhouse apron sink adds a traditional element to the custom millwork Shaker-style cabinetry and the utility of a washbasin necessary for a functional mudroom and laundry. The floor is a checkerboard pattern honed 12-by-12-inch Gioia Venatino and Dark Bardiglio marble tile by Studium. A drying rack for delicate laundry is able to fold away when not in use."
Designer tip. "Enclosed storage cabinets, slide-away pocket doors, and the fold-down laundry drying rack all allow the space to function easily but also keep the space visually clean when not in use," Crisp says.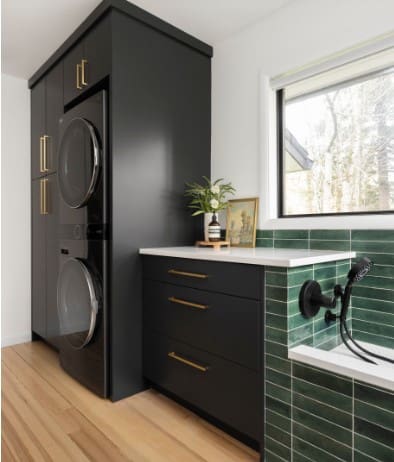 Pet-Friendly Designer: Amy Pearson Design
Location: Portland, Oregon
Size: 94 square feet (8.7 square meters); 7½ by 12½ feet

Homeowners' request."The clients wanted overflow pantry and storage space, a front-loading washer and dryer, and some counter space for folding laundry," says designer Amy Pearson, whose clients found her on Houzz. "Their other big ask for the space was the addition of a dog bath for the four-legged family member. By utilizing a stacked washer and dryer unit, we were able to add a tall cabinet with rollout shelves for storage, counter space for folding with drawer storage underneath, and an elevated dog bath for easy-on-the-back bath sessions."
Special features. "The big standout in the space is the dog bath," Pearson says. "It's elevated off the floor to make washing easier on the homeowner's back but not so high that the dog is able to get in and out of the bath on his own. The black cabinets — Mopboard Black by Benjamin Moore — earthy green tile, white countertops, and wood floors make for an organic color palette that is sure to stand the test of time."
Designer tip. "Thinking outside the box in space planning can lead to some creative use of space," Pearson says. "Which is why it can be really helpful to work with a designer. And don't be afraid to play with contrast in the colors and surface materials you select. Contrast brings visual interest. Play with texture, even in the case of tile, for even more interest."
"Uh-oh" moment."We really had to work through the geometry for the height of the dog bath," Pearson says. "It took several rounds of measuring to make sure that the basin was at a height that was comfortable for the homeowner but not too tall for the dog. We simulated heights with chairs and other props, measured what the dog would jump in and out of, and measured comfortable reach heights for the client in order to land on the best dimension."Custom cabinets: Rockwood Cabinetry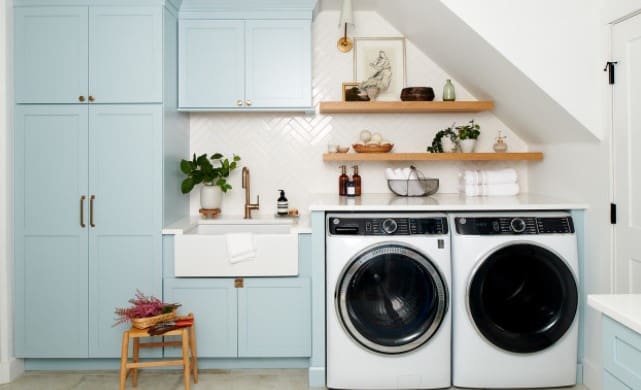 Happy PlaceDesigner: Heather Safferstone of Safferstone Interiors
Location: New Hope, Pennsylvania
Size: 190 square feet (18 square meters)
Homeowners' request. "The homeowner had a very spacious three-car garage for their two cars but not a very functional laundry room and mudroom," designer Heather Safferstone says. "The existing space was a 6-foot walk-through from the garage to the house cramped with too little storage for a family of any size. With their third baby on the way, the homeowners wanted to create a more spacious and organized entrance that would allow them to perform their household chores more easily but also store the kids' items, cleaning and pet supplies and have room for their family of five to come and go more easily."
Special features."From the get-go I knew we would utilize custom cabinetry to fulfill our storage needs and to create an organized and built-in appearance for the laundry wall," Safferstone says. "The client and I were both excited about using a color for the cabinetry instead of traditional white. We landed on a happy shade of blue (Sleepy Blue by Sherwin-Williams) for the cabinetry that her daughter, 4 years old at the time, called Elsa Blue." Other special features include a quartz countertop for folding, natural white oak shelves, and an apron-front utility sink to "soak clothes, rinse muddy boots or bathe the dog," Safferstone says. Opposite the laundry area is mudroom-style storage with lockers for each kid and parent.
Designer tip. "Embrace at least a dose of risk," Safferstone says. "Colored cabinetry took this room from good to great. I knew I wanted to create a cheerful, welcoming, and organized space that wasn't too serious and is reflective of the sweet young family that lives here. Laundry is boring, but if designed thoughtfully, it can be a happy space cohesive with the entirety of the home."
"Uh-oh" moment. "During the design process, we considered several tile options for the floor, and ultimately the client and I selected a white brick to be laid in a herringbone pattern with gray grout," Safferstone says. "The contractor installed it and it looked beautiful. However, the homeowner found that she could see footprints and worried it would bother her over time. Since cabinetry hadn't been installed yet, she had him pull it up and replace it with a more utilitarian large-format porcelain tile that already looked a bit worn. We repurposed the leftover white brick as the backsplash tile above the counters."Shop for housekeeping and laundry products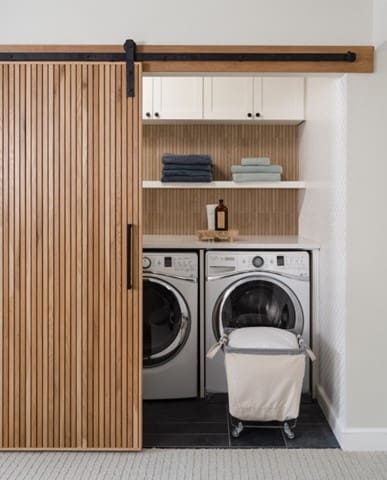 Hip Slide Designer: Tracy Parkinson of Nest + Co.
Location: Newton, Massachusetts
Homeowners' request."This laundry was added as part of a larger overall renovation and addition to the home," designer Tracy Parkinson says. "It's located within a finished basement sitting room and guest room suite and therefore had to be able to be hidden away when necessary. The custom sliding door was the answer."
Special features. "The laundry has lots of lovely elements like porcelain tiles that mimic beaded paneling, slate flooring, a beautiful updated floral wallpaper, and a custom-made beaded wood modern sliding door," Parkinson says.
Designer tip. "Treat your laundry room as you would any other room, from a design perspective," Parkinson says. "Give it pretty tiles, wallpaper, flooring, details. We all have to do household chores. There's no reason these spaces shouldn't be pleasant and pretty as we toil away."
"Uh-oh" moment. "We had already designed and ordered the custom sliding door and then realized during a site visit that there was a new soffit running along the ceiling where the door would hang," Parkinson says. "Thankfully the contractor worked with us to be sure it would ultimately work as planned."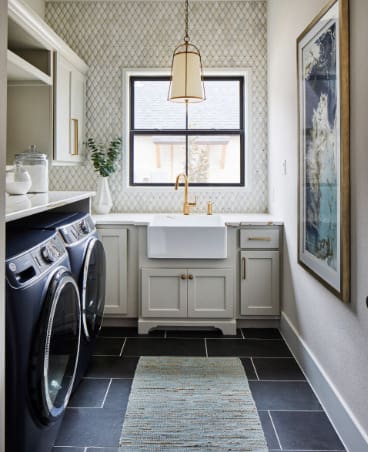 Quiet Luxury Designers: Kim Provost (lead interiors) and Steven Byrne (architectural) of Kurk Homes
Construction: Kurk Homes
Location: College Station, Texas
Size: 96 square feet (9 square meters); 8 by 12 feet
Homeowners' request. "This home was designed with the future homeowner in mind, locating the utility room right off of the drop zone and casual entry of the home through the garage," says Melanie Sparks, president and co-owner of Kurk Homes. "We wanted to create a welcoming and joyful room that was functional, with ample storage and folding space with a continuous countertop that wrapped around the room from the sink to above the washer and dryer."
Special features. Black porcelain flooring. Quartz countertops with folding space. Ten-inch James Hardie shiplap ceiling application. Apron-front sink. Dark blue washer and dryer. Stone, brass, and porcelain backsplash tile in a harlequin pattern. "Crisp white tiled backsplash to the ceiling brightened the space, along with the natural light through the window that bounced off the gold fixtures and hardware," Sparks says.
Designer tip. "Always try to create a space that is happy, especially for mundane activities like loads of laundry," Sparks says. "Adding natural light and an interesting backsplash can add some joy in the room, along with a fun pendant light hanging from an unexpected ceiling detail in a laundry room."
Uh-oh" moment. "This room was originally planned to have stained concrete," Sparks says. "Sometimes construction can get messy, and the stained concrete had obvious surface damage that could not be repaired, days before the grand opening. Quickly we were able to select a tile that we think actually works better than the originally planned stained concrete. So it turned out to be a blessing in disguise, albeit stressful at the time."
Light fixture: Stonington, Visual Comfort Studio Collection; appliances: Sapphire Blue, GE Profile; wall, ceiling, trim, and cabinet paint: Pure White, Sherwin-Williams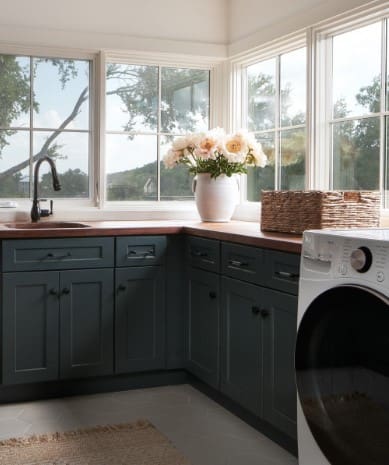 Wraparound ViewDesigner: Ariel Bleich Design
Location: Austin, Texas
Size: 160 square feet (15 square meters); 10 by 16 feet

Homeowners' request. "The homeowners wanted a dedicated laundry room with nice views since they spend ample time in the space doing laundry," designer Ariel Bleich says. "The room has large windows that face the backyard and lots of folding and storage space."
Special features. "We used a neutral gray hex porcelain tile for the floors but brought in a color accent on the cabinets," Bleich says. "The greenish-gray paint was used in other parts of the home and we wanted it to tie in with the rest of the house so the finishes flow throughout."
Designer tip."Butcher block counters were chosen to bring in a wood accent, but they were also a cost savings over stone," Bleich says.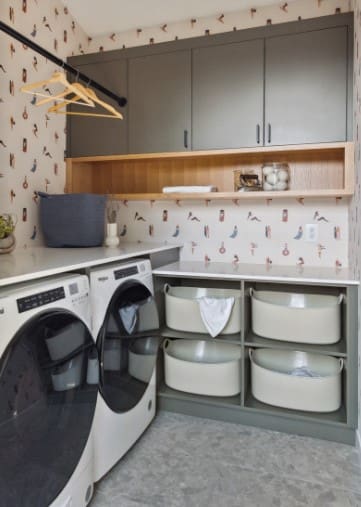 Sustainable Nine Design + Build
Surf's Up Designer: Brittany Blunt of Sustainable Nine Design + Build
Location: Golden Valley, Minnesota
Size: 50 square feet (4.7 square meters)
Homeowners' request. "The client's request for their laundry room was to infuse it with a sense of fun, achieved through a funky wallpaper and abstract tile," says designer Brittany Blunt, who collaborated with her clients using Houzz idea books. "Addressing the challenge of limited square footage, we strategically placed it adjacent to the master bedroom, creating an additional space for folding clothes while maximizing storage and utility. This design approach optimized every inch of available space, transforming their laundry room into a functional and enjoyable area."
Special features. "The laundry room features large abstract gray tiles, fun surfer-themed wallpaper, and midcentury cabinets with quartersawn white oak, all elegantly finished with Benjamin Moore's Castle Peak Gray paint," Blunt says. "It's a space that seamlessly blends style and function."
Designer tip. "To enhance a small space, incorporate wallpaper, as it offers an affordable means to introduce a distinctive and personalized element," Blunt says. "Additionally, opting for oversized tiles with a larger scale can be a game changer, not only simplifying grout maintenance but also delivering a sleek and contemporary aesthetic, achieving a more seamless and modern appearance."Wallpaper: Lido Cream Beach Life, Hovia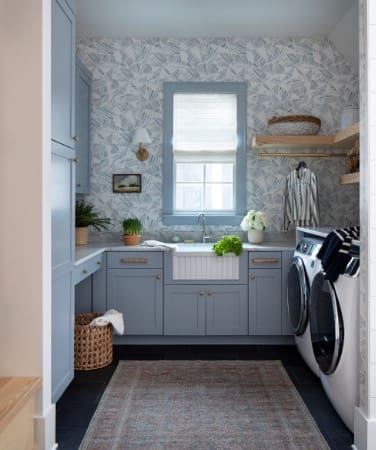 Get the BluesDesigner: Sara Swabb of Storie Collective
Location: Wilmington, North Carolina
Homeowners' request. "This was a new build," designer Sara Swabb says. "We created a laundry room that met our clients' storage and laundering needs but also felt light and airy — and finished — a space that brings charm and interest to the home."
Special features. "We used a beautiful pop of coastal blue, a nod to both a coastal and historical-traditional palette that appealed to the desired aesthetic," Swabb says. "A fun Rebecca Atwood wallpaper — Mixed Stripe in Blue-Slate —brings movement and interest to the space."
Designer tip. "Be adventurous in rooms that serve a sole purpose such as a laundry or powder room," Swabb says. "And remember: Utility spaces can be beautiful too."
Shared from HOUZZ and written by Mitchell Parker, Houzz Editorial Staff. Home design journalist writing about cool spaces, innovative trends, breaking news, industry analysis, and humor.
Premier Home Remodeling in the Greater Phoenix Area
For high-end home design, build, and remodeling in the greater Phoenix area that reflects your vision, Tri-Lite Builders will help you love your home again. Start your project by calling us at (480) 895-3442 or emailing [email protected] to discuss your remodeling project. We offer no-obligation in-home consultation. Our NARI-certified award-winning designers and craftsmen are eager to work with you to make your vision for your home a reality!  See our portfolio here.