Whether you're remodeling or building from scratch, it's a great opportunity to make your home more sustainable (environmentally friendly). From finding local materials to designing easy-to-clean spaces with an eye to the future, here are six expert insights you need to know if you're eager to go green.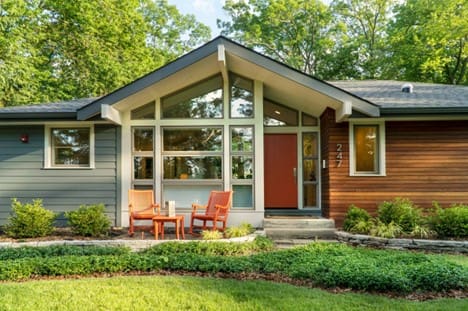 Kipnis Architecture + Planning
1. Look Beyond Price
If you're building or renovating on a budget, it can be tempting to go for the cheapest products and materials. But this can often be a false economy, leading to unnecessary waste, says Nathalie Scipioni, architect, and director at Nathalie Scipioni Architects.
"Renovators often focus on the price of products and materials, finding it more affordable to source them overseas. But many cheap, overseas products are very often not of the same quality [as the more expensive, local equivalents] and end up breaking down faster and more often. This can result in repair costs, replacements, and waste. As such, it is always best to prioritize durability and quality over price," Scipioni says.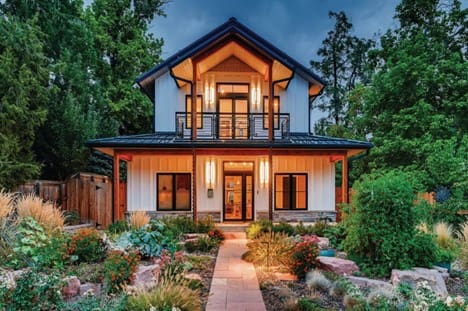 Rodwin Architecture & Skycastle Homes
2. Pick the Right Architect or Building Designer
It may seem obvious, but if a sustainable build or renovation is your focus, it's important to work with an architect or building designer who specializes in this area. "Choose a designer who understands passive solar design principles — good design saves energy and materials and will make your home more functional, comfortable, and beautiful," says Rhiannon Hayward-Steers, architect at Hindley & Co.
Tri-Lite Builders is a NARI Green Certified Professional. As one of the only Design/Build Certified Green Remodelers in Phoenix, we start each project with a design phase. During this time we do a detailed feasibility study of your kitchen, bathroom, or home remodel in order to make the appropriate choices for making your home more sustainable and to fit your budget. We will help you plan your green remodeling project and get it off the drawing board into a working green kitchen, bathroom or home remodel.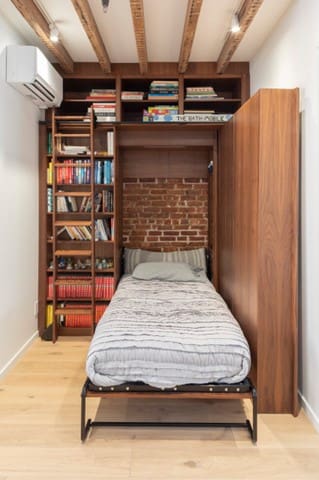 Fete Nature Architecture
3. Use Sustainable and Recycled Materials
When you're building or renovating your dream home, don't get caught up in the idea of having the newest and shiniest products. Materials such as recycled wood are not only an environmentally sound choice, but they can add real character to spots such as countertops, floors, and walls. "Recycled bricks and roof tiles are other products you might consider using," says Kirsten Johnstone, director at Kirsten Johnstone Architecture.
When it comes to wood, seek out species that are responsibly sourced. "Renewable plantation timber, preferably locally sourced, is the most sustainable building material because it can be regrown and the plantations store carbon," says Anne Hindley, architect, and director at Hindley & Co.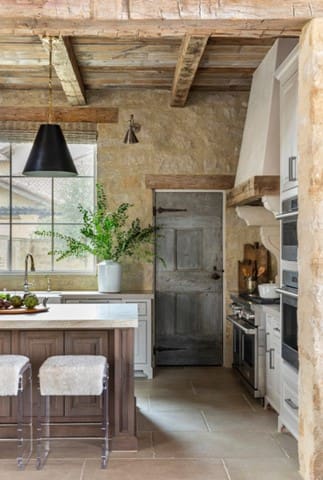 Southend Reclaimed
How do you know if the products you're choosing are making your home more sustainable? Look for industry-recognized certification, Johnstone says. For example:
Forest Stewardship Council (FSC) provides a certification process for environmentally responsible, socially beneficial, and economically responsible forest management for timber products.
Global GreenTag provides certification for many products and is recognized in over 70 countries. It is compliant with numerous ISO (International Organization for Standardization) standards, providing internationally accepted quality-management standards.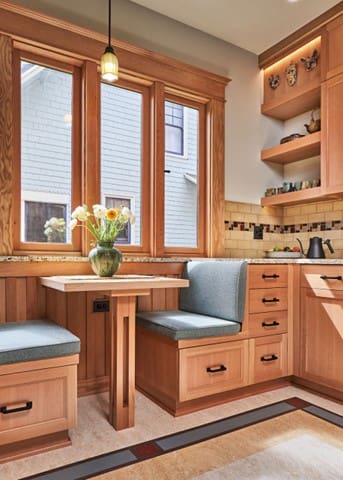 Erika Altenhofen, CKBD – Neil Kelly Co.
4. Ask More Questions for Making Your Home More Sustainable
"Designing sustainably is not just about the initial choices you make. It also includes asking deeper questions, such as, 'How is the product manufactured? Who made it — was it produced in the equivalent of a sweatshop and shipped from overseas? When and where should this product be used?'" Johnstone says.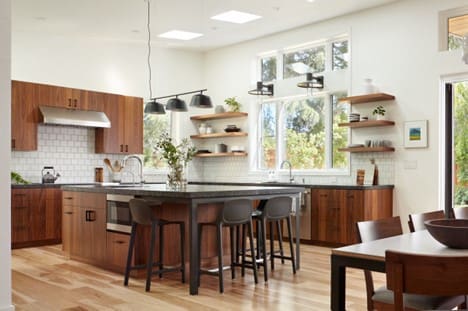 Young & Borlik Architects
5. Upgrade to Energy-Efficient Technology
Hayward-Steers recommends reducing your reliance on the grid (and seeing your energy bills tumble) by specifying energy-saving heating and cooling technology. "Think solar panels, high-efficiency heat pumps, and geothermal heating and cooling," she says.
And when you are shopping for major appliances such as refrigerators, dishwashers, dryers, and washing machines, seek out energy-efficient styles that consume less water and power.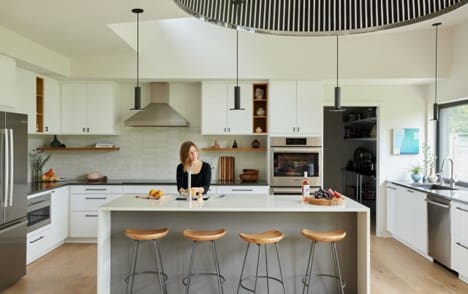 Green Hammer
6. Make It Easy to Clean
Create a healthier interior by choosing finishes that can be easily cleaned without toxic chemicals, including tiles and wood floorboards, and appliances that can be wiped down easily, Scipioni says.
In the kitchen, she says, consider:
Matte and semi-gloss kitchen cabinetry finishes reduce the visibility of fingerprints and stains.
Nonporous stone or glass backsplashes and countertops — they are durable, extremely hygienic, and simple to clean.

Create as much storage as possible to keep countertops clutter-free and easy to wipe down.
Incorporating an appliance cabinet where you can store and easily access frequently used appliances such as the microwave, coffee maker, and food processor.
Give your healthy cleaning routine a further boost by choosing eco-conscious cleaning supplies that keep your home sparkling without the nasty chemicals.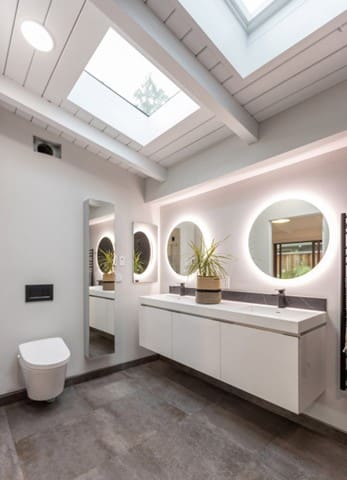 Tali Hardonag Architect
In the bathroom, consider:
Wall-hung vanities and toilets that are easy to clean underneath.
A back-to-wall bath rather than a freestanding style if your bathroom is small — there are fewer hard-to-reach spots to scrub with toxic cleaning agents.
Large-format tiles with fewer grout lines to clean.
Recessed or semi-recessed sinks; the joint between the sink and countertop is minimized, allowing a long-lasting and easy-to-clean fixture.
Keep researching and reading, you'll find there is a wealth of information and questions to ask so that you can make your build or remodel more sustainable.
Blog is written by Georgia Madden, Senior Writer, Houzz  
For another informative blog on how to sustainably remodel your home, follow this link!
Premier Home Remodeling in the Greater Phoenix Area
For high-end home design, build, and remodeling in the greater Phoenix area that reflects your vision, Tri-Lite Builders will help you love your home again. Start your project by calling us at (480) 895-3442 or emailing [email protected] to discuss your remodeling project. We offer no-obligation in-home consultation. Our NARI-certified award-winning designers and craftsmen are eager to work with you to make your vision for your home a reality!  See our portfolio here.