Maybe you've found the house you want to grow old in. Perhaps you foresee your elderly parents moving in with you one day. Or maybe you require wheelchair accessibility. With the following 10 ways to design a kitchen for aging in place, you'll make your space safer and easier to navigate.
 Design a Kitchen for Aging in Place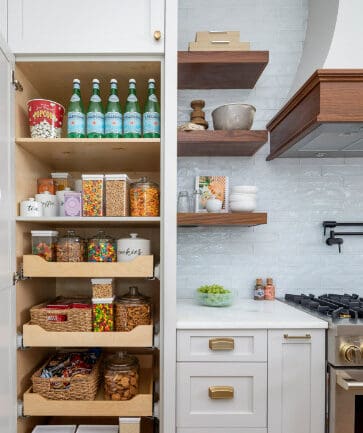 Pike Properties
 1. Install a Pullout Pantry
Because it lets you see everything at a glance without having to shuffle items around, homeowners of all ages will find a pullout pantry useful. But besides being convenient, drawers that give you easy access to your canned goods and cereal boxes also put less strain on your back and knees.
You can even use the pullouts to store heavy portable appliances, such as blenders, slow cookers, and toasters.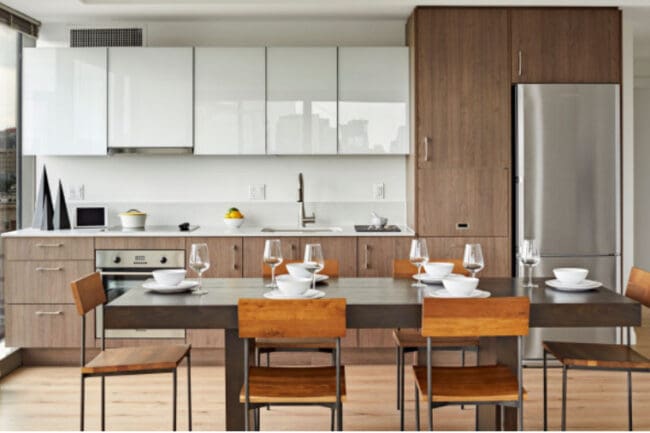 Simmons STUDIO Architects
2. Keep the Sink Close to the Stove
As we age, it's harder on our arms and backs to carry big pots full of water to and from the cooktop. If any spills on the way, it becomes a slipping hazard. Keep your sink close to your stove but be sure to leave workspace in between. It defeats the purpose if you're forced to hold a pot longer than is comfortable because you can't find a place to set it down.
Where it isn't possible to have the sink on the same side as the stove (or if the layout won't work for the way you cook), there's another option. Place the sink across from the stove, and you're only 180 degrees and a step or two away. This works well in galley-style kitchens.
3. Opt for a Shallow Sink
While we're on the subject of sinks, buy one that isn't too deep (preferably only 6 to 8 inches). It's much easier to rinse vegetables and dishes in a shallow sink bowl.
4. Place the Microwave at or Below Counter Height
Whether your microwave is free-standing or built-in, having it at counter height is best for your back since it minimizes bending and reaching above your shoulders.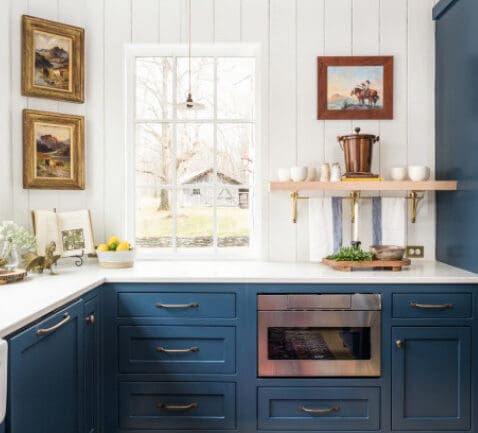 The Kingston Group
If you don't want to sacrifice counter space, the next best solution is to tuck the microwave under the counter. Why? For starters, it's easier to set a heavy plate down below you than it is to lift it above your shoulders. And since spills are more likely when you have to reach up to remove hot food or liquid, having the microwave under the counter also prevents burns.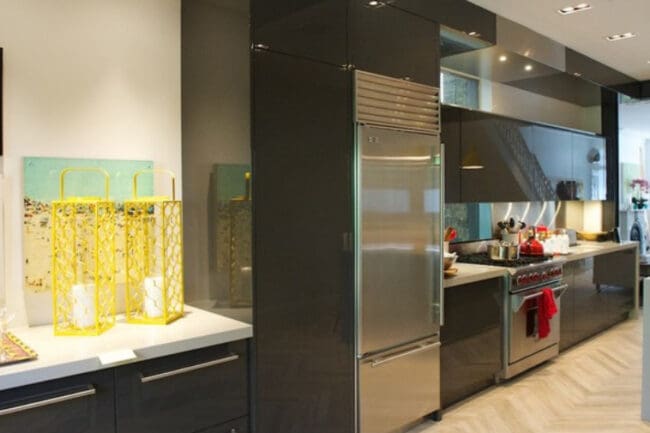 Yorkville Design
5. Choose Standard Counter-Depth Appliances and Cabinets Without Frills
Designing an age-proof kitchen isn't the time to get fancy with decorative legs, ornate refrigerator panels, or angled counters. Though these eye-catchers add personality, they can transform your space into an obstacle course. You're more prone to bump your knees, legs, and hips on appliances and cabinetry details that jut out from the counter.
6. Make Corners Accessible
Blind corner cabinets won't cut it. Yes, they provide ample storage space, but too often they turn into unofficial junk bins when you tire of getting on all fours to fetch the dish you need. Performing that bend-reach-lift motion also isn't good for aging backs.
Look for corner cabinet bases that effectively eliminate the need for rummaging and reaching. They aren't all the same, though. You have options, be it a convenient three-drawer base (left) or a traditional Lazy Susan. You can also get corner cabinet organizers with a kidney-shaped, half-moon, and other creative sliding shelves.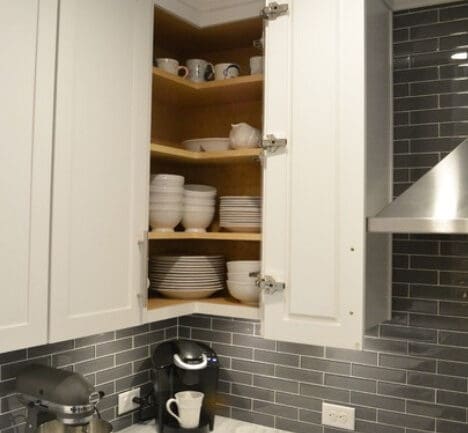 Lane Homes & Remodeling Inc.
Don't limit accessible corners to your lower cabinets. This easy-to-reach upper cabinet opens like an accordion and doesn't waste any storage space.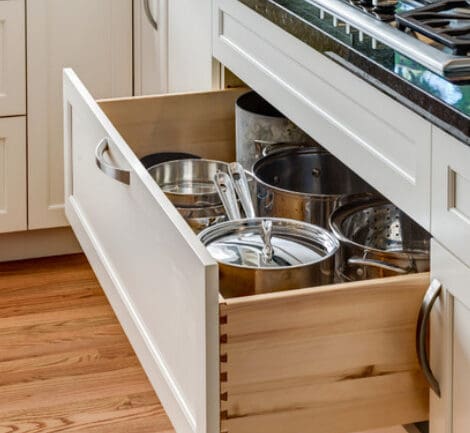 Gilmore Kitchens and Baths
7. Choose Drawers, Not Doors
The best part about drawers is that they display all your flatware and utensils at once, which allows for easy grabbing. You don't have to get on your knees and peer into the back of the cabinet to see what's available.
You can also store your larger kitchen items in drawers. Drawers wider than 30 inches can stow plenty of pots and pans.
8. Round the Edges
Avoid 90-degree angles on countertops and open shelves. The last thing you want is to hit your hip or elbow on a sharp corner as you're maneuvering in your kitchen. Round edges lessen the likelihood of bumps and bruises.
For U-shaped kitchens, ADA guidelines require at least 60 inches of clearance between opposing cabinets, walls or appliances.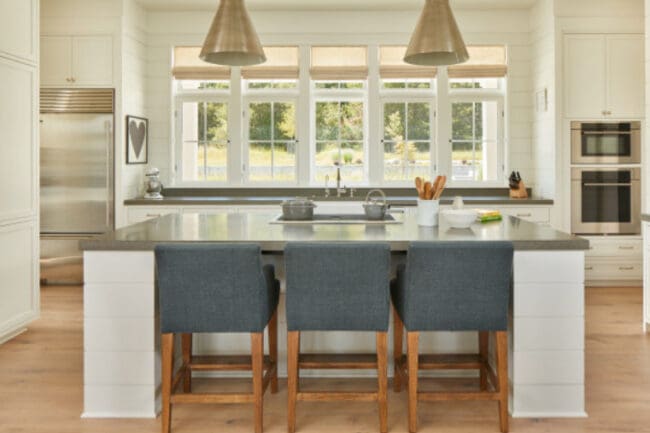 Menter Byrne Architects
9. Focus on Clearance Space
The standard clearance between cabinets, walls, and appliances is 36 inches, which is enough room to comfortably pass in a walkway and have access to drawers and doors.
However, if you want a kitchen that can accommodate a wheelchair, you can use the Americans With Disabilities Act guidelines as a reference point for your design.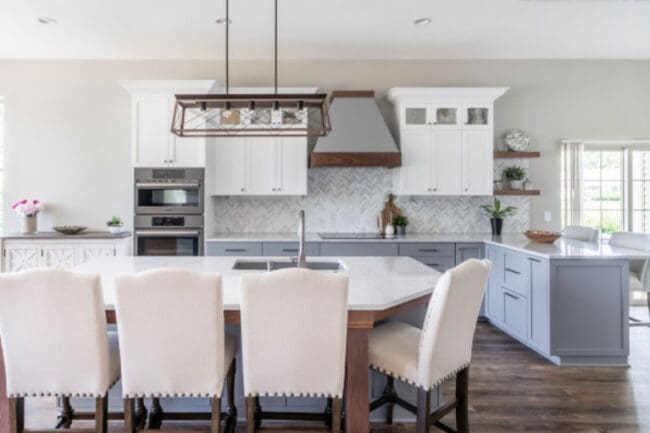 Kowalske Kitchen & Bath
10. Ensure That Floors Are Slip-Resistant
Materials that don't get slick reduce the chances of falling when there's a spill. Floor tile should have enough grout and texture to grip your feet. Porcelain tile absorbs less moisture than ceramic tile or other flooring types; it's also easy to maintain and clean. Vinyl flooring, seen here, can offer good slip resistance too, and it's softer on your feet.
Homework Remodels and Tri-Lite Builders have staff NARI certified as MASTER CERTIFIED REMODELER, CERTIFIED KITCHEN & BATH REMODELER, UNIVERSAL DESIGN CERTIFIED PROFESSIONAL, and GREEN CERTIFIED PROFESSIONAL. We can help you use universal design in your kitchen remodel so that you can continue enjoying your home as you age.
This blog was written by Sam Ferris, Houzz Contributor. I have more than seven years of experience in the design industry, including residential renovation, cabinet, and flooring design. I currently work for RVK Architecture, a professional design firm that delivers successful architecture, interior design, and landscape architecture solutions to public and private clients.
Premier Home Remodeling in the Greater Phoenix Area
For high-end home design, build, and remodeling in the greater Phoenix area that reflects your vision, Tri-Lite Builders will help you love your home again. Start your project by calling us at (480) 895-3442 or emailing [email protected] to discuss your remodeling project. We offer no-obligation in-home consultation. Our NARI-certified award-winning designers and craftsmen are eager to work with you to make your vision for your home a reality!  See our portfolio here.