Searches on Houzz show homeowners are looking to create homes that are comforting and fun for family and friends
Getting rooms ready for the holidays means creating a home that's cozy, welcoming to guests, and ready for entertaining is a perennial goal for many homeowners. But as we head into a holiday season in which many are resuming gatherings after a long pause, it's more important than ever. And a peek at recent searches on Houzz shows that many homeowners are looking for ideas to help them get prepared.
Here are the design features currently on their minds in getting rooms ready for the holidays.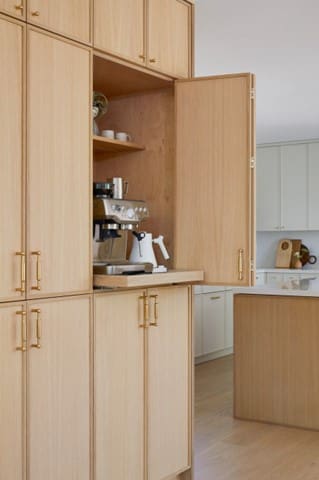 Guest-Friendly Details
Hosting guests is often a given during the holidays. And certain design features can make that a more pleasant experience for guests as well as homeowners. As the population increases in a home, so too does linen use. With that in mind, homeowners are looking for ways to accommodate extra bedsheets. Searches on Houzz for "hallway linen closet" increased 994% between July and September 2022 compared with the same period last year. A kitchen coffee station is also a great feature for guests and homeowners. In this Saratoga, California, kitchen, designer Cathie Hong created a pullout coffee station housed in light wood cabinets. Searches for a "coffee station in the kitchen" were up 783%, while searches for a "coffee and wine bar" increased 228%.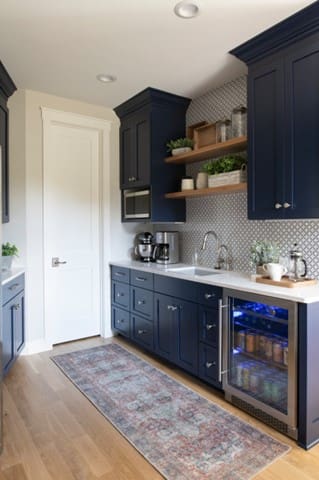 This drink station off a Minneapolis kitchen by Designs by D includes items for making coffee. But there's also a beverage fridge, microwave, sink, and plenty of storage and style.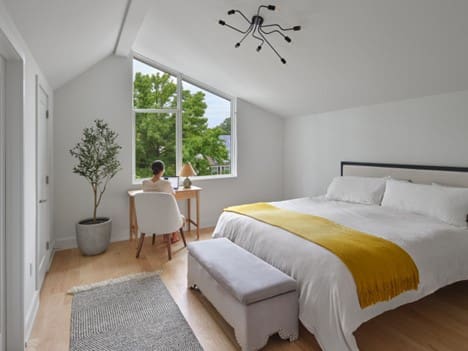 When short on space, many homeowners find combining functions is the way to go. A home office is a natural function to combine with a guest bedroom, and searches for "office guest room" rose 151% year over year.
In this Philadelphia accessory dwelling unit (ADU) by architect Marina Rubina, a second-level guest room also functions as a quiet home office.
Another smart investment when it comes to guests and holiday entertaining: a washable rug. Searches were up 74% this year compared with last year.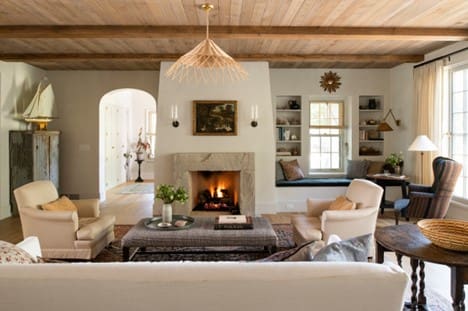 Cozy Living Room Features
A fireplace is a nice living room feature any time of year, but during the winter holidays, it's especially desirable — and useful. Searches on Houzz for "living room fireplace" climbed 395% year over year. And searches for "cozy living room" rose 39% in 2022 compared with last year. This Minneapolis living room features an inviting fireplace with hand-carved limestone surrounded by Orijin Stone. Creamy white walls, a wood ceiling, and slip-covered furniture add to the cozy atmosphere.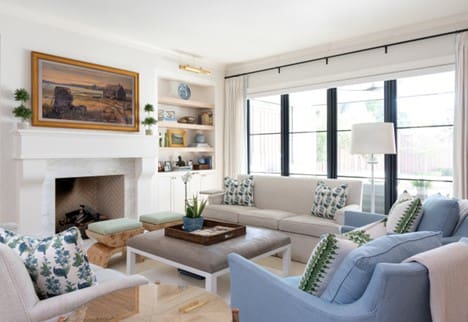 Le Belle Maison Interiors Inc.
Several elements can contribute to a cozy living room feel. Among them: living room pillows, for which searches increased by 303%, and living room lamps, up 228%.
This Dallas living room by Le Belle Maison Interiors has a stylishly cozy look with an upholstered coffee table, footstools, and other furniture, as well as patterned pillows, a white floor lamp, and a large fireplace.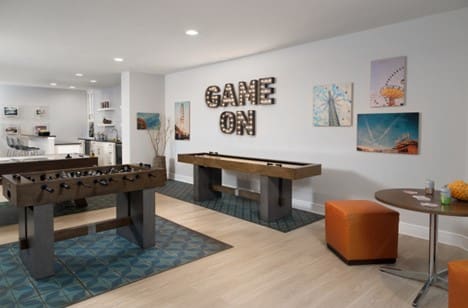 Entertaining Elements
Entertaining at home looks different to different people. But there are a few elements that are bound to foster a lively atmosphere. A basement can offer a world of entertaining possibilities. And searches for a "basement games room" jumped 1,267%, while "basement entertainment spaces" rose 247%. This Washington, D.C.-area basement games room by Julie Coppa Designs features several game tables and a home bar.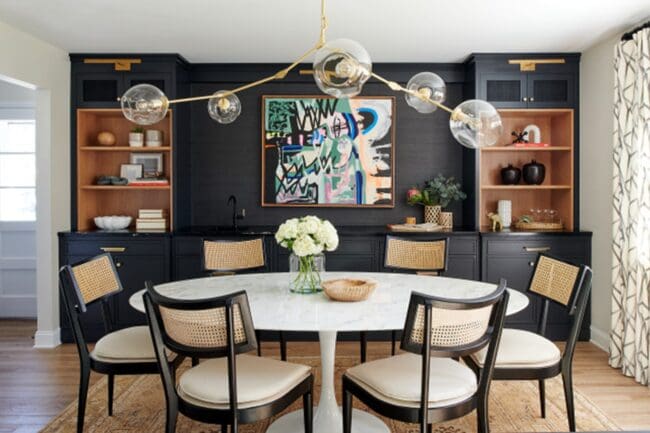 When hosting larger dinner parties, sometimes a round table can encourage more intimate — or energetic — interactions. Searches for "dining room round table" increased 222% year over year.
Meanwhile, a dining room buffet can make serving meals more efficient. Searches for a "dining room buffet" rose 108%.
This Philadelphia dining room by Sharp and Grey Interiors features a classic tulip table for six. Black built-ins span a wall and include a countertop area that serves as buffet space.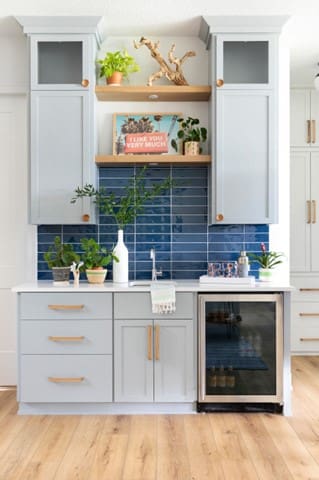 Few things make a home party more functional than a wet bar where family and friends can mix up their own beverages away from the bustle of the kitchen. Searches for "wet bar" rose 45% year over year.
This Minneapolis wet bar by Zawadski Homes beckons with glossy blue backsplash tile, stylish cabinets, warm wood and brass details, and a beverage fridge and bar sink.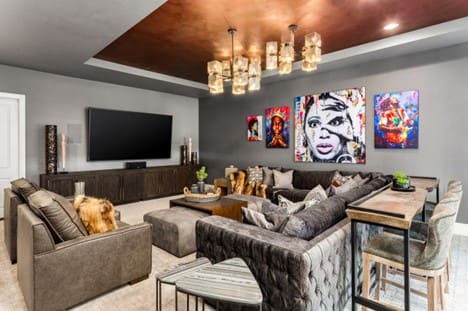 Perhaps one of the ultimate entertaining features is a dedicated home theater. And this Portland, Oregon, space from Red Hills Construction is a bold example, with plush furniture, moody colors, a freestanding bar behind the sofa, and a large TV. Searches for "home theater" were up 44% year over year.
This blog was written by Mitchell Parker, Houzz Editorial Staff. Home design journalist writing about cool spaces, innovative trends, breaking news, industry analysis, and humor.  November 2022
Premier Home Remodeling in the Greater Phoenix Area
For high-end home design, build, and remodeling in the greater Phoenix area that reflects your vision, Homework Remodels will help you love your home again. Start your project by calling us at (480) 895-3442 or emailing [email protected] to discuss your remodeling project.  We offer no-obligation in-home consultation. Our NARI-certified award-winning designers and craftsman are eager to work with you to make your vision for your home a reality!  See our portfolio here.
Find more informative blogs and articles on HOUZZ and on our website www.trilitebuilders.com