A well-designed living room often reflects the people who use it. And design and remodeling pros are good at teasing out homeowner preferences to create a special mix of color, pattern, decor, and architecture that feels full of personality. Here, pros share details about how they did just that in five stylish new living rooms with personality.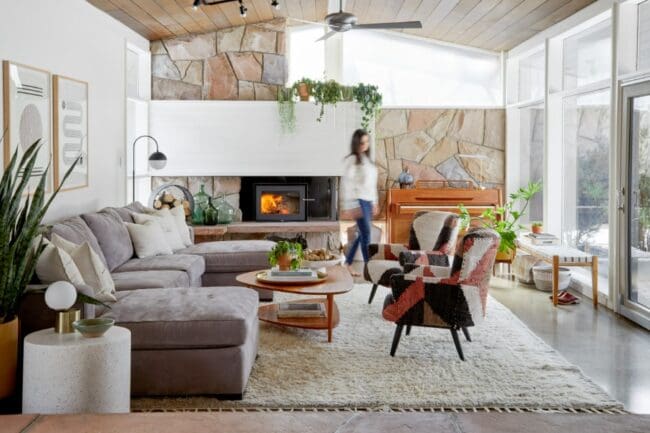 Amy Pigliacampo Interiors
Midcentury Mood
Designer: Amy Pigliacampo
Location: Boulder, Colorado
Size: 450 square feet (42 square meters); 18 by 25 feet
Homeowners' request. "The architecture of the space was so special," designer Amy Pigliacampo says. "It's a midcentury home designed by Thomas Nixon and Lincoln Jones that incorporates indoor-outdoor spaces with large windows and design elements that continue past the glass. But the homeowners had dark, heavy furniture from their old home that didn't do the room justice. So the goal was to highlight the beauty of the space by utilizing elements that felt complementary and like a natural extension of the design."
Main feature. "Every space should tell the story of the people that live there — what's important to them, how they live their lives, and how they come together to celebrate moments big and small," Pigliacampo says. "So my aim is always to highlight the key features of the home while optimizing the space based on the realities of their day-to-day.
"This home has so many unique architectural elements, and while we wanted the room to have a curated look, we didn't want to compete with those strong details," Pigliacampo says. "The use of indigenous flagstone throughout the home also served as a major inspiration for the palette and design.
"By layering creamy whites with the grays, terra cottas, and pink tones found in the rock, we created a cohesive concept that complemented the original structure. We chose contemporary furniture with clean lines and brought in warmth with soft texture by using natural materials like jute, wool, and clay and a vintage Acrosonic walnut piano."
Other special features. "The accent chairs are pretty special," Pigliacampo says. "They were much bolder than anything we initially discussed, but when I showed the client, she loved them immediately — and they really tied everything together in an amazing way."
Designer tip. "Floating furniture," Pigliacampo says. "There's a tendency to want to push furniture up against walls and oftentimes it creates awkward proportions. But you can actually create a much more intimate setting when large pieces 'float' in the room. This is also a great way to delineate spaces within a large room, using rugs to anchor the various zones."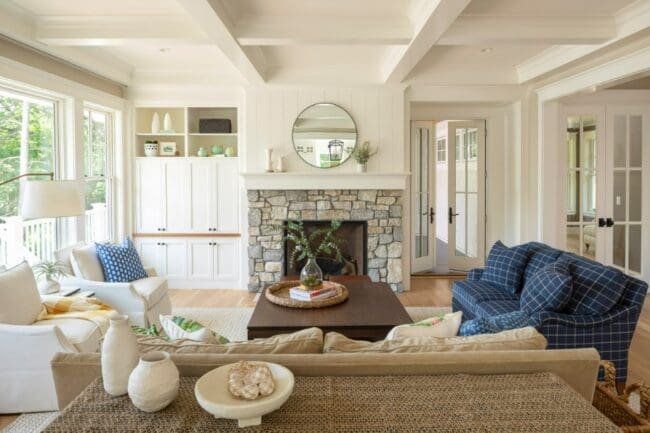 Mark D. Williams Custom Homes
Coastal Character
Designer: Kate Regan of The Sitting Room
Construction: Mark D. Williams Custom Homes
Location: Excelsior, Minnesota
Size: 399 square feet (37 square meters); 19 by 21 feet
Homeowners' request. "The clients wanted an approachable yet classic-inspired great room that overlooks the lake," builder Mark D. Williams says. "The intent of this room was to be used and yet also be dressed up and inviting for guests. They also wanted to hide the screen porch and grilling area from the main views."
Main feature. "The coffered ceiling beams really accent the great room from the rest of the main level," Williams says. "We also designed the south-facing windows with a hidden remote blind in the bottom of the beam to be used for privacy and to help on sunny summer days. For the flooring, we went with classic 5-inch white oak with an almost clear stain that was really light and played on the natural beauty of the wood."
Other special features. "The clients wanted to feel very sunny and joyful in their home, so we made sure to incorporate a lot of colors into the furniture selections to play off the neutral tones," designer Kate Regan says.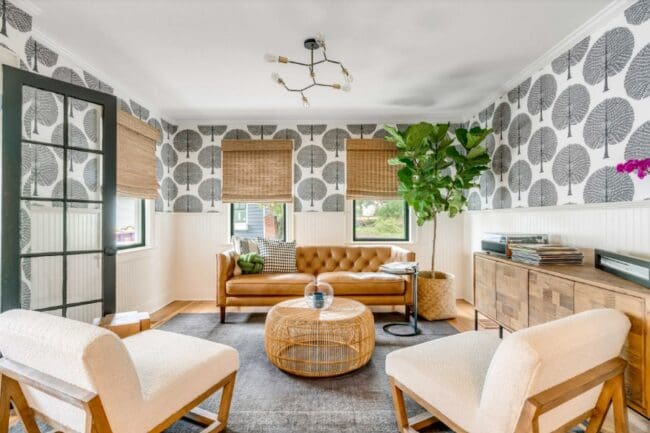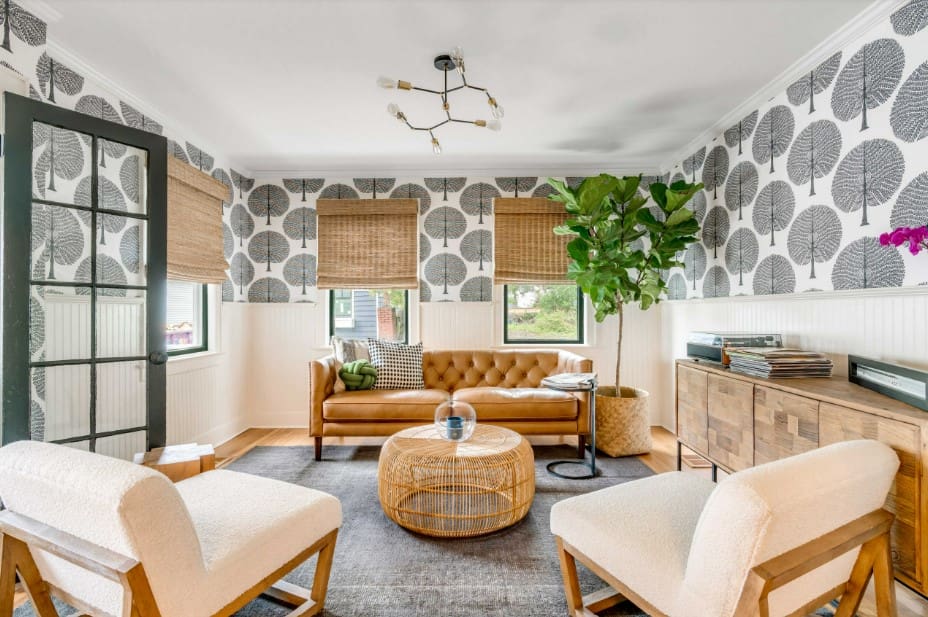 CMC Designs Charleston
Pattern Persona
Designer: Catherine Carabello of CMC Designs Charleston
Location: Charleston, South Carolina
Size: 270 square feet (25 square meters); 15 by 18 feet
Homeowners' request. "The homeowners purchased the home in September and needed a small renovation and a complete face-lift," designer Catherine Carabello says. "They are a young family and needed a home that they could entertain in but also allow their 2-year-old son the freedom to play and feel comfortable."
Main feature. "The jumping-off point was definitely the wallpaper," Carabello says. "We felt it was fun but also classic enough that they would not get tired of looking at it."
Other special features. Brown Tuxedo-style sofa. Boucle accent chairs. White beadboard wainscoting (Cloud White by Benjamin Moore). "It's a wonderful color for both traditional and contemporary spaces," Carabello says. "The natural shades added the softness and texture needed to balance the white wainscoting and the wallpaper."
Designer tip. "Texture and layering are always needed to complete a design," Carabello says.
Wallpaper: Thibaut
10 Living Room Features Pros Always Recommend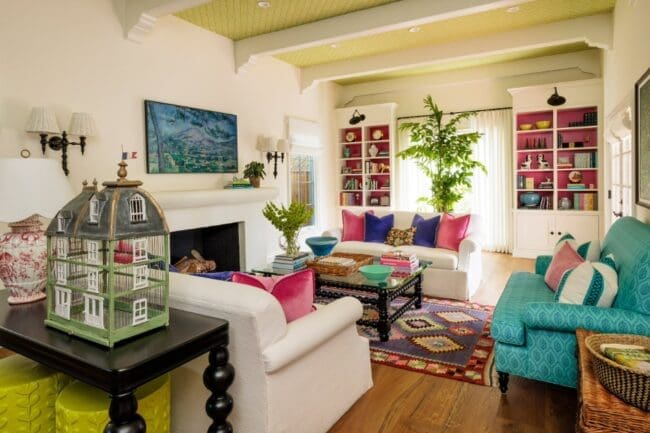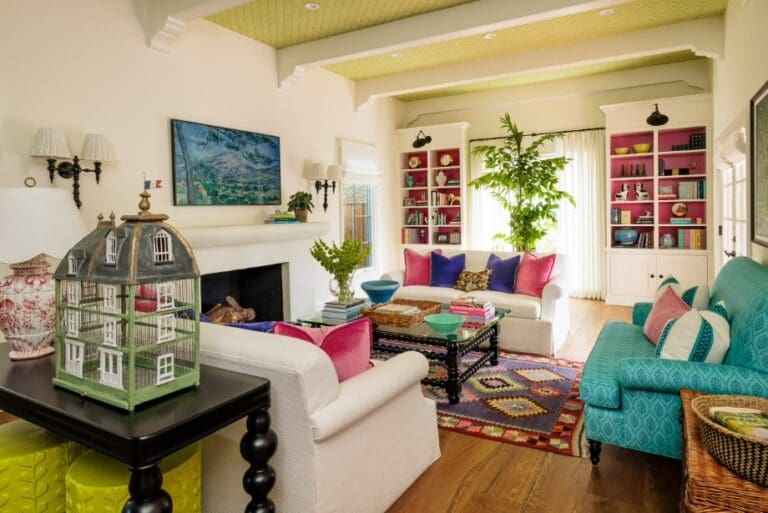 Alison Kandler Interior Design
Cottage Collection
Designer: Alison Kandler Interior Design
Location: Los Angeles
Size: 255 square feet (24 square meters); 15 by 17 feet
Homeowners' request. Play down the home's Spanish Colonial Revival architecture with a colorful cottage style. "It's a fun mesh of styles," says designer Alison Kandler, who used photos of colorful rooms found on Houzz as inspiration.
Main feature. "The fireplace is symmetrical in the room so everything is designed around that existing, very large fireplace," Kandler says. "Also, the ceilings are tall — 10 feet — and they had dark-stained beams. To play down the Spanish Colonial Revival style, I painted the beams white and added wallpaper between the beams to make the room feel more playful and cottage-like."
Other special features. "The white sofas, covered in outdoor fabric, and black furniture pieces are great neutral backdrops to all of the colorful accessories," Kandler says. "The window coverings are sheer, allowing for privacy and softness but still maximizing the natural light. The colorful vintage rug helps tie the room's colors together. I always mix in one-of-a-kind vintage pieces so each room feels unique."
Designer tip. "Adding built-in bookcases at the end of a long room helps shorten the overall look, which makes the room feel cozier," Kandler says.
"Uh-oh" moment. "My client really wanted a large TV in the living room over the mantel, since there is no separate den in this house, but also wanted the room to feel elegant," Kandler says. "We agreed on a TV with fine art screen savers so the room would never sit empty with a big black TV on the wall."
Wallpaper: Quadrille; blue sofa fabric: Jaali in Iznik Blue, Peter Dunham Textiles & Wallpaper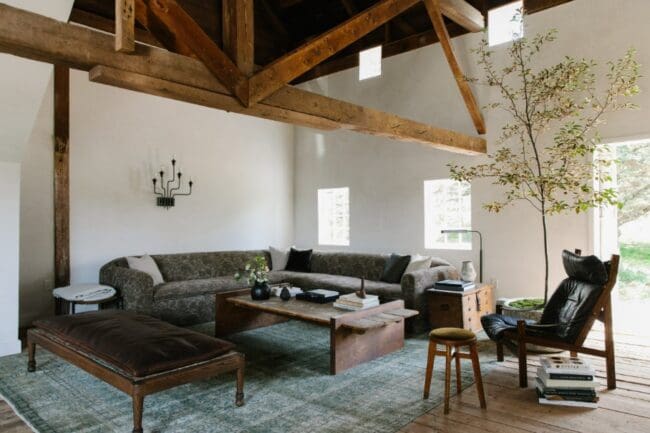 Moore House Design
Barn Beauty
Designers: Blair Moore and Bromley Moore of Moore House Design
Location: Cutler, Maine
Homeowners' request. "This was a relatively unconventional and labor-intensive barn overhaul," designer and homeowner Blair Moore says. "It's the original barn of an old stick-and-shingle Colonial cottage by the name of Coasters' Chance that's been in our family for a few generations. The goal was to extend the livable space of the cottage to turn it into an entertaining paradise. What is now the great room was originally the cottage's barn and was filled with horse stalls. If you look closely, you'll see the wide planks on the floor and hints of hydrated lime. We wanted to highlight these hints of the structure's history throughout the design. Making this space functional, inviting, comfortable and of course beautiful were our top priorities."
Main feature. "The barn used to be totally limewashed and filled with horses and hay, so we really didn't want to lose that rustic character," Moore says. "There was a fair amount of old limewash still covering some of the walls and flooring, so adding plaster walls was a sensible material choice for us that we felt would help blend the old with new.
"After much deliberation with the family and our design team, we made the decision to only bring the plaster halfway up the walls. The original vaulted barn ceiling and beams were simply too wonderful to cover up. They're the real McCoy that everyone always tries to replicate in new builds — covering them up was a no-go for the family. We also enlarged and rebuilt the windows using traditional techniques and old ripple glass to add more light. The final product is a barn that feels modern but still has ties to its traditional Colonial heritage."
Other special features. "Since this space was so large, we knew that filling it would be a big undertaking," Moore says. "Step one was adding a massive, cozy sofa that would almost wrap around the room. We also layered in some of our favorite pieces, like the 1970s Hunter easy chair by Norwegian designer Torbjørn Afdal, a vintage rug and our newly designed Passerine daybed.
"We found this wide-planked table with the most incredible patina and we immediately knew it needed to live in Coasters' Chance. Obviously, we wanted an equally massive coffee table to go with the sectional, so we added two modern-feeling legs with perfectly placed cutouts so that the table actually slides into them on either end. This gave way to a sleek design without any exposed screws or weird joint plate supports."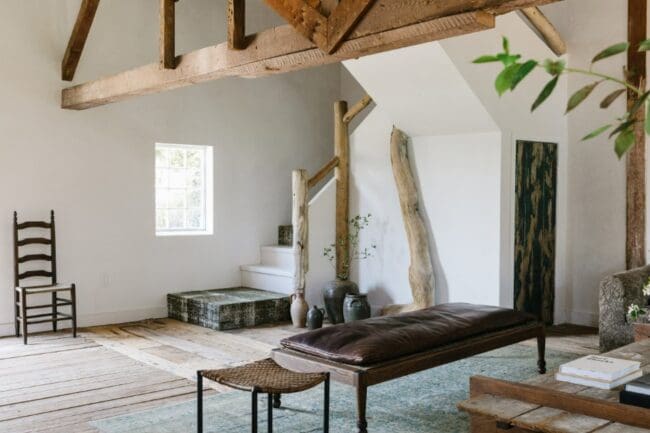 Moore House Design
"Uh-oh" moment. "Our team began by pulling up the gorgeous old wide-plank flooring only to reveal a foundation in worse shape than we had expected," Moore says. "The foundation was cracked to bits and most of the beams under the floorboards had a significant amount of rot due to a large amount of water. This meant we were going to have to put the barn up on jacks.
"When a structure this old has to be put up on jacks, there is always a possibility that it will collapse on itself. This was super stressful for our team, as we were being filmed and needed this to work in order to renovate the space. After the foundation was dug out and the chimney base repaired, we began the delicate process of replacing the beams. Then, much to our relief, we took the barn off the jacks and relaid all those old floorboards. This was a little more than our design team had bargained for amid a three-month, 3,500-square-foot turnaround, but we love learning on the job and were lucky to have some solid, highly experienced contractors to help us through the process."
Custom furniture and lighting: Moore House Coasters sectional, Passerine daybed, The Sabi coffee table and Steampunk sconce, Moore House Design; plaster: Dillon Construction
By Mitchell Parker, Houzz Editorial Staff. Home design journalist writing about cool spaces, innovative trends, breaking news, industry analysis, and humor.
Premier Home Remodeling in the Greater Phoenix Area
For high-end home design, build, and remodeling in the greater Phoenix area that reflects your vision, Homework Remodels will help you love your home again. Start your project by calling us at (480) 895-3442 or email [email protected] to discuss your remodeling project.  We offer no-obligation in-home consultation. Our NARI-certified award-winning designers and craftsman are eager to work with you to make your vision for your home a reality!  See our portfolio here.
Find more informative blogs and articles on HOUZZ and on our website www.trilitebuilders.com