This blog is shared from Better Homes & Garden blog, November 5, 2021. We think it's a great resource to check out the color trends for 2022 (thus far!) as well as for home design tips. 
Better Homes & Gardens just announced its selection for the 2022 color of the year. Check out all the must-have shades heading into the new year, according to some of the biggest names in paint.
Color resonates in distinct ways for different people. During the turbulence of the COVID-19 pandemic, some gravitated toward soothing neutrals while others immersed themselves in bright, uplifting colors. Now, as we begin to imagine a post-pandemic world, the colors that fill our homes and lives will again vary widely, but certain trends are likely to emerge—and some experts are already predicting the top 2022 paint colors.
Each year, paint companies and color experts reveal their picks for the shade that best encapsulates the current period. Their choices for color of the year often draw on trends in pop culture, fashion, technology, and design from around the world, and the results are starting to roll in for 2022. Better Homes & Gardens is the latest major paint brand to announce its selection, but there will be many more to come. See if this popular shade resonates with you, then check back to find out all the 2022 colors of the year as they're announced.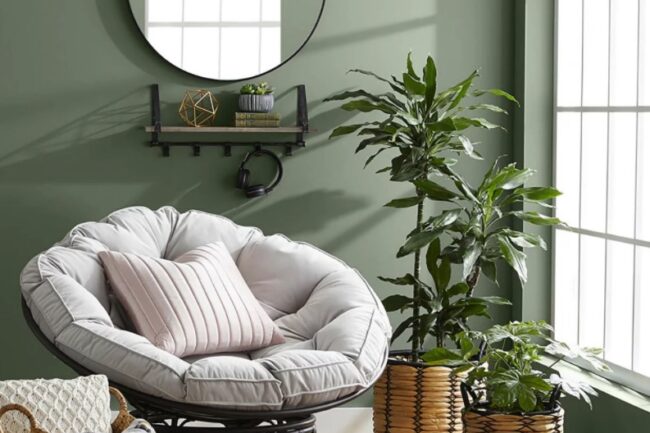 Laurel Leaf by Better Homes & Gardens
Laurel Leaf is the first-ever paint color of the year from the Better Homes & Gardens collection, available only at Walmart. This dusty green shade mimics the rejuvenating appeal of eucalyptus leaves and reflects a renewed desire to incorporate elements of nature into our homes. "During the pandemic, people spent more time outside enjoying their backyards, parks, and other outdoor spaces," said Max Wilker, style director for the Better Homes & Gardens brand. "And now those shades of green are coming along back inside the home."
Because of its organic feel and warm undertones, Laurel Leaf pairs beautifully with creamy whites, cozy beiges, light to medium wood tones, and leafy house plants, Wilker says. Try it in a bedroom to foster a comfortable, relaxing atmosphere, or use it to inspire focus and concentration in a home office. In a dining room, it can serve as a sophisticated backdrop that delivers color without going too bold. All paint colors in the Better Homes & Gardens collection, including Laurel Leaf, are available exclusively at Walmart.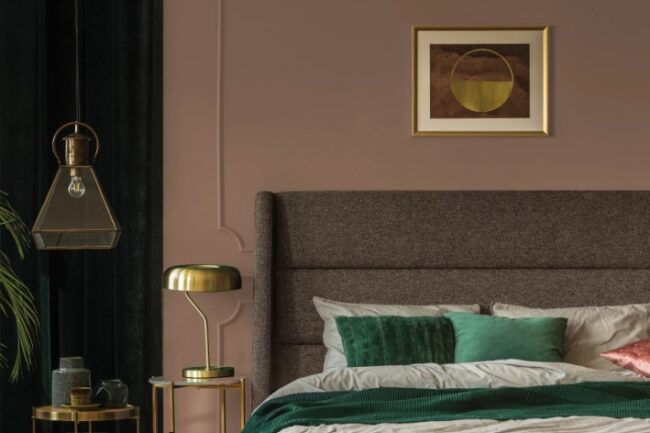 Art and Craft by Dunn-Edwards
Dunn-Edwards' pick for 2022 color of the year is a warm, earthy shade that reflects a broader back-to-nature trend in interior design. Art and Craft DET682 is a soft, sophisticated brown that channels the richness of walnut wood and offers a peaceful, grounding effect. "Art and Craft is truly a down-to-earth color that signifies stability, comfort, and calm, a color that expresses what we all seek right now," said Sara McLean, color expert and stylist for Dunn-Edwards, in a press release.
This moody, complex color draws inspiration from the bohemian aesthetic of the 1970s as well as today's folksy cottagecore trend. Use it as an all-over paint color to establish an inviting feel in living areas, dining rooms, and bedrooms. For a modern take, coat both the walls and millwork in Art and Craft to envelop the entire room in cozy warmth. Pair this chocolatey brown with light, breezy neutrals to brighten it up, or opt for vibrant jewel tones to lean into a luxurious look. This 2022 color of the year is available at Dunn-Edwards stores and at numerous independent retailers across the U.S.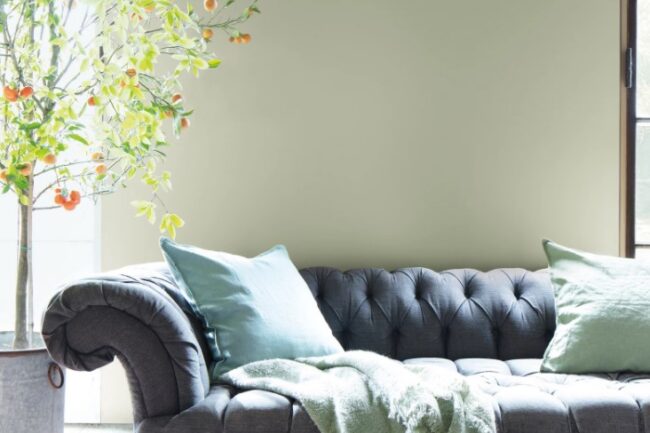 October Mist by Benjamin Moore
Benjamin Moore's pick for 2022 color of the year is a soft, silvery green called October Mist 1495. This botanical shade mimics the pale green of a flower stem and serves as the foundation for the brand's larger 2022 color trends palette. The assortment includes 14 nature-inspired hues that span tinted off-whites, warm earth tones, and refreshed primary colors.
"October Mist 1495 and the corresponding color trends 2022 palette reflects an effortless harmony of colors while inspiring unique combinations for any paint project," said Andrea Magno, Benjamin Moore's director of color marketing and development, in a press release.
Combine the gentle tones of October Mist with a rich dark shade like Gloucester Sage HC-100 to add warmth and depth to a monochromatic palette. For a crisp look, bring out this color of the year's cool undertones with an icy blue-green like Quiet Moments 1563 or the inky blue-black Mysterious AF-565. All of the shades from the color trends 2022 palette, including October Mist, are available on Benjamin Moore's website and at local paint and hardware retailers nationwide.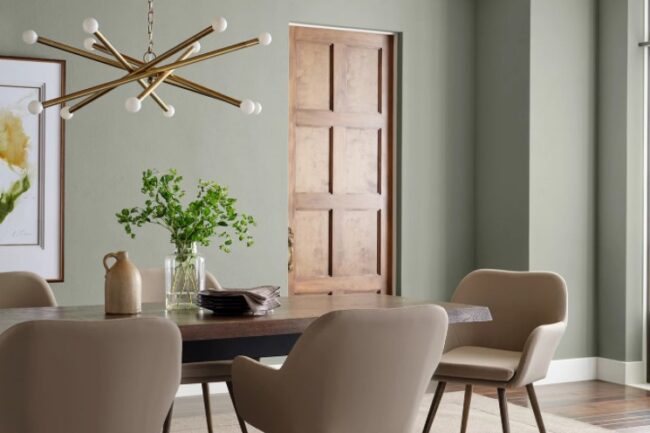 Evergreen Fog by Sherwin-Williams
Sherwin-Williams selected the subtly soothing Evergreen Fog SW 9130 as its 2022 color of the year. The mid-tone gray-green signifies a shift away from the cool neutrals and brilliant jewel tones that have previously dominated paint color trends. This familiar, organic color can extend a comforting welcome in entryways, establish quiet and calm in bedrooms or bathrooms, and introduce restorative energy to living rooms, kitchens, and other common areas.
Related: Sherwin-Williams Forecasts the Bright, Optimistic Colors That Will Define 2022
"Evergreen Fog is a sophisticated wash of color for spaces that crave a subtle yet stunning statement shade," said Sue Wadden, director of color marketing at Sherwin-Williams, in a press release. "Evergreen Fog inspires us to begin again and is a great choice for modern interiors and exteriors." Wadden suggests complementing the color with warm, earthy neutrals, such as beige, camel, or coffee brown. Then bring in additional layers of texture with natural materials including wood, leather, jute, and rattan. For a polished look that veers more glam, try incorporating a mix of metal finishes like warm brass, light gold, or matte black. You can find Evergreen Fog at Sherwin-Williams stores nationwide.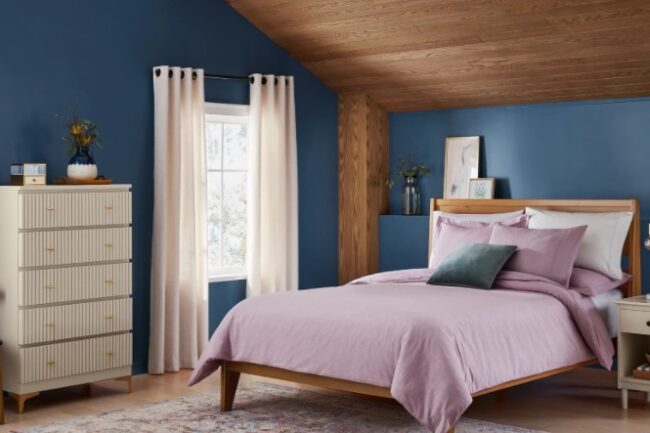 Valspar 2022 Colors of the Year
Instead of naming a singular color of the year, Valspar curated a palette of 12 nature-inspired hues that represent our current craving for comfort and calm. These 2022 colors of the year encompass warm neutrals, dusty pastels, and soothing blues and greens, ranging from light and subtle to dramatically dark. Each shade was selected for its ties to nature and ability to foster a peaceful, optimistic mindset.
"Colors can power moods, energizing us with confidence, strength, and curiosity—allowing us to express ourselves with color anywhere—whether it be a full room, an accent wall, trim or furniture," said Sue Kim, Valspar color marketing manager, in a press release. "Valspar's 2022 Colors of the Year provide consumers a wide range of naturally based warm colors that will not only help calm the nerves and boost the mood but also provide a confidence in what the future may hold."
Incorporate these trending colors into your home on walls, cabinetry, trim, and more, selecting shades that help foster the mood you want to create. For example, envelop a bedroom in luxurious comfort with walls painted in deep-blue Mountain River 4005-6C, and incorporate warm wood accents and warm lavender Lilac Lane 1002-4B for a lift. Or combine off-white Gilded Linen 6002-1A with the coppery tones of Rustic Oak 2007-7B for inviting warmth in living rooms and entryways. Blanched Thyme 6001-4A and Grey Suit 4004-2A are both great for encouraging balance and well-being in home offices, bathrooms, or kitchens. All of Valspar's colors of the year are available at Lowe's stores, Lowes.com, and independent retailers nationwide.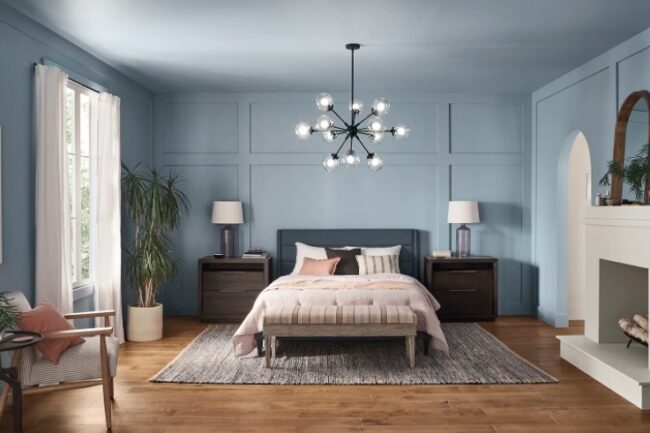 Aleutian by HGTV Home by Sherwin-Williams
Like a well-worn pair of faded blue jeans, Aleutian HGSW3355 from HGTV Home by Sherwin-Williams embodies comfort and relaxation. Named the brand's 2022 color of the year, this washed-out indigo serves as the foundation of a larger 2022 color collection called Softened Refuge. Combining soft neutrals with muted earth tones, the mix of 10 complementary hues is intended to create "a sense of comfort and calmness with color," said Ashley Banbury, senior color designer for HGTV Home by Sherwin-Williams, in a press release. "This palette is designed to simplify color selection for a perfectly coordinated home design."
Aleutian pairs well with any shade from the collection, including off-white, warm tan, or dusty slate. Because the blue-gray hue has a slightly warm undertone, it offers a balanced look and a restful tone that works equally well in common areas like kitchens or living rooms and private spaces including bedrooms and bathrooms. Layer in plenty of texture with natural wood tones and neutral textiles to enhance Aleutian's comforting vibe. All of the colors in the Softened Refuge collection are available exclusively in Lowe's stores and at Lowes.com.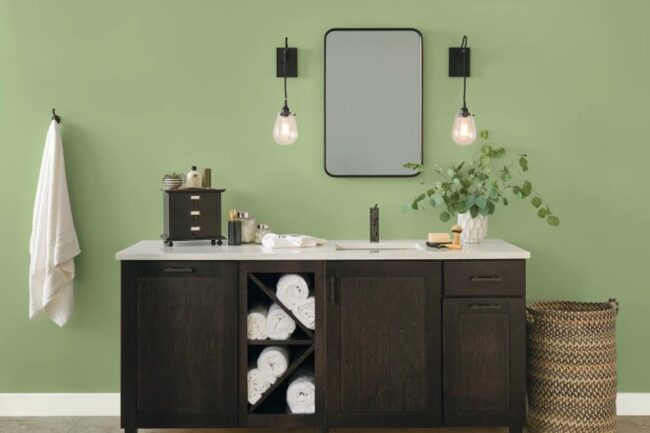 Guacamole by Glidden
A zingy shade called Guacamole PPG1121-5 is Glidden's pick for the 2022 color of the year. This ripe avocado-green delivers crowd-pleasing color that's both relaxing and refreshing. In a press release, the brand noted that online searches for green paint colors have more than doubled since 2020, indicating that homeowners are seeking colors that soothe.
"We've all saved beautiful green kitchens and earthy-inspired bedrooms on our Pinterest boards and TikToks over the past year and a half, driven by our need for calm, regrowth, and rejuvenation after living through these 'unprecedented times,'" said Kim Perry, Glidden paint color guru.
In kitchens and bathrooms, pair Guacamole with classic white subway tile and matte black accents for a timeless mix. For living areas, home offices, and bedrooms, try it with light wood tones and plenty of plants (either real or faux) to enhance the calming, organic vibe.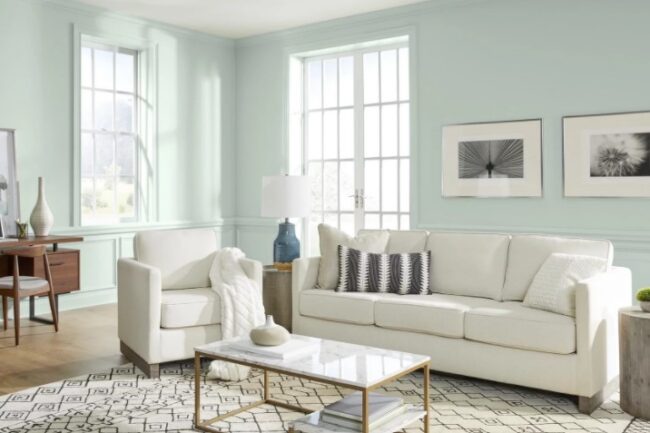 Breezeway by Behr
Behr's 2022 color of the year is a cool, refreshing shade of green called Breezeway MQ3-21. The soft, silvery blue-green is reminiscent of sea glass found along sandy beaches and the crystal-clear water of a tucked-away bay. Because of its ties to nature, Breezeway establishes a feeling of tranquility, but its crisp brightness can also inspire energy and liveliness. Erika Woelfel, Behr's vice president of color and creative services, calls Breezeway "a color that welcomes a hopeful sense of renewal, restoration, and healing."
Mixed with bright white and jet-black accents, Breezeway offers snappy contrast and a clean look that's perfect for an entryway or kitchen. Paired with soft cream, warm taupe, and natural wood tones, it takes on a soothing, peaceful vibe that works well in bedrooms, bathrooms, and living areas where relaxation is the goal. The breezy color has a distinctly coastal feel, but it also blends beautifully with contemporary and vintage-inspired designs. You can find the paint color exclusively at The Home Depot.
Olive Sprig by PPG
PPG selected a soft, organic shade of green called Olive Sprig PPG1125-4 as its 2022 color of the year. Reminiscent of a soothing aloe vera plant or velvety sage leaves, the gray-green color was chosen to represent regrowth and the resiliency of nature as we adapt to new ways of living post-pandemic. The lush mid-tone feels familiar and grounding, and it's versatile enough to be used as a livelier alternative to traditional neutrals.
"DIYers, property managers, designers, and architects are shifting away from the stark, neutral palettes of yesterday and opting for color in all forms," said Amy Donato, senior color marketing manager at PPG paint, in a press release. "Call it rebellion, but we are certainly here for the resurgence of optimistic colors to guide us into a new era of home design."
Paint walls in Olive Sprig to encourage focus in an office, incorporate soothing color into a bathroom, or promote restfulness in a bedroom. The color also looks gorgeous on kitchen cabinetry brightened up with polished brass accents and balanced with plenty of white. Because of its organic quality, Olive Sprig blends beautifully with natural materials and textures such as rich leather upholstery, woven jute rugs, and wood furniture. You can find the paint color online and at PPG paint stores, The Home Depot, and other independent retailers nationwide.
Continue reading this Better Homes & Garden article here and take their quiz to find What Your Signature Color is!